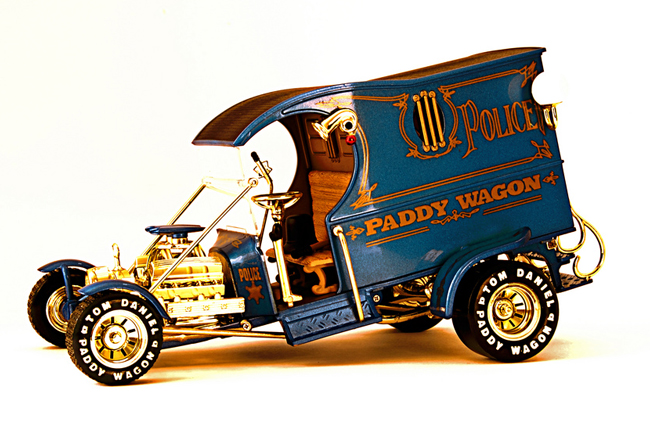 Toward the end of the Flagler County School Board meeting Tuesday evening, when board members tend to do what James Joyce does at the end of Ulysses–let the conscience stream, often without punctuation–Colleen Conklin streamed this: Why not, she asked, convert a bus into a paddy wagon and have it on standby to pick up students misbehaving on school buses?
She described a school district that took an old bus, painted it in black and white stripes, added the words "Paddy Wagon" on the side, and used it to that purpose.
The last instance of a Florida school official proposing a paddy wagon for students dates back to Pinellas Superintendent Nicholas G. Magin's recommendation, in April 1972, to convert to that purpose a bus no longer useful for daily transportation. "The bus," the now-defunct St. Petersburg Independent reported in its April 12 issue that year, "would be provided with metal mesh over the windows, a protective cage for the driver and two outside locking doors… and painted a different color to distinguish it from regular school buses."
Conklin didn't mention mesh, a cage or locking doors but liked the concept of a black and white bus, like the one she'd heard about. "And if a kid was causing a major disruption on that bus," Conklin said, "the bus was pulled over on the side, somebody came and picked that kid off the bus and brought them to transportation," presumably in the paddy wagon. It would deter negative behavior, she said.
Sensing little enthusiasm among her colleagues ("If you don't love the paddy wagon idea, I like it," Conklin said on her way to a second thought), she suggested a volunteer program involving parents as monitors on school buses as long as the volunteers were trained and well prepared. That thought drew a caustic comment from School Board Chairwoman Evie Shellenberger, who spoke of bus duty as thankless.
Conklin's paddy wagon and the tone of the discussion was not well received by Superintendent Bill Dlebrugge.
"I personally do not like the idea of a paddy wagon," he said. "And I don't like the idea, either, of people not wanting to be on the bus, with my kids…. I mean, kids are not criminals." He dismissed the notion that buses are somehow not a desirable place to be (Delbrugge rides them often, though he acknowledged that students inevitably behave better in his presence). He was more receptive to the volunteer program.
The school district has been working since November on developing just such a program, which would carry few costs beyond training and background-checking participating volunteers. The transportation department has been working with Flagler Volunteer Services' Gene McCallister to recruit people and possibly have a program in place by fall.
Even if the program were to be enacted, don't expect a volunteer on every bus, morning and afternoon. The school district has more than 100 buses on the road every day, simultaneously, twice a day, transporting 10,400 students to and from school. That's 1,000 runs a week. If even a fraction of those runs were covered, it would require an army of volunteers willing to ride at dawn or early morning, when older students are going to school, or in the middle of the afternoon, when older volunteers are hitting the nap sack.
The likelier outcome is a corp of roving, periodic volunteers who'd ride along on certain buses on certain days as an added act of presence rather than as a permanent fixture.
Whether even that much is necessary is in question, absent hard evidence showing to what extent school buses are in need of extra supervision. The school district has data on schoolbus behavior and infractions, but it's not computerized and readily accessible yet. Without that data, perceptions–and largely misinformed perceptions disproportionately skewed by the occasional, sensational story of a fight or an arrest on the bus–may be creating a false sense of an out-of-control busing system.
Much was said by board members Tuesday evening about wanting to give school bus drivers a break and enabling them to focus on the road. Bus drivers might see it differently. In 2009 they were paid $14,760 a year on average, almost $3,000 less than the state average for drivers. Flagler's shorter routes, shortening hours logged, have something to do with it. But chances are that, given the choice between a volunteer on the bus or some extra pay, drivers would happily take the latter.
Extra pay is not an option. Chatting up a volunteer program is one way for the board to appear to be taking charge, at no financial or political cost, but with brochure-ready political rewards–as long as the paddy wagon remains parked.

Average Salaries for Selected School and District Positions:
Florida, Flagler, Volusia and St. Johns Counties, 2008-09
| | Flagler | St. Johns | Volusia | Florida |
| --- | --- | --- | --- | --- |
| Teachers | $48,056 | 47,102 | $45,529 | $46,938 |
| Principals, High School | 93,850 | 103,991 | 94,782 | 92,851 |
| Principals, Elem/Middle | 86,405 | 88,121 | 84,840 | 88,000 |
| Librarians | 59,813(*) | 53,252 | 52,707 | 52,581 |
| Bus Drivers | 14,760 | 20,293 | 17,349 | 17,488 |
| Custodians | 21,226 | 26,700 | 23,059 | 23,722 |
| Secretaries | 27,533 | 38,850 | 35,602 | 31,074 |
| Food Service | 12,938 | 17,400 | 9,609 | 15,543 |
| Superintendent | 141,284 | 143,663 | 171,665 | 137,299 |
| District Staff, Business/Finance | 85,498 | 112,373 | 95,465 | 91,267 |
| School Board Members | 30,260 | 32,888 | 37,368 | 31,619 |
Source: Florida Department of Education / FlaglerLive Graph
[table-info field "note" not found in table "5" /]