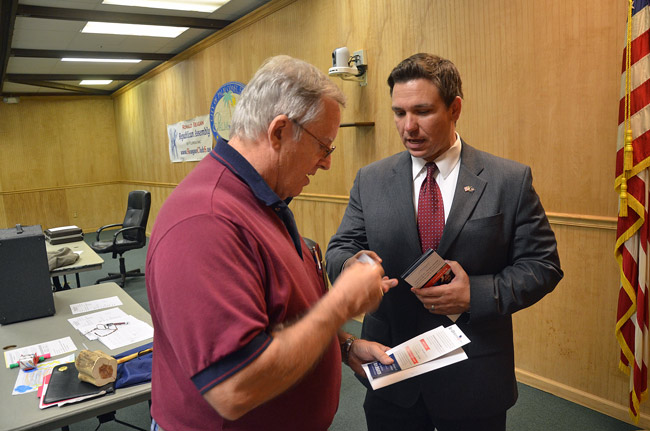 [The candidates' full financial reports for the quarter ending March 31 will post here shortly.]
Ron DeSantis, the 33-year-old ex-military prosecutor from St. Johns County, and Richard Clark, the Jacksonville City Council member, are leading the money race in the campaign for the newly formed 6th congressional district, which includes all of Flagler and St. Johns counties and most of Volusia and Putnam.
DeSantis is ahead in the money race with $227,341 raised in the quarter ending March 31, including a $10,000 loan and a $614 contribution from himself. Clark is a close second with $182,585 raised, none of it from himself, according to the candidates' financial disclosure statement filed with the Federal Elections Commission.
But $70,750 of DeSantis's contributions, or 31 percent, originate from out of state—specifically, from 22 states plus the District of Columbia. (One of those contributions, for $5,000, is from Craig Breslow, the Arizona Diamondbacks pitcher. Breslow was captain of the Yale University baseball team. DeSantis is a fellow-Yalie.) Only 10 percent of Clark's contributions are from out of state ($18,500). Craig Miller, a third candidate in the race, drew 23 percent of his contributions from out of state, including a $5,000 contribution from the National Restaurant Association, which he previously led.
So far, five serious Republican contenders have declared their candidacy (as have two less serious ones) and two Democrats have declared.
Only one is from Flagler County: Heather Beaven, the Democrat who ran unsuccessfully against John Mica two years ago. The race is drawing a large number of candidates, Republican candidates especially, because Mica decided to run in the 7th congressional district to the south and west, against Republican Sandy Adams, after redistricting drew new congressional boundaries. The open seat in the 6th district is a big opportunity for newcomers with big ambitions, deep pockets or hopes of graduating from lesser elected office: Republican Fred Costello has been a member of the Florida House for the past four years, and the mayor of Ormond Beach before that. Republican Bev Slough has been on the St. Johns County School Board since 2002.
Miller, the ex-restaurant executive who ran second to Adams in the Republican primary two years ago, raised $98,470, including a $30,100 loan to himself. Costello and Slough did not file a report with the FEC, having just declared their candidacy. But Costello has more than $100,000 on hand from money he raised for his Florida House seat.
Remarkably for any of the Republican candidates, just $2,000—total—was raised from voters in Flagler County, out of a total of $508,400 raised. That means Flagler County voters contributed 0.4 percent of the money in the GOP race. Those contributions can be counted on a single hand.
Miller got $500 from Thomas Hury of Flagler Beach and $500 from Larry Jones of Palm Coast. Clark got $1,000 from David and Mary Ann Haas (they split their donations between them) of Flagler Beach. David is the former Flagler County administrator, now a vice president with ICI homes, the big developing company owned by Mori Hosseini, who leaves no political race behind when it comes to contributions. Mary Ann serves on the Datytona State College Board of Trustees, largely as a Hosseini designee there (alongside Forough Hosseini, Mori's wife).
The Haas contribution should not be interpreted as a Hosseini proxy, however: Mori's money is on Miller, having contributed $2,500 so far to the Miller campaign, through March 31.
DeSantis, incidentally, got not a cent from Flagler County voters.
Among Democrats, Beaven raised $23,810, none of it from loans, and Verma, an attorney in Daytona Beach, raised $12,000, including a $400 loan. The disparity between Democrats and Republicans is indicative of the district's leanings: the GOP-dominated Florida Legislature drew it in such a way as to ensure, as much as legislators can ensure it, that it remains solidly Republican. Beaven is expecting more support from the national Democratic Party, which may want to put the new district in play in November's election.  But Republican candidates in the race are already talking as if the primary election will decide the seat's fate.

The Money Race: Florida's 6th Congressional District (Flagler, St. Johns, Volusia, Putnam)
Click on each candidate's totals for the detailed, itemized campaign finance report.
April 15, 2012
July 15
Oct. 15
Oct. 25
Dec. 6
Jan. 31, 2013
Republicans
Richard Clark
$182,585
Fred Costello
No report filed
Ron DeSantis
$227,341
Raul Espinosa
No report filed
Bill Kogut
No report filed
Craig Miller
$98,470
Bev Slough
No report filed
Democrats
Heather Beaven
$23,810
Vipin Verma
$10,869
Several candidates had only just announced their candidacy in March or April 2012, too late to file a finance report by the April 15 deadline.