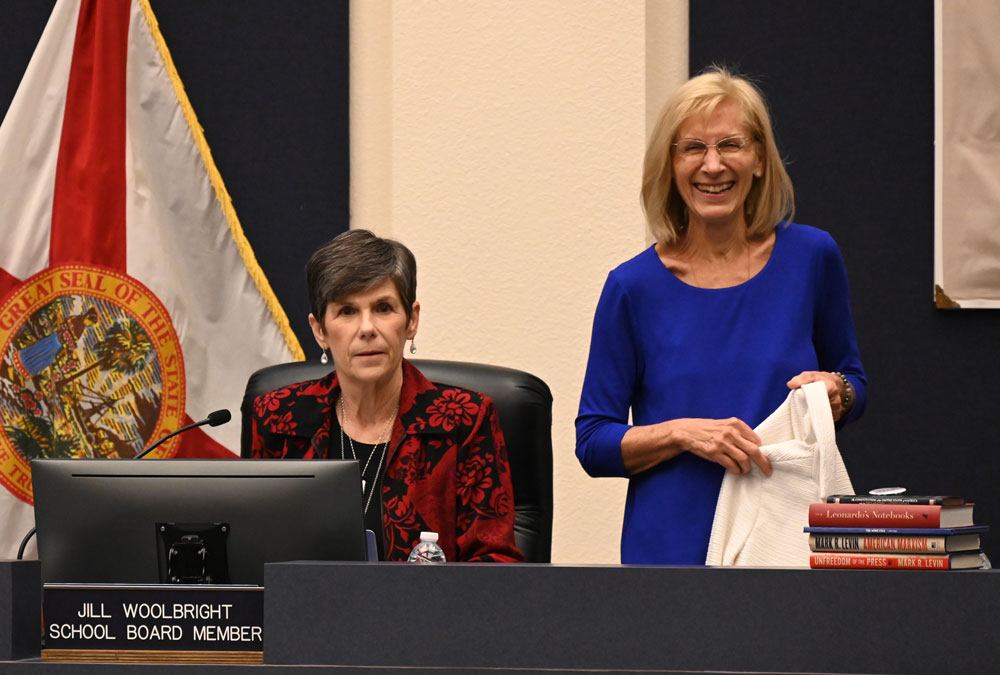 Last Updated: 1:19 p.m.
Since Nov. 9, at two public board meetings, in a criminal complaint and in discussions with constituents, Flagler County School Board member Jill Woolbright has been accusing the district administration of perpetrating a "crime" by having enabled All Boys Aren't Blue, a memoir of growing up Black and gay, in school libraries. The criminal complaint named Superintendent Cathy Mittelstadt and Board attorney Kristy Gavin, and went further: "I made it clear I wanted whoever was responsible for putting those books in our Media Centers held accountable for this crime committed on our children."
Circumventing policy, which requires that a person challenging a title start at the school level, Woolbright–a 64-year-old resident of Angela Drive in Palm Coast and a retired schoolteacher–demanded of the superintendent that the book be immediately pulled and reviewed, along with three others. Publicly, she falsely claimed that she only wanted the one book banned and three others "reviewed." In  fact, in her handwritten statement to the Sheriff's Office, she said she ordered "all young adult books checked," albeit without citing titles. There are tens of thousands of such titles on library shelves.
This morning, the Flagler County Sheriff's Office said it found no grounds for a criminal inquiry, as no crimes had been committed, and dismissed claims that Woolbright faced any immediate threat, as she and a reporter for the Epoch Times–a publication that has drawn attention for disseminating conspiracy theories and disinformation–had claimed.
A key section of the sheriff's general counsel's interpretation, the section that a district committee reviewing the book may found most salient to its own analysis, concludes with a clear defense of the book as legally permissible work that is not "harmful to minors."
"While a portion of the book may be sexual in nature and offensive to some within the community," John LeMaster, the sheriff's general counsel wrote, "it fails the third prong of the test" laid out in state law. "Specifically, the third prong requires when taken as a whole, [that the book] be without serious literary, artistic, political or scientific value for minors. This book is a widely recognized award winning piece of nonfiction which deals with difficult subjects of both social and political issues impacting this age group. The book is readily available online and in public libraries. This book does not meet the legal definition of harmful to minors."




The Sheriff's Office's conclusion was the result of a preliminary inquiry–not a criminal investigation–by the sheriff's investigative division and an analysis by its general counsel, neither of whom found irregularities in the book's availability or the means through which schools purchased it and made it available. LeMaster refuted an explosive claim by both Woolbright and fellow Board member Janet McDonald that the book criminally violated state law by amounting to "pornography" in the hands of children. The matter "is not a violation" of law, LeMaster condcluded, "and does not warrant further investigation. Whether or not this material is appropriate for students of Flagler County is an internal matter for the BOard and is best addressed through their processes."
Those processes, which Woolbright flouted with the criminal complaint, are, in fact, ongoing: Lashakia Moore, the district's director of curriculum, has assembled a district-level committee that is reading four titles and will render a recommendation to the superintendent as to their appropriateness for school library shelves. The decision is expected after Thanksgiving.
"The Sheriff's Office does not determine what material is appropriate for the students of Flagler County," Sheriff Rick Staly said in a statement. Staly had made clear in an interview and email to FlaglerLive this week that he was displeased with having his agency "dragged" into what he said should have remained a district matter. "The Flagler County School Board has the constitutional duty and responsibility to determine the content of all materials used in the classroom and made available in the school library. The Board is responsible for developing proper policies and procedures to evaluate and purchase these materials. The Board's policies and practices permitted the purchase and circulation of the book in question."
There was little question that Woolbright's criminal complaint was frivolous and intended for shock and political manipulation: no such complaint had ever been filed against a school board member's own district leadership in the context of a book challenge, and nowhere in the nation since the publication of George W. Johnson's All Boys Aren't Blue had the book 's availability faced anything like the shadow of a criminal charge.




Rather, the book has been widely acclaimed, from The New York Times on down to Publisher's Weekly, People Magazine, numerous major public libraries and other outlets–accolades Woolbright and McDonald discredited as invalid, as if to say that their judgment was more accurate and reliable. Woolbright claims to have read parts of All Boys Aren't Blue. McDonald did not make that claim.
The investigation was chiefly conducted by detective Cpl. Augustin Rodriguez. It reveals that Stephen Weldon Hageman, a 42-year-old resident of Secretary Trail in Palm Coast, and Patricia Tolson, a 62-year-old resident of Spring Hill on Florida's West Coast, and a reporter for the Epoch Times, had both filed reports as well. Hageman had read on FlaglerLive that the site was donating 15 copies of All Boys Aren't Blue for free distribution through a Flagler Palm Coast High School student. Hageman, the report states, said "he was concerned that the books are being provided directly to a student to give to fellow students," which is accurate, and that "he believes the book to be a form of pornography that should not be in the hands of juveniles," which is not accurate. Some people addressing the school board Tuesday made similar false claims.
Tolson relayed tweets she'd read to the Sheriff's Office, claiming they "made her concerned for the safety of Woolbright, and the citizens of Flagler County." The screen shots included in the investigative report show one tweet noting the offer of book donations from Dave's Lesbian Bar in Astoria, N.Y., and another is Johnson's reference to the criminal report filed about his book. Additional screen shots show further references to book donations and the rally organized by Jack Petocz, the Flagler Palm Coast High School student who coordinated the donations, and a tweet from Johnson responding to another tweeter with "Finish her!," a line he explained in a video statement to the Flagler County School Board: "On Twitter, I responded to a journalist by saying 'finis her.' As a former journalist, I have finished people with my words many many times, as I'm doing here today on this video. The only thing inciting violence is involving the police against a Black queer story, when we know that police involvement has led to the detriment of my community many times over."
"After reading the messages and conversations in context, it does not appear that there is an immediate threat to Woolbright or the school board members," the inquiry found.
Rodriguez reviewed state law, examined the book's standing in the marketplace (the book is now a "#1 Best Seller in the section 'Teen & Young Adult LGBTQ+ Issues") and its stated purpose before consulting with LeMaster. LeMaster made clear in his memo he had no intention of correcting or suggesting changes to the school board's policies, as it was not the agency's place to do so. District policy itself, his memo noted, defers to district committees to make determinations about the appropriateness of books.




"During the fact finding there was no evidence which would suggest the book was purchased outside the normal procedures or procurement processes established by the Board. As such the material purchased by School Board employees was completed at the direction and under the governance of the Board and its policies," LeMaster found.
LeMaster noted the board's policies for don't define "hardcore pornography" and constitute "administrative guidance," and so cannot be used to interpret the criminal statute–nor used to determine whether anyone in the district "knowingly" provided harmful materials to minors. (Even the U.S. Supreme Court has found a definition of pornography difficult, resulting in one of the court's most famous lines, written by Justice Potter Stewart in a 1964 case about the alleged pornography of a movie. The movie house where it was shown had drawn criminal charges and a conviction. The Supreme Court overturned the conviction. "I shall not today attempt further to define the kinds of material I understand to be embraced within that shorthand description," Stewart wrote of the word pornography, "and perhaps I could never succeed in intelligibly doing so. But I know it when I see it, and the motion picture involved in this case is not that.")
LeMaster then provided the analysis that showed how the book does not meet the definition of "harmful to minors" either Woolbright of McDonald claimed it did.
"Therefore," Augustin's 22-page report concludes, "the case requires no further investigation and is closed due to the lack of criminal activity." The full report appears below.

The full investigative report:
Click to access 100272-Inves-Summary-1.pdf

Reader Interactions