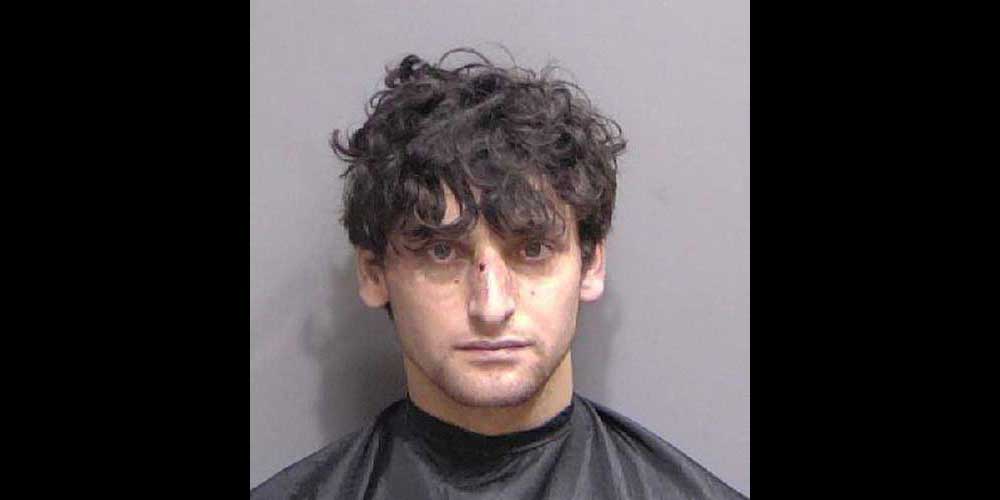 Last Updated: 8:58 p.m.
Luke Ingram, a 19-year-old resident of Dunwoody, Ga., who was visiting his father and grandfather in Palm Coast, was charged with second-degree murder in the death of his grandfather at 34 Clermont Court early this morning.
Ingram is accused of killing Darwin Larry Ingram, 85, who had lived at the house in Palm Coast's C-Section for almost 20 years. Ingram also faces a domestic violence by strangulation charge involving his father, Clint Ingram, and a charge of aggravated assault of an officer: while he was being interviewed by detectives, Luke Ingram managed to wheedle his handcuffed hands from behind his back to the front, then attempt to escape as he attacked detectives with what Sheriff Rick Staly described as "Herculean strength." It took several deputies and detectives and a Taser to subdue him.
Ingram had been in an interview room at the State Attorney's Office at the Flagler County courthouse. He is now being processed and booked at the Flagler County jail on no bond. He also faces resisting officer charges, one without violence, one with.
He is accused of using what the sheriff described as "a metal object" to attack his grandfather. No firearms were involved.
Staly in an interview this evening summarized how the incident unfolded, but did not disclose any names, other than that of Luke Ingram, or relationships between the three individual involved, as the agency is required to abide by Marsy's Law, which prevents the disclosure of victims' names in many circumstances. The names and relationships were obtained by other means–namely, Darwin Ingram's property records and his wife's obituary.
The motive of the killing is not yet known, Sheriff Rick Staly said. But Luke Ingram's mental imbalance appears to have played a role.



The arrest report states that Luke suffers from schizophrenia. He had been acting strange while attending college in Georgia, and either his father Clint Ingram or his grandfather convinced him to come to Palm Coast.
Luke had arrived at the C-Section home Wednesday evening. He acted strange at dinner, staring at one of his family members. During the night his father awoke to sounds of screaming, got out of his room and found Darwin unresponsive and bloodied, and Luke sitting in a chair. When Clint called 911, telling his son that he needed help, Luke allegedly attacked him and choked him twice until Clint was able to free himself and run out to the neighbors' house.
Shortly after 3 a.m., neighbors of Ingram's called 911, saying a man was at their door claiming to have been attacked. The man was Clint Ingram, who was also seen by neighbors hiding. He was not allowed in the house. Sheriff's deputies showed up within minutes and entered the home. "They found the suspect standing near what appeared to be a severely injured or deceased male," Staly said. "He also was standing next to a blunt object that appeared to be used in the attack."
As Ingram's arrest report describes it, "Luke was observed standing in the living room next to an unconscious white male, who was lying on his back on the floor with a large amount of blood on his person and surrounding him. It should be noted that Luke was only wearing a dark pair of shorts at this time."
Luke Ingram agreed to go outside, but once outside refused to comply with various commands and appeared to seek re-entry in the house. A deputy tased him and he was secured, enabling fire rescue personnel at that point to enter the home and assess the victim. Darwin Ingram was pronounced deceased.
"This was a gruesome homicide," Staly said. "We are still continuing the investigation, trying to determine what triggered this family event, but based on our analysis and evidence, there's no other suspect involved, so the community doesn't need to be in fear. It's another tragic, tragic case involving family members."
During today's investigation there was mention of Luke Ingram's mental state possibly being an issue, as there was shortly after the 3 a.m. attack, when his father spoke to authorities.
But "that is still part of the investigation, and ultimately it's up to the courts to determine that part of any case," Staly said. If the issue is raised by the defense, a person facing criminal charges must be found competent to stand trial, otherwise the person is committed to a state hospital until competency is restored, as it is in most cases.




The alleged assailant's father was injured but did not sustain life-threatening injuries. Luke Ingram also injured one of the detectives during the struggle at the courthouse. The detective was treated at the hospital for non-life-threatening injuries.
The Flagler County Sheriff's Office Major Case Unit was called to the scene, was assisted by the Community Policing Division, the Real Time Crime Center, the Digital Forensics Unit, the sheriff's Crime Scene Investigation, the Florida Department of Law Enforcement
Crime Scene Investigation Unit, the Medical Examiner's Office, and the 7th Circuit State Attorney's Office's Homicide
Investigation Unit.
"We certainly extend our condolences and sympathy to the family for their loss and for what occurred," the sheriff said.
The earlier report published this morning is below.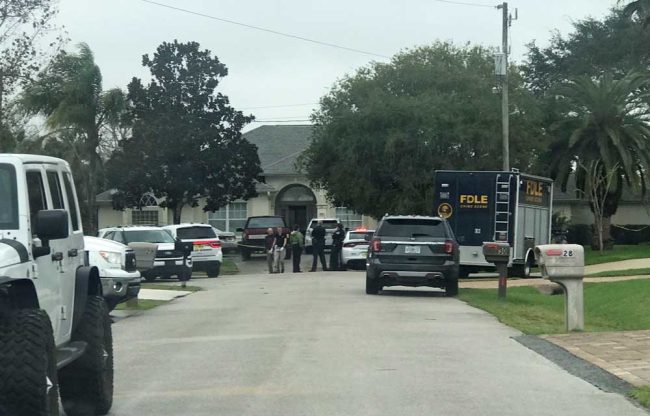 Sheriff's Office and FDLE Investigating Alleged Homicide on Clermont Ct. in Palm Coast
The Flagler County Sheriff's Office and the Florida Department of Law Enforcement are investigating a violent death on Clermont Court in Palm Coast.
The incident took place between 3 and 4 this morning, involving a family that lives at 34 Clermont Ct. The house is owned by Darwin Larry Ingram, 85, a retired Treasury Department employee whose wife died in March 2021, and who was living with a son and grandson, Clint and Luke Ingram. He'd lived at the property since 2003. The grandson is believed to have mental health issues.




The Sheriff's Office issued an alert early this morning that "a heavy law enforcement presence in the area of Clermont Court for an isolated incident. There are no threats or safety concerns for the community." The Sheriff's Office asked the public to avoid the area in the residential zone of homes by canals south and east of Cimmaron Drive.
There is one confirmed death in the incident.
"It's still an active investigation but I can confirm were conducted a death investigation at this residence, and all parties involved have been identified," Sheriff Rick Staly said. "So there should be no concern to the community, and it looks like it will be domestic related."
Shortly after 3 a.m. one of the three men ran to a neighbor's house in the same cul de sac, knocked on the door, frantic, and asked the occupants to call authorities. He looked as if if he'd been in a violent altercation. Other neighbors saw him as if trying to hide from an assailant.
Sheriff's Office units responded to the scene within minutes, and detectives soon followed, once a death at 34 Clermont was confirmed. The manner of death is not clear and the identity of the victim has not been confirmed. By daybreak, agents from the Florida Department of Law Enforcement were at the scene. FDLE involvement points to a homicide. The Sheriff's Crime Scene Investigations unit is also at the scene.




The sheriff said detectives were investigating "all aspects of the case" but he could not go into details regarding manner of death or even the identity of the victim, pending the medical examiner's autopsy which will be conducted within 24 to 48 hours. "We want the medical examiner to be able to do their job and their investigation along with my detectives before we release anything further," Staly said. While such investigations can always "take a strange turn," Staly said "we don't anticipate any changes in this case."
Authorities are speaking to one or more of the individuals involved: the assailant is not at large. Whether that individual is in custody or merely being interviewed is not yet clear.
The Palm Coast Fire Department and Flagler County Fire Rescue responded to the incident and staged there, but did not transport anyone to a hospital.
The case is reminiscent of a similar case only blocks away, on Clarendon Court, in 2006. Richard Dunn, then 46, had severe mental health issues. He attacked and killed his father in the family home. His father, Jack Dunn, was an 89-year-old retired physician who had opened the first private practice in Palm Coast's early days. Dunn was found incompetent to stand trial, then, in a non-jury trial, not guilty by reason of insanity, and was committed to a state hospital for many years. He was released from the state hospital in 2013 and was making his way slowly back into society, while still under court and mental health supervision. He was almost there. But he was re-committed last year, after exhibiting strange behavior. In mid-October, Dunn was returned to supervised living in Daytona Beach.
Reader Interactions