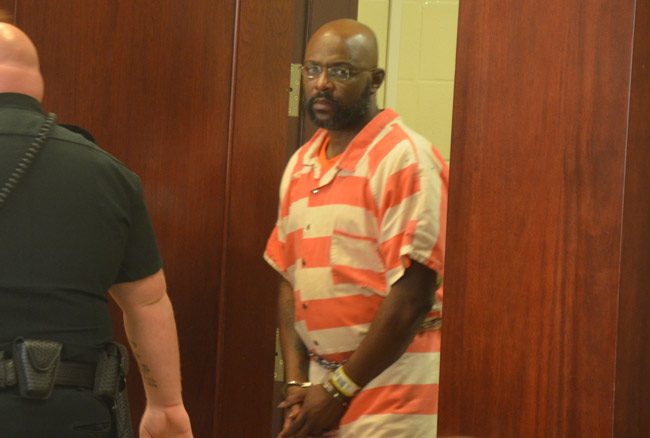 May 31 Update: Three weeks ago Circuit Judge Dennis Craig told Clarence Murphy that it was in the court's discretion to sentence him to life in prison without the possibility of early release, even though Murphy had pleaded guilty to second-degree murder in the shooting death of his cousin, Ahmad Rashad Laster, on Parkview Drive last September.
This morning, Craig did just that in a sentencing hearing attended by the Laster's and Murphy's families–which cross-over: the two men are cousins.
Craig had some discretion, with the minimum sentence set at 35 years. Murphy, formerly of 52 Pratwood Lane in Palm Coast, is 43, and a 35-year sentence would have amounted to close to a life sentence if imposed day for day: he would not have been released before age 78.
He was represented by Assistant Public Defender Ray Warren. The case was prosecuted by Assistant State Attorney Jennifer Dunton.
The previous story is below.

Clarence Murphy Pleads to Murdering His Cousin on Parkview Dr., Faces 35 Years to Life
May 8–Clarence Murphy Jr. was arrested within hours of shooting his cousin Ahmad Rashad Laster outside of Laster's home at 156 Parkview Drive just before 4 a.m. on Sept. 19. He was almost immediately cooperative. He had little choice. Video surveillance footage showed him as the man who shot Laster at the end of the Parkview driveway after a brief argument, moments after Murphy had texted Laster: "U been stealing from everybody someone gonna stop u."
Murphy had actually started walking away from Laster during the argument. He then turned around and shot him in the head. Laster family members identified Murphy in the video. They also identified his car. Murphy confessed in an interview hours later with Flagler County Sheriff's detective George Hristakopoulos.
He faced a first-degree capital murder charge. This morning before Circuit Judge Dennis Craig, Murphy pleaded out to second-degree murder as a dozen members of Laster's family sat in the courtroom, some of them weeping, some of them holding their head in their hands, some of them walking out, distraught, immediately after the plea. Hristakopoulos sat with the prosecutors.
Murphy is known as Copper Top. He was prepared to make a statement today but will hold off until sentencing, when members of Laster's family are also likely to make victims' statements. Murphy will be sentenced on May 31. He faces a minimum of 35 years in prison, a maximum of life. "It is within my discretion to sentence you to life," Craig told him, "day for day, life with no possibility of parole."
Murphy's sentence will be steep because the murder was committed with a firearm, and because Murphy has a long history of felony convictions.
The evidence against Murphy was overwhelming, Hristakopoulos said after the plea. Murphy immediately showed remorse, helped detectives find the firearm and wrote an apology letter to the family the day of the shooting.
Murphy and Laster had been arguing over the phone before the shooting. The argument escalated. "You know where I'm at," he'd told Murphy, who drove up to the house at 3:48 a.m. Laster went outside to confront him.
"I knew Ahmad fairly well, when I worked for the City of Bunnell," Hristakopoulos said. "I used to stop and talk to him on almost a daily basis. I know all his brothers, his parents, so it is very strange for me, going to his autopsy, seeing him there, recognizing that he was the victim the second that I got called out. I've had victims before who I'd had prior dealings with, but I think this is the first one that was a homicide and where I went and dealt with the family extensively, I kept in touch with his brothers. They helped me on the case. I was glad we were able to get a resolution and see some justice served even though obviously it's going to be hard for the family either way. But I know they've been waiting for this day a long time."
The murder charge was also a probation violation, for which he faces a sentence of up to 15 years in prison, a number that would be academic unless the judge imposes it consecutively with the time to be served for the murder charge. In 2010 he was sentenced to six years in state prison for drug trafficking, serving four and a half years. He was released in 2014. He'd also served 18 months from 2002 to 2004 on another drug conviction.
The case was prosecuted by Assistant State Prosecutor Jennifer Dunton. Murphy was represented by Assistant Public Defender Ray Warren.
Warren is also the defense attorney for Michael Cummings, the 47-year-old man accused of murdering his ex-wife, Faith Cummings, at her house on Point Pleasant Lane in Palm Coast in January. Cummings pleaded not guilty. He appeared in court today for a pre-trial. His case was continued to July 17, with depositions just starting. By then Cummings will be appearing before Judge Terence Perkins, who is taking over Flagler's felony bench in June. His case is not likely to go to trial until much later this year, if then.