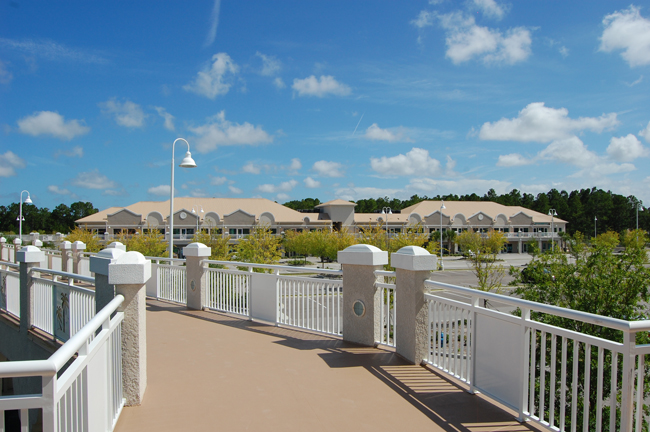 There are all sorts of places called "City Walk": City Walk at Woodbury, in a suburb of St. Paul, Minn., City Walk at Pineapple Grove in Delray Beach, City Walk Condos in St. Paul, City Walk Condos in San Diego, Citywalk condos in Sarasota, City Walk apartments in Oakland, Calif. There's even a City Walk in Rochester, N.Y., that's not a location but an organization designed to make Rochester "the best place it could be." But you get the idea: City Walk is a popular name these days, capitalizing on new urbanism's trendy focus on walkable communities that mix work, play and living.
And of course there's City Walk in Palm Coast, the relatively new, isoscelesian commercial spread off of Cypress Point Parkway, where the city has its offices and where businesses have, slowly and not always surely, been opening up shop since 2008—so slowly that the place is facing foreclosure.
Now Comes Universal Studios, the entertainment company owned by Comcast Corp., the cable operator. Universal owns City Walk in Orlando. Universal has trademarked the words "City Walk." Which means Universal can legally prevent anyone else from using the City Walk designation.
Comcast's second-quarter profits, released last week, clocked in at $3.1 billion on revenue of $37.4 billion. But someone at the company found time to call Bagwan Asnani, the developer of Palm Coast's City Walk, and threaten him with a lawsuit if he didn't change the name of his development. A lawsuit was, in fact, filed in federal district court on May 13, 2010.
"You can use the name provided they're not exactly the same," Asnani said by phone on Saturday. "We have decided to change the name. It's not a big deal."
Universal might have allowed City Walk at Palm Coast, rather than City Walk all on its own, but Asnani didn't want the commercial center to be confused with an apartment complex. So he's thought of "City Marketplace" as one possibility, though there will be others. "Over the next week or two we'll get together with all the tenants and come up with a name," Asnani said.
Another possibility would have the name "Oasis" in there. That's a suggestion by John Graham, who runs Hollingsworth Gallery at City Walk. Graham doesn't take much to the notion of City Walk being renamed anything like a "marketplace." It's not a market he sees there but a haven of sorts—an oasis that's become home to a couple of churches, a couple of art galleries (Graham's will soon be joined by the Art League's a few doors down), international food stores, dance studios and other types of atypical businesses attracted by the relatively low rent and Asnani's willingness to accommodate fledgling businesses.
The name change shouldn't affect the city's stationery, which goes by the strip mall's more general address: 160 Cypress Point Parkway. But the name change is an added bit of confusion for a place that's been struggling to nail down tenants as well as an identity. There's some risk in name changes when the result ends up more prosaic than necessary. Until last year there was a non-profit wellness organization in Fort Wayne, Ind., called City Walk. Universal forced it to change its name too. It adopted the more corporate and rather meaningless "Well Strategies Inc.," which evokes something more familiar to hydrological engineers than anything to do with wellness.
Asnani's and Graham's oasis can use a marketplace of ideas.