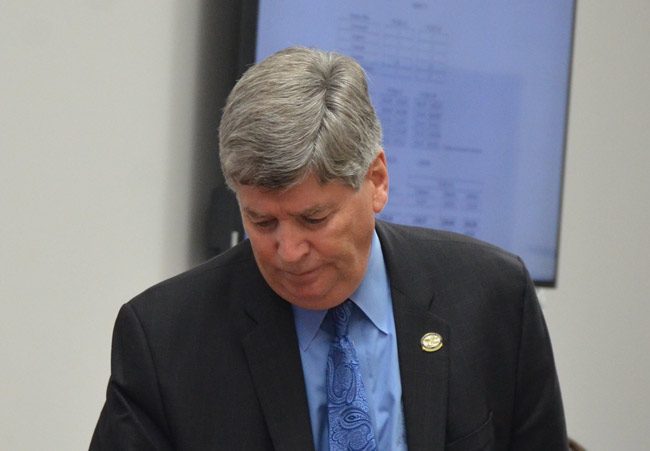 The Palm Coast City Council will hold a special workshop soon to plan the fate of City Manager Jim Landon, the council decided this morning. The workshop will determine how, not whether, to end Landon's 10-year tenure. The workshop is to be scheduled "sooner rather than later," Mayor Milissa Holland said, though it may have to wait until next week as at least one council member is going on vacation the rest of this week.
Landon will not be at the table for that meeting nor will he be allowed to participate, though he can attend as an audience member.
Landon's future in Palm Coast appears to be drawing to an end as four of five council members—the exception is Bob Cuff, as he revealed today—are no longer supporting Landon and want a change. They spoke of their dissatisfaction with Landon at length in interviews with FlaglerLive following one-on-one conversations they'd had with Landon, who had summoned each of them to closed-door sessions to speak about his future.
Council member Steven Nobile two months ago had told Landon that his time was up. Landon told him he'd think about his future and discuss it with his wife during a two-week vacation, ending shortly after July 4. He then met with each council member and proposed a deal most of them found strange and unacceptable: Landon said he wanted to stay another two years, until 2019 (when his granddaughter graduates), when he would retire, in exchange for sparing the city the cost of paying him severance. That cost equates roughly to a year's salary and benefits, or close to a quarter million dollars. Landon also presented the council members with what he called a "succession plan," with Beau Falgout, one of his directors, as the next city manager. He also wanted to control the announcement of his "plan," making it at a meeting of his own choosing.
In interviews, most council members ridiculed the succession plan and Landon's presumption that he would still control the nomination of his successor, and most were not in favor of extending his stay two more years, even at the price of severance: several council members consider the severance package the reckless work of a previous council, not their own, and the price to pay to be done with Landon.
"I don't think we should be making decisions based on a severance package that was adopted previous to us," Holland said in an interview after the meeting. "I do believe we need to base it on the confidence we have in our city manager."
That confidence is at a 10-year low.
"Full disclosure, about two months ago I went into Mr. Landon's office and I said, Mr. Landon, I think it's time for a change," Nobile said at the end of the meeting today. "We need to have a special workshop to discuss this as soon as possible just so we can speak to each other and come up with some decision, some consensus, and then follow up with another meeting as to the action that we propose. I just think we need to have that done as soon as possible. My opinion is that it is time for a refresh in that position." He stressed that his approach "does not reflect on a single thing that occurred. This is based on my two years-plus experience. I came in with the idea that it was time to refresh this position." He said it was time for the council and the city "to have someone that they can call their own. This is the guy we pick, or man or woman that we chose and that we need to have and that we'd like to have."
---
Landon tellingly sidelined as the council opts to discuss his fate without him at the table.
---
Council member Nick Klufas concurred, saying "we can't hyper-react to just one news story." Holland recommended an "independent workshop just with this council to discuss these matters," which prompted Landon to ask what she meant by "independent." Holland said it would be a workshop in addition to the normally scheduled workshop. She also meant, as she clarified later in an interview, that Landon would not be at the table.
"As far as our council," Klufas asked, "do we have a consensus of who we want in attendance? I'm not necessarily sure whether we would all feel comfortable with our city manager being present."
"That's a public meeting, so anybody can attend, but it will just be us discussing it," Holland said, echoing the wishes at least of Klufas and Nobile, who don't want Landon at the table during the council's discussion. He can be in attendance, though in matters of hirings and firings, elected boards routinely ask that individuals involved regarding a particular position not be in the room when the subject is being discussed. Sitting executives often choose on their own not to attend out of courtesy to the elected board. Landon has not been wont to such courtesies.
Nor was courtesy part of his plan today. "First of all I totally concur, I'm looking forward to getting the true story instead of some of the fiction and some of the rumors and misinformation out there, so I look forward to that," Landon said. He impulsively over the years has called "misinformation" anything he disagrees with, rarely presenting evidence disproving the "misinformation."
His statement today in essence called his own council members conjurers of fictions, since the article Landon and they were referring to was based almost entirely on their own statements, none of which any of them has disavowed, including Cuff—Landon's only supporter–who made a point of saying so despite being the odd man out: "I am not taking any exception to the story," Cuff said at the meeting. His concern is with the next steps. "Whatever the city council proposes to do on this issue, my comments are that we do it with reasonable dispatch, but that we do it in an orderly and legally proper matter," he said.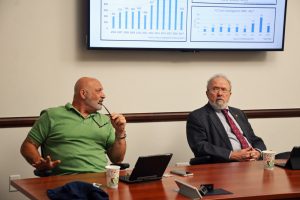 At no point had there been any suggestion to the contrary, though Cuff went on: "We don't have the luxury of holding closed sessions where we ram bills packed with all kinds of pork and goodies through the Florida Legislature. We don't have the ability to hold closed-door sessions in Washington and come up with legislation that will affect millions of people and then pop it up like a whack-a-mole to see if it will pas or not. We have to do things in public and in accordance with the sunshine law."
What Cuff was describing was, in fact, precisely what Landon had attempted through his closed-door sessions with council members—pack his proposal with goodies, speak of extending his tenure, which would affect thousands of people, then pop-up his plan—as he routinely has with innumerable city issues over the years—and see if it will pass or not.
That very method is what several council members have cited as no longer admissible as they look to the future.
This needs to be a discussion compeletly with our city council. Our attorney needs to be present by law… but I don't forsee a lot fo discussion or inpiut from the attorney other than process or a contractual discussion.
In the interview after today's meeting, Holland said the process in the days ahead must entail an open discussion among council members—and only council members, with a limited role for the council's attorney regarding process and contractual questions—so that the council can "discuss a plan moving forward." Action would then be taken on that plan at the following business meeting. Holland is intent on resolving the question of the city's leadership swiftly in part to ensure that the city 400-some employees have clear direction as well.
As things stand today, that special workshop would take place toward the middle or the end of next week, with action on the plan to follow at the next scheduled business meeting, which falls two weeks from today. There's little doubt left in Holland's mind what the action should be. "Prolonging it does not do a service to the discussion, and I don't see a positive outcome from kicking the can down the road," Holland said.