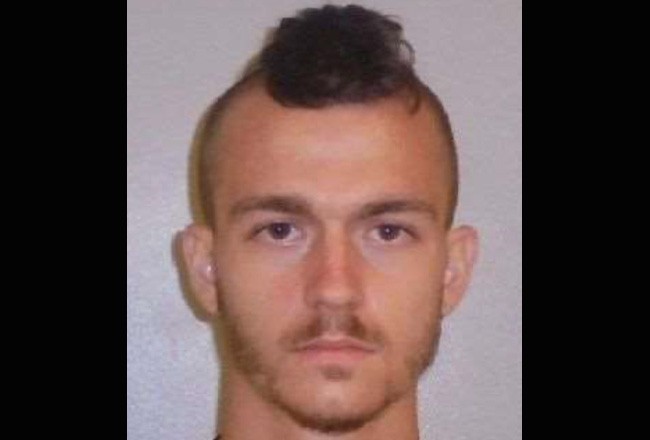 John Dugent Jr., a 20-year-old resident of 5906 John Anderson Highway had, according to Flagler Beach police and video surveillance, snuck into the Shell station on A1A in Flagler Beach before closing time, hoisted himself into the ceiling panels in the bathroom, and hid there until closing time. At about 1:10 a.m., after the store clerks had left, he then–according to his arrest report–rummaged through the place early Sunday.
"He is then observed searching behind the clerk's counter and in the shelving areas under and around the cash register," the report states.
He is seen taking a pack of Marlboro menthols and a mini Bic lighter. But the Shell station owner would later tell police that $3,000 was missing. Dugent left through the front door.
Police were tipped off at 1:25 a.m. when the alarm at the business went off. When they got there, the suspect had already fled, apparently on foot. The door to the station was unlocked. Two witnesses had seen him run across the street and down to the beach, losing a beanie cap along the way. They noted his "prominent mohawk."
A Flagler Beach police officer actually spoke with Dugent on an unrelated matter later that day, unaware that he had been caught in video surveillance at the A1A Shell station. But as soon as the images were reviewed, they led back to him.
"Photographs of the subject were reviewed and a person of interest in this case was identified relatively quickly," the city's release read. Monday evening a cop located Dugent in the 200 block of South Oceanshore Boulevard and was later interviewed by Williams. His arrest report states that, after seeing himself in the video surveillance footage, he confessed to entering the business and hiding in the bathroom ceiling tile.
He said he located and took about $1,900.
He was then booked at the Flagler County jail, where he remained Tuesday evening on $5,000 bond on the grand theft and burglary charges, and on no bond for the probation violation charge.
Flagler Beach Police Captain Matt Doughney called it "great Police work," citing video surveillance as "extremely helpful in our ability to solve this case. Kudos to the business for investing in a quality system."
But Dugent's recent past and profile made it easy, too: he sports that distinctive mohawk, and he was arrested in April on a probation violation charge, and last November on a minor marijuana possession charge.
A native of Baltimore, he is the son of Christopher John Dugent, who'd been arrested more than a dozen times in Flagler County since 2008, and is also currently in jail in Flagler. He'd been sentenced to a five-year prison term in April, but his conviction was appealed and in June his sentence was vacated. He is scheduled for trial in September.