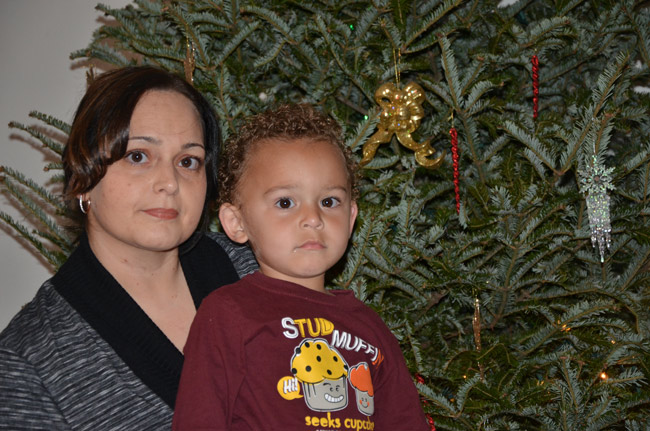 "The bad man took your videos, didn't he," Rhiannon Gross says to her two-and-a-half-year-old son, Lathan Davide. Lathan, sitting at the table, chews on a cardboard candy box, watching intently as his mom talks with another stranger. "The Grinches who stole the holiday," Gross says with a sad chuckle.
Gross, 33, lives in a modest house on Red Barn Drive, across from Rymfire Drive in Palm Coast. She's originally from Brooklyn. When she returned home after a full day's work and a trip to McDonalds with her son, at 9:30 p.m. on Dec. 12, a Monday, she noticed something odd. First, she found that one of her two dogs had somehow been confined to the storage room—not where she'd left him that morning. After letting him out, she noticed Christmas gifts vanished from under the tree. Her other dog wasn't in the house. All her electronics were gone—DVD, Wii, laptop, TV. She ran into her bedroom to find it in disarray—her jimmied window-screen lying on the bedroom carpet, clothes pulled from the dresser, her jewelry box ransacked, the drawers lying empty on the floor. As the shock set in, she had a moment of relief when she saw her second dog loose in the backyard, through the empty window.
To Help:
---


Donated toys or gifts may be dropped off or mailed to Rihannon Gross's mother's house at 4 Point Place, Palm Coast, FL 32164. Or call Rihannon at 386/503-8465.

There is nothing particularly remarkable about this burglary, but only because it's become so common. It is one of dozens of burglaries and larcenies reported to police every week, and it's the one type of crime that refuses to drop in Palm Coast and Flagler County. Florida's crime rate is at a 40-year low, the overall crime rate in Flagler fell more than 4 percent last year, and violent crime statewide and locally is also down. But there were an average of four larcenies per day in Flagler in 2010, a year that saw burglaries jump 44 percent in the first half of the year until the Sheriff instituted a "crime suppression team" that focuses on hot crime areas. Foreclosed and empty homes are like catnip to burglars. The second half of the year saw a decrease of burglaries steep enough to erase the first half's jump, but not so steep as to actually reduce the number of burglaries year-over-year. Most go unresolved, as, most likely, the burglary at Gross's house will be. And almost all go unreported beyond the cold prose of police reports and blotter-type summaries of crime news where the victims are usually as faceless as their aggressors.
None of this diminishes the anguish Gross experienced, not to mention, between its timing and its targets, the irony of the heist: two weeks before Christmas, with a two-and-a-half-year-old child as a primary victim.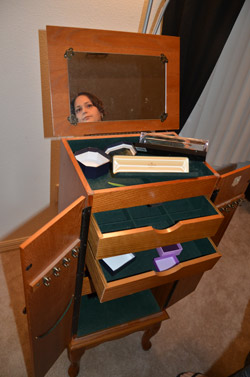 "Everyone keeps telling me I'm ok," Gross says, exasperated. "They say my son is ok, my dogs are ok—that I should be grateful for that. I am grateful—but I'm not ok. Those people broke into my house and took my stuff," Gross says. "I'm a single, hard-working Mom. I work and take online medical science classes at Harvard. I don't live off the government. I have no financial aid. I can't afford renter's insurance. I've always volunteered and I participate in Toys For Tots. I've always done everything on my own, and I've always tried to help others. Now I'm hoping some people will help me."
Lathan had never seen his mother so upset. A deputy who responded to the 911 call described Gross as "totally irrational and unable to calm down," a description she didn't disagree with. "I was a basket case," Gross says, looking tenderly at her wide-eyed child. "I apologized to the police for my hysteria the next day. It's just that Lathan didn't understand what happened to his stuff. This is going to be his first aware Christmas. He's old enough now that he should understand that it's actually supposed to be a joyous time."
To make matters worse, Gross opened her kitchen cabinet to take her anxiety medication at around 1 that morning only to discover that all of her pill bottles were missing. A former hospice nurse of six years and a REACT volunteer (that's Bob Pickering's local chapter of the Radio Emergency Associated Communication Teams), Gross suffers from degenerative disc disease and has recently been diagnosed with rheumatoid arthritis. She's officially handicapped. With the body chemical shift resulting from not taking her dosages, Gross spiraled into depression.
Her mother came to help clean the house and stay the night, cauterizing pieces of her daughter's and grandson's lives that weren't hijacked. Gross now has to pay for her replacement medications out of pocket.
"I can't believe someone would have the balls to pull a truck up to the back of my house, in broad daylight, and just take everything. I have 'No Trespassing' and 'Beware of Dog' signs out front," she says, astounded. It isn't clear when the burglary took place. It could have happened after sunset. But the neighbors to one side of the house said they were home after 3 p.m. and heard nothing.
One has to ask, why were the dogs—a Shepherd mix and a Terrier Mix, close to 50 pounds each and quite loud in the presence of strangers—so cooperative with the assailant? "I don't know," Gross says. "I thought they would've done something but they didn't. All dogs are different, I guess, just like people. Some people wouldn't steal presents from under the Christmas tree, others would."
The police said there were tire tracks, most likely produced by a large vehicle, going from the front yard to the back. The burglars jimmied either the back screen door or the bedroom window, both of which were open. The majority of burglaries and larcenies in Palm Coast are the result of inattentive property owners who leave cars and homes unlocked, bay windows open, garage doors gaping open. Not in this case, Gross says: she usually locks all. The burglars took the cords to each of the missing electronics, but left behind the cases to her laptop and camera. According to Gross, the burglars' hands made direct contact only with objects that had what the police called porous textures—for instance, the felt on the inside of a drawer or the plastic part of a child-proof door handle. They left no discernible fingerprints, suggesting that the burglars were experienced.
"All I really want back is the memory chip for my camera," she says. "That chip contains a year of my son's life from Christmas 2010 through Thanksgiving 2011 that I can't get back. If they could just leave it in my mailbox or if someone could somehow lead me to it, my family and I would be willing to offer an undisclosed reward. Otherwise, we'll just be forced to make new memories."
The next most valuable and treasured items taken were her Grandmother's Austrian jewelry, dating back to 1915, as well Lathan's Star of David.
A week after the burglary the Christmas tree was not as denuded of presents as it was the previous Monday. A couple of wrapped presents sat there, the result of a few donations. The St. Jude Foundation, which could've only heard of the burglary through the grapevine, according to Gross, sent Lathan a new teddy bear. Members of the Flagler County Sheriff's Department returned after their initial crime scene visit, bearing gifts as well. A neighbor donated some unwrapped toys to keep Lathan busy before Christmas, since he no longer has his tapes.
Gross thinks a minute when asked about her next step. "I'd like to say move," she says, "but I don't live in a bad neighborhood. Where am I going to go? It's not a question of where you live, it's who has the balls to come and do this to your life? You see those commercials where people have their houses broken into and you think to yourself, 'this is so unrealistic; it can't happen to me.' She pauses. "Well, this never happened to us in Brooklyn."