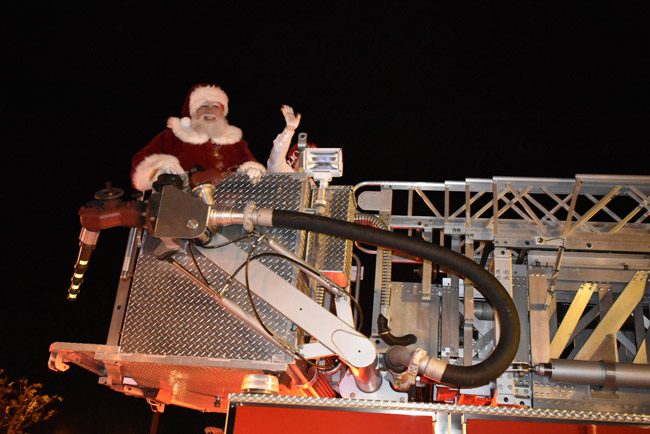 It's December, which means it's time for celebrations of Christmas, of Hanukkah (begins Dec. 12, ends Dec. 20), of Kwanzaa (or "first fruit," culminating on Dec. 31), and it all comes together under the umbrella of holiday parades–in Flagler Beach Saturdat at 1 p.m., in Palm Coast's Town Center next Saturday, Dec. 9.
On the barrier island, the Rotary Club of Flagler Beach invites you to participate in the traditional Holiday at the Beach Parade along A1A, an event that usually packs the parade route, which stretches east from North 6th St., south on A1A, then west on S.6th St.
For safety reasons, the city prohibits the throwing of anything from moving vehicles. Candy (and, unfortunately, political literature) may be handed out by accompanying walkers. Trophies will be awarded, including Best of Parade, Judges' Choice, Best Marching Unit, and Best Holiday Theme. Winners will be announced and trophies given out in Veterans Park immediately following the parade.
Palm Coast's Starlight Parade is next on Dec. 9 in Central Park, with events starting at 4 p.m. with the pre-parade Starlight Event, until close to 7 p.m. That pre-parade event features live entertainment, including music and games by DJ Vern, music by students from Old Kings Elementary School and the Flagler Palm Coast High School Formality Singers, and the VertiFit Aerial Arts Show, an acrobatic performance from the ground up.
There will be visits with Santa (bring your own camera for photos) and free children's activities, including Letters to Santa, a kid's coloring table, and a Christmas wish list station. A sand art craft will be available for a small fee. Parks & Recreation will offer an Expo with a tennis demonstration, a mini-nature/fitness walk around the lake, and a Teddy Bear Picnic story.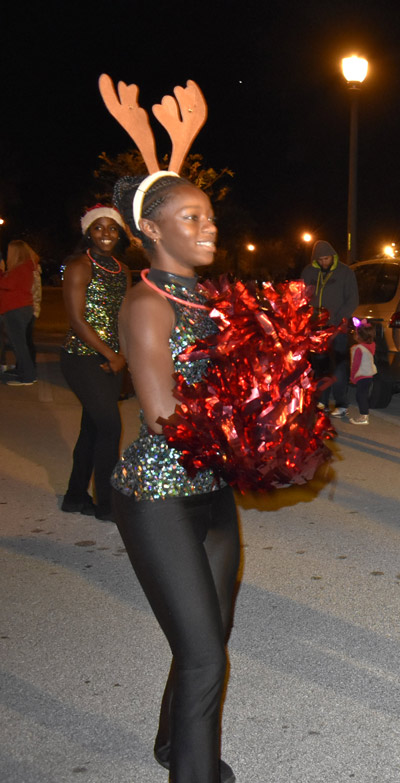 At 7 p.m., the Starlight Parade will get under way, featuring colorful lighted floats, talented marching bands, and prizes for the top entries. The parade route will begin near the Round-About on Central Avenue (near the entrance to the Landings Apartments) and head east, then turning north onto Park Street, east onto Lake Avenue, and south on City Place. It'll continue south of Bulldog Drive.
The commentators for the Starlight Parade will be Palm Coast Fire Chief Mike Beadle and his wife, DeeDee Beadle. Look closely: you might notice a little must in Mike's eyes. Mike is nearing the time of his farewell performances, as retirement is not too long in the offing for him. (FGear not: he's got his own way of going off into the sunset in his RV.)
This year's parade grand marshals will be 1st Lt. Ray Parker, U.S. Army (Ret.) and his wife, Dr. Claudia Parker, Commander of the DAV Auxiliary Unit 86, Flagler County. In Vietnam and Cambodia with the 199th Light Infantry Brigade, Ray Parker led U.S. and Army of the Republic of Vietnam ground infantry platoons in aggressive combat (keeping in mind that he was among the thousands of American soldiers illegally sent into Cambodia by the Nixon administration, an incursion that destabilized Cambodia, led to the rise of Pol Pot and the mostly forgotten genocide of 3 million Cambodians).
He earned a Silver Star Medal for Valor under enemy fire and two bronze stars. The Parkers are active in various military associations and are well-known in our community as advocates for veterans. This year's Starlight Event & Parade is presented by Palm Coast Ford, and the Palm Coast Observer is also sponsoring the celebration.
The pre-parade entertainment – to be offered at the main stage at Central Park – is as follows:
· 4 p.m. – DJ Vern kicks off the Starlight Event
· 4-4:30 p.m. – Performance by Old Kings Elementary
· 4:15 p.m. – Santa arrives; visits 4:15-6:30 p.m. (Parents should bring their own cameras for photos.)
· 4:30-5:15 p.m. – DJ games and music
· 5:15-5:45 p.m. – Performance by the Flagler Palm Coast High School Formality Singers
· 6-6:30 p.m. – VertiFit Aerial Arts Show
Bring your own camera for photos with Santa. A variety of food and treats will be available for purchase. Live entertainment is free. Some of the children's activities are free of charge, while others have a ticket price. The Starlight Event will wrap up at 6:45 p.m. to give everyone a chance to get into place for the start of the annual Starlight Parade.
For more information, visit www.palmcoastgov.com/starlightparade or contact the Palm Coast Parks and Recreation Department at 386-986-2323.