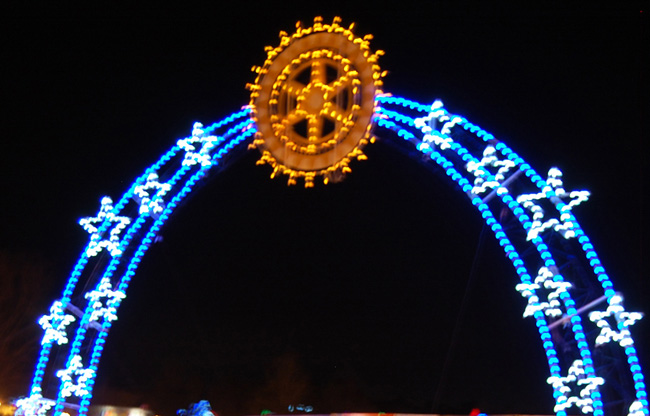 It happened with last Christmas's display, and it's happened again with the 9th edition of Tiffany's Fantasy Lights at Palm Coast's Central Park in Town Center: Someone vandalized a display.
In this case, it's the big arch at the entrance of the park that got toppled over. Many of its lights were smashed out.
The lights are an annual production of the Flagler County Rotary Club. The club's Michael Kuypers told police that he'd been at the park late the afternoon of Jan. 2 and all had been fine. The next morning at 8, he noticed the toppled over arch. Someone had disconnected the guide wires leading from the arch to the support stakes and pushed the arch over, the incident report states.
"The arch is a metal frame construction welded together with attached lights around the structure," the incident report states. "Some of the metal poles were snapped from when the arch hit the ground and numerous lights were smashed."
Kuypers estimates the damage at $500. There are no surveillance cameras in the area.
"As a supporter of this event, I find it disturbing that someone would purposely damage a holiday display," said Sheriff Jim Manfre in a news release. Manfre is a member of the Rotary Club and a long-time sponsor, with his wife Cornelia Manfre, of one of the displays.
In last Christmas's display someone tampered with the cabling and anchors used to secure two Bliss Sprite Laser Lights beneath an oak tree, toward the backside of the display. The vandals were never found.
Anyone with information regarding this incident is asked to call Crime Stoppers at 1-888-277-8477. Tipsters can remain anonymous and may be eligible for a reward of up to $1000.00.