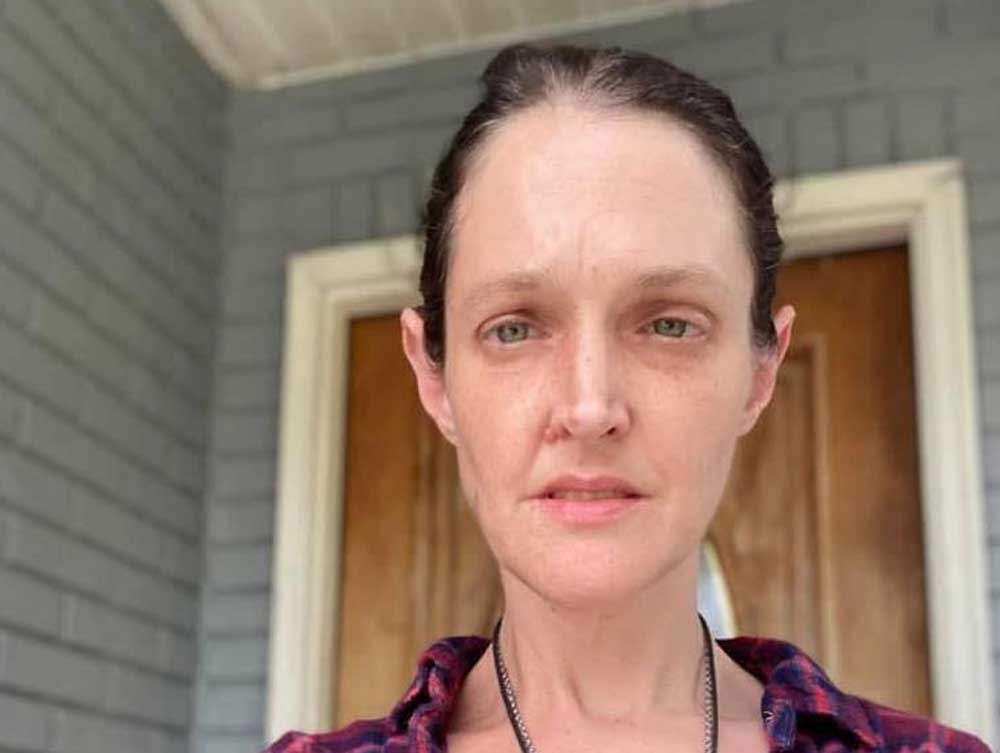 Last Updated: Tuesday, 4:57 p.m.
Chelsea Hawk, a 39-year-old mother of three young children and one grown son and a fierce political activist, died late Monday night at Halifax hospital from injuries sustained in a car crash off I-95 Sunday, her partner and father of the three young children said.
Xion, one of the three children and the most gravely injured, was pronounced deceased today after tests indicated no brain activity. remains in critical condition, with prospects dimming, according to his father.
"Chelsea passed away last night," Jared Upshaw, 46, wrote in a message on his Facebook page. "My soulmate is gone. The love of my life." In mid-afternoon Tuesday, he wrote: "This is the hardest time in my life. I just said goodbye to my sweet boy. The love of my life is dead, I am now a single father of 2 which I am still grateful for. I lost half my family. I'm so shattered."
Xion and one other child were transported to Arnold Palmer Hospital for Children after the crash at the I-95 interchange with Beville Road in Daytona Beach (the 260A Exit), when Hawk's and Upshaw's minivan failed to negotiate a sharp curve, struck a road sign and ended up submerged in seven to eight feet of water in a retention pond, according to the Florida Highway Patrol.
Upshaw and Rhiannon were treated and released from Halifax hospital that day. Xion and Ayden were airlifted to Arnold Palmer. Ayden is recovering, according to his father. (See the highway patrol's initial release on the crash here.)
A friend of Upshaw's set up a GoFundMe account, the family having limited means. By mid-afternoon, the account had exceeded $6,000, a reflection of Chelsea's wide following. But it also included an unwelcome donation.
"Fucking joe Mullins donated 500 to my go fund me. I think Chelsea would be offended," Upshaw reported, referring to the controversial and often distasteful Flagler County commissioner. Mullins is a frequent bully online, but he insulted few people to the extent that he did Chelsea over the last few years, tormenting her about her service job, demeaning her with vile nicknames and taunting her to get out of the county.




He could not rattle her, however. "You are deliberately trying to split this community," she once wrote him. "You are TOXIC and evil and vile and that will always be true no matter who you vote for. Threatening constituents will not be tolerated."
The previous story is below.

Palm Coast's Chelsea Hawk, 39, and Child Critical, 2 Other Children Hurt After Crash Into Pond
July 18–Chelsea Hawk, a 39-year-old mother of three and Palm Coast resident for the past 14 years, is in critical condition, and her three children were hospitalized, following a car crash off I-95 in Volusia County Sunday evening.
Hawk and her companion, Jared Upshaw, were moving with their children to Volusia County that very day. Upshaw and one of the children were treated and released from Halifax hospital  in Daytona Beach. The two other children were transferred to a children's hospital in Orlando.




The Volusia County Sheriff's Office confirmed that sheriff's deputies responded to the I-95 south, Beville Road off ramp Sunday evening "in reference to a vehicle in a lake.  Upon arrival deputies were advised there [were] three juveniles (10, 12, and 13 [years old]) in the vehicle and 2 adults," a sheriff's spokesperson said. Deputies assisted firefighters in pulling the victims out of the lake and administered CPR.  All victims were initially transported to Halifax Hospital, and the scene was turned over to the Florida Highway Patrol.
FHP reported that the vehicle, a minivan, failed to negotiate the exit curve, sliding into the grass, then into the water. The crash took place at 8:15 p.m. There had been extremely heavy rain in the area Sunday afternoon into evening, with visibility reduced to a few feet at times. It's not clear if it was raining at the time of the crash.
WESH 2 News's Claire Metz today reported that the minivan became submerged, that the driver–now known to be Upshaw–had minor injuries, and that the 10 and 12-year-old children were transferred to Arnold Palmer Hospital for Children in Orlando. But there was no update on the children's conditions.
Upshaw, under a different name, posted a brief message on his Facebook page Sunday night, referring to the crash and speaking in dire terms about Hawk and one of the children. In early afternoon, he posted an update stating that "Chelsea is still un unresponsive they are keeping her blood pressure up with chemicals. It doesn't look good. Xion is also still unresponsive." Ayden, he wrote, "is a little beat up but he's alive and awake." Rhiannon, the third child, had been treated and released.