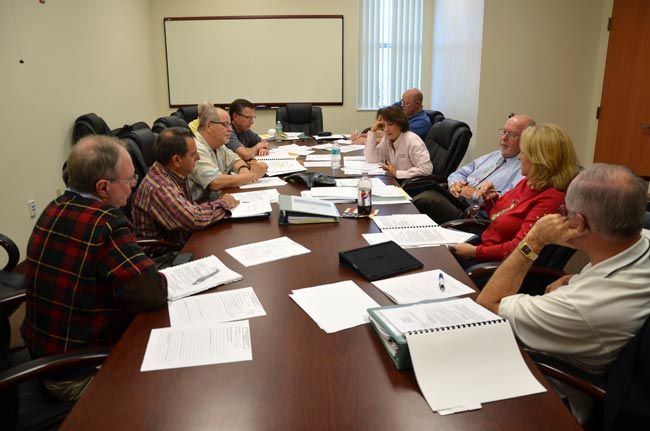 Memo to job applicants for a CEO position in government: It's not a good idea to preface your answer with lines like "between us girls."
Particularly when you're a man. Even more particularly when you're talking to a conference-room full of seasoned executives turned public servants on a council chaired by a woman, with press and public in attendance. "I couldn't believe he said that," one of the interviewers said.
Score one against Christopher Clifton, one of the seven candidates being interviewed this afternoon by the newly formed Flagler County Economic Development Council to be its chief executive. Clifton actually impressed the council with his contacts and experience through a paper company in Tennessee but impressed it less with the way he characterized his reasons for a career change (describing real estate as "in the tank" and wanting to return to the economic development arena).
So it generally went as the council went through a short-list of seven candidates in a first round of interviews. The candidates were interviewed by phone for about half an hour each by the nine members of the council, and with Joe Mayer, the county's human resources director, leading with a half dozen set questions. The list was pared down to five in-person interviews on Jan. 5.
As usually happens after serial interviews, some candidates shone brighter than others, and some ideas appealed to the council more than others—especially the tantalizing possibility of an Amazon distribution center located in Flagler. The possibility of turning Flagler into a base for military drone manufacturing (Boeing contracts with labor in Poland for the job now, so why not bring those jobs stateside, one candidate suggested) was less appealing.
The questions, prepared by Mayer, were relatively straight-forward. No candidate who hadn't done a meager amount of homework would have been caught off guard: Why are you pursuing the position? What are your top three responsibilities? What communications skills are important? What are some success stories you're directly involved in? How did you prepare for the interview? What questions might you have for us?
The candidates interviewed, down from a list of 60-some applicants: Clarence Hulse, Robert Barnes, Helga van Eckert, Bruce Register, Peter Tokar III, Kevin Hurley and Chris Clifton. Lisa Collins had made the short list but withdrew herself before the phone interviews.
The five who made the cut for in-person interviews: Barnes, van Eckert, Register, Tokar and Clifton.
Council members appeared more interested with some than they were with others. Barnes excited them. Tokar and Clifton teased their imagination. Register got points for being as inquisitive of the council members as they were of him, though they wondered whether he would be the right fit in what would be his first executive job in economic development. Hurley appeared to bore them (and raise an occasional eyebrow when, for instance, he spoke of researching Flagler County on Wikipedia; other candidates' sources were more sophisticated, at least in their answers) and was summed up as "a really good guy," which is the job prospect's equivalent of a date with a nice personality, particularly since "he didn't really do his homework on Flagler County," as one council member put it. And Hulse, the last candidate, had them nervous even before the interview, because the Belize native's resume had "red flags," as one council member put it, with short job stints and a question-raising history, including his most recent job, which Mayer said he left because of political changes.
The interviews started at 1 p.m. They were not scheduled to end until 5 p.m. Only after that would it become clear who the council would choose for interviews.
three of the candidates raised the issue of Enterprise Flagler's dissolution. Enterprise Flagler was the public-private economic development partnership that the county and Palm Coast effectively dissolved this summer when they quit funding it. Candidates were wondering why it had to be dissolved only to be replaced with a county version. "I hate to term it as blatantly as I can, but it was a political issue," Barbara Revels, who chairs the council, replied. Revels was also the county's representative on Enterprise Flagler. No one would dispute Revels's summary, but nor did the answer explain why and how the matter turned so political.
There was occasional humor, too. When Jim Ulsamer, one of the council members, likened Register's verbal delivery and intonations to Rick Perry, one of the GOP's presidential hopefuls, another council member said–without skipping a beat–"yes, but he remembered all his points." In the same department, Barnes sounded, to Revels, "exactly like a Putnam County commissioner."
And when Van Eckert was asked what sort of staff she has currently, she replied: "staff, what a wonderful word," a reflection of what many people working in economic development have to deal with: small budgets. This council will be wielding about $400,000 in its first year. Perhaps half of that will go to salaries, including the CEO's salary, which will be in the $100,000 range.