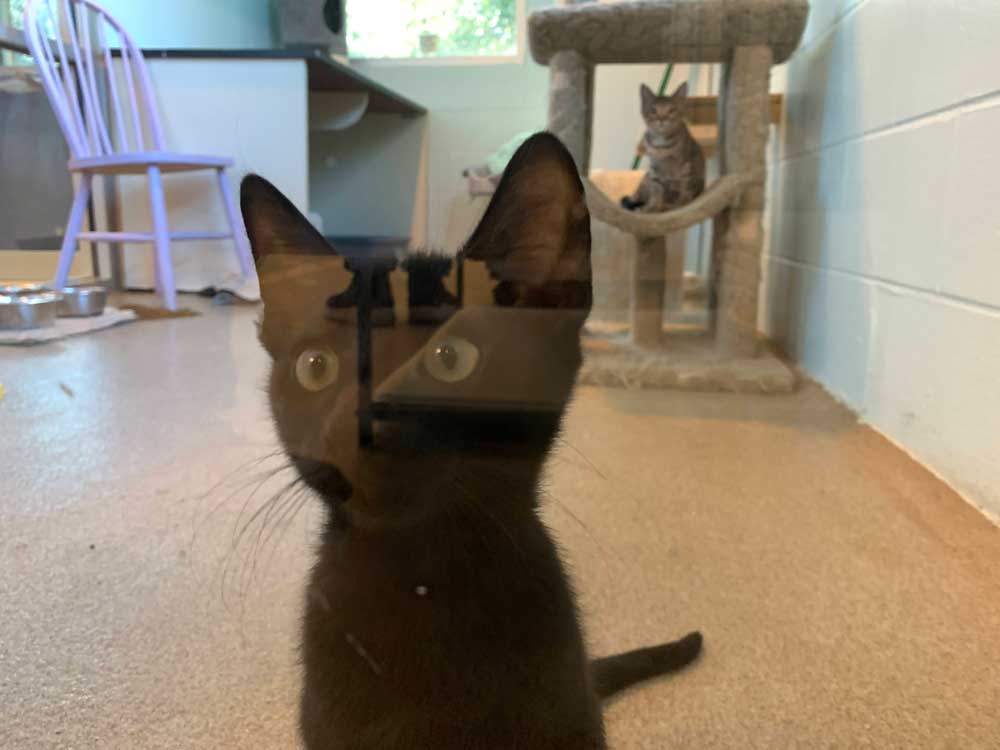 A 61-year-old resident of Lee Drive in Palm Coast was arrested Wednesday on a felony charge of cruelty toward animals, causing death, after he told sheriff's deputies he choked and slashed the family cat. The cat died.




D.L.C. had been Baker Acted a few weeks ago due to mental health issues, and was again Baker Acted before his booking at the Flagler County jail early this morning. A Baker Act is when police exercise their authority to commit an individual to a psychiatric unit with or without the individual's consent, when the individual meets certain criteria for a likelihood of self-harm or harming others.
D.L.C.'s wife reported the incident to authorities. She had woken up to the sounds of the cat, called Poo, crying in the bathroom. Her husband told her not to go in, saying the cat was going to hurt her.
D.L.C. told deputies he grabbed Poo by the neck in the master bedroom, took it to the bathroom and choked it there, then wrapped a belt around the cat's next, noose-like, before stabbing the cat with a knife. He then placed the cat in the litter box, next to the knife he'd used. That's where deputies found the animal, which had died by then. There were scratches on D.L.C.'s hands, which he attributed to Poo attempting to escape his grasp.
Deputies had evaluated D.L.C. for a Baker Act at the beginning of their encounter with him, finding that he did not meet the criteria. But they re-evaluated him once the initial investigation was completed, and concluded that he did meet the criteria, since by then he'd made mention of wanting to harm himself, and the evidence of what he'd done to the cat was in front of deputies.
He had his first appearance before a judge this morning–County Judge Melissa Distler–who set his bond at $50,000. He remains at the county jail, facing a third-degree felony charge. He has a no-contact order that applies to his wife.




The case is similar to a 2021 incident in Palm Coast involving a then-49-year-old man, also with mental health issues, who attacked and killed the family parrot, which had been part of the family for almost half a century. The man pleaded to a felony animal cruelty charge and a misdemeanor count of assault, and was sentenced last November to four months and three weeks in jail, which he had already served by the time of the sentence, followed by five years on probation.

The following resources are available for individuals in crisis:
In Flagler: The Crisis Triage and Treatment Unit (CTTU) is a crisis assessment and referral service for Flagler County residents experiencing behavioral health crisis. It is located at 301 Justice Lane in the Brown & Brown Outpatient building at the Vince Carter Sanctuary in Bunnell. This program is limited to individuals escorted to the program by law enforcement between the hours of noon and midnight daily. Law enforcement is able to transport individuals to SMA to assess and determine the appropriate clinical disposition. When required and appropriate, SMA then transports the individual to a receiving facility in Volusia County.
In Daytona Beach: Stewart-Marchman Act Corporation Crisis Center
1220 Willis Avenue
Daytona Beach, FL 32114
Crisis Line: (800) 539 – 4228
Available 24 hours.
National Suicide Prevention Lifeline, 800/273-8255 (TALK), or use the online Lifeline Crisis Chat, both available 24 hours a day, seven days a week.
Veterans Crisis Line: 1-800-273-8255.
People 60 and older can call the Institute on Aging's 24-hour, toll-free Friendship Line at 800-971-0016. IOA also makes ongoing outreach calls to lonely older adults.
If you are concerned for someone else, read about warning signs here. For additional resources, see the Speaking of Suicide website.