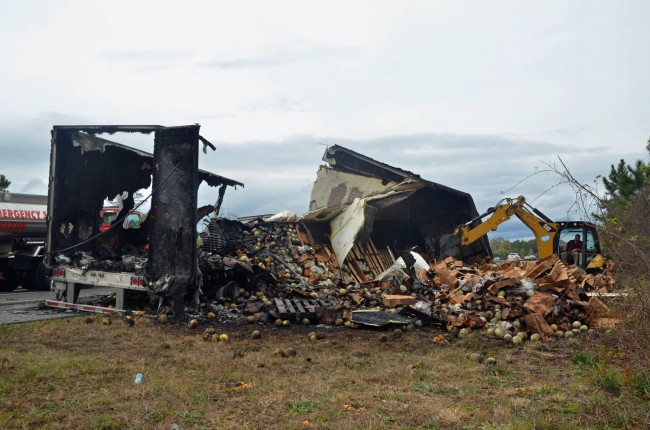 Daren Lee Lambert, a Pittsburgh resident and truck driver with Great American Lines who turned 39 last Friday, was driving north on I-95 early this afternoon with his rig, hauling several thousand pounds of cantaloupe shipped to South Florida and originating from Central America, when another truck driver signaled him as he was passing him. Something was wrong with Lambert's truck.
Lambert pulled over just past mile marker 295, about six miles north of the Palm Coast Parkway exit, got out, and walked to the back of the truck. The rear axle was glowing red. Lambert went back to his cab to retrieve a fire extinguisher, but by the time he'd returned a tire was already on fire. "He said a tire exploded as he approached with a fire extinguisher, so he retreated," a Florida Highway Patrol investigator said. Lambert immediately separated his cab from the trailer, and drove the cab a few hundred feet north to save it. But the trailer began burning, and charring the cantaloupe.
That exploding tire went into the nearby woodline, igniting a brush fire. The Palm Coast Fire Department was on the scene within minutes, and at first, a department captain said, focused on the brush fire to prevent it from running east. That fire was extinguished. Then, with help from a Flagler County Fire Rescue water tanker truck, the focus turned to the truck itself, though its aluminum sides and wooden skeleton had already burned quite a bit.
The fire inside was very dense. "The only way to get to the fire now is to pull it apart," a fire department official said, as a Palm Coast Public Works backhoe was getting in position to tackle the trailer, "and wet it down and get to the base." The backhoe shoved mounds of cantaloupe off what remained of the truck bed and pried through the trailer's structure, dismembering its sides as firefighters doused the produce, which rested on wooden crates, in water.
Lambert was not hurt, and the fire did not cause injuries to anyone else. No other vehicle was involved. The trailer was parked on the east shoulder of the highway. It nevertheless reduced traffic to a crawl as I-95 North was reduced to one lane, with the Palm Coast Fire Police regulating traffic.
The fire was called in to FHP at 1:27 p.m. The road was not going to be cleared until closer to 4 p.m. Lambert, an owner-operator, was driving a 2007 Peterbilt truck and hauling a 2008 Wabash trailer. He was hauling Mayan Pride cantaloupes.
---
Video: Palm Coast Public Works vs. Cantaloupes[media id=315 width=500 height=400]