A few days before Christmas I sat in a chair as shapely as a hippopotamus' snout and heard a doctor tell me the growth on my neck could be cancer. We'd know after Christmas. That made for an exquisite holiday. Two biopsies, two scans, a few more visits in the hippo chair and $1,800 later, the verdict was beyond appeal: stage 3 cancer. The demon had shacked up on my left tonsil and sprawled to a lymph node. It's poised to make Fallujah of my Pharynx.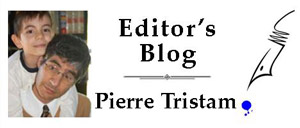 How it got there is one of those mysteries best chalked up to the body's intuitive capacity for betrayal. This is the sort of cancer drunks and smokestacks self-inflict. I'm 49, I consume the required drink-a-day any doctor in her right mind would prescribe but not more. The rare pipe and rarer cigars I smoke add up to less carcinogens than our morning toast. I exercise enough to satisfy the cardiovascular quotas of a small neighborhood (I'm writing this on my exercise bike). My Mediterranean diet has me consuming quantities of olive oil and garlic that keep a segment of the Lebanese economy humming. I should be giving cancer panic attacks. Instead I'm the evil's latest banality.
So goes cancer, the planet's fairest equal-opportunity predator.
Strangely enough, my first emotion wasn't disbelief. It wasn't anger or shock. It was confirmation. I always thought death the norm and life the accident waiting to end, at least ever since puberty, which coincided with my father's premature death and my front-row seat to Lebanon's war. Covering wrecks and having a front-row seat to Florida's gun fetish hasn't brightened matters. We have a reasonable chance of escaping bombs and bullets, but random illnesses is what happens to most of us, a constant reminder, in the unforgettable words of Anthony Burgess, that "life itself is lethal but, we hope, not yet." Five weeks before my diagnosis we'd buried my mother after her own endless illness. Walking away from the grave one of my brothers joked that we were next. Confirmation.
That said, as I sat there listening to the doctor's serrated analysis of the terrorist cell in my throat I did feel my head sink roughly to those abysmal depths where only National Geographic capsules have gone before. On my way down I noticed my wife Cheryl rise from her chair, walk the step and a half toward me, and take my hand in hers, in effect halting the descent, her first of many acts of quiet CPR on my soul. It wasn't so much the fear of what was ahead that had me sinking so much as the resentment I felt over the immense imposition this will be on my wife and child, the burden, the disruptions and sucking up of energy and concern and attention I will be to them, a betrayal of responsibilities I find the most odious aspect of this situation.
My mind was a swirl of emotions and internal dialogues, of sudden scenarios and possible outcomes even as the doctor kept speaking at great lengths about what we'd just learned and Cheryl went into Senate confirmation mode, grilling him like he was the next Surgeon General. Which of course for us he was. That white light you see at the end of the tunnel: nothing more than the guy's lab coat.
My life didn't flash in front of my eyes, but what future life I had imagined did, at least in so far as seeing my son through his teens and my slightly older daughter through whatever circles of hell she tends to cook up. Mostly, I wanted to cuss. I thought of the moment when, in Carlos Fuentes's "Death of Artemio Cruz," the old dictator in his death bed lets loose a superb stream of disjointed obscenities that culminate with "Viva Mexico, you fuckin' fucked up fuckers frigging forking fugging firking mucking screwing plowing plugging screwed up fouled up: the world's offspring." It probably sounds even better in Spanish. I was in an Adventist hospital building, so going Artemio Cruz on its end times would have been poor form. It was instead my silent meditation, the solace of obscenities and the feel of my wife's hand in mine having always done the trick when I'm at my lowest.
Whatever coping mechanism I might invent, cancer is the great up-ender. The absurdities of what's to come began right there in the hippo chair as the doctor went through the possible scenarios ahead, not necessarily in that order–daily radiation assaults, chemotherapy, disfiguration, some butchery to remove the demons, a feeding tube (a feeding tube!) should I become incapable of swallowing, changes to my vocal cords, and a sprinkling of other gross possibilities only the body's inhumanity to itself–which happens to be a definition of cancer–can serve up. So then I'm thinking: what about the goddamn county commission and city council meetings?
Anguish over my immediate obliteration was a bit premature, as we'd learn a couple of weeks later. It's cancer, but the sort of purgatorial cancer that can be treated, even excised, for now anyway, and that may yet spare me death row, possibly even radiation and chemotherapy. One doctor is giving me an 80 to 90 percent cure rate, numbers that make even my instinctive pessimism glow Cherenkov blue. FlaglerLive is in good hands, with a few reporters and an editor–the exceptional Steve Robinson–even if I were to be on the disabled list for a few days. Having reported live-by-laptop from cars, trains, planes, bathrooms, theme parks, sordid hotel rooms, the ER at Florida Hospital Flagler, my own bed and the odd foreign country, to name a few venues, there's no reason a sordid hospital room shouldn't be added to the list. God knows it's a better way to recover than drugs–pot excluded of course, should chemotherapy be in my future: in that case I might be looking for a supplier, and inviting the Flagler Sheriff's Office to arrest me. I'd like nothing better than to be a poster boy for Florida's medical marijuana initiative, and I've always wondered how our local jail might handle the booking of an inmate with a chemo IV sticking out of his chest. Might as well put this contemptible illness to some uses.
I'm also in good medical hands, with two sets of physicians working on the case, one here at Florida Hospital Flagler, where one doctor in particular has made the experience, intellectually anyway, almost pleasurable, and one in New York and Boston. Between Mt. Sinai Hospital and the Dana-Faber Cancer Institute, I should have this thing surrounded and D-Dayed by early spring. And that's before taking account of more private blessings.
It's often on the way to the abyss that we discover how lucky we are. Reprieves from the worst possibilities become victories. Weeks and months, rather than years, take on a more meaningful character. I'm moved by the reaction of the few people I spoke with of this before deciding to speak of it more broadly here, a couple of whom had no reason to extend me a hand, yet extended me two. The first person I contacted, instinctively if not desperately, was Jo Ann Nahirny, the Matanzas High School teacher and FlaglerLive columnist who memorably chronicled her own battle through a cancer recurrence in 2012 in these pages, with wit and grit more lethal to cancer than any radiation treatment known to man. The 90 minutes we spent together with our respective spouses–the cross-bearers in this calvary–was like a balm on anxieties running wild.
It's Jo Ann's example I'm following here by writing about it. I find the whole patient confidentiality thing not always necessary, considering what there is to learn from candor and the breakdown of those walls the health industry unhealthily builds around illness: when away from home, we are treated in brutal segregation from most things human as technology reduces us to extensions of its machinery. The body becomes a vessel to be prodded, needled, injected, scanned, transfused, irradiated, intubated, sliced, carved, reconstructed. We're then billed for the pleasure and asked to come back in a month for variations on the shanking.  Paradoxically, we live in a time, not to mention a place (Florida), where obsessing over one's health and age is the conversational equivalent of small talk. It is inescapable and unbearable, because there's nothing so boring and self-absorbed as recitations about one's health. There are certainly more interesting things in life to talk about, precisely because life is more interesting than its detractions.
I'm not sure if I'll be doing much chronicling of this little war I'm about to wage. If I do, it's not because I'm finding any of this newsworthy or unusual. That's the last thing it is. But because if this illness is to have the last word, which it ultimately always does, I'd like it not to be a monologue even as it seems that everywhere one turns these days, there's as much talk of cancer as there is of the weather. It's our civilization's physiological version of climate change, a slow, massive capsizing against which containment seems to be the most we can do.
Thirteen million Americans have some kind of cancer, roughly the same number of people worldwide who merely learn of having the disease every year. In the United States, where 600,000 will be killed by cancer this year (that's more than 10 times the number of Americans killed in 15 years in Vietnam), it's about to overtake heart disease as the leading cause of death. That says a lot about the gains against heart disease and the more pyrrhic slog against cancer. So there's really nothing special about cancer, nothing special about its targets other than that it is "the emperor of all maladies," as Siddhartha Mukherjee called it in his biography of the disease four years ago.
Given the numbers, it would be presumptuous to think myself immune or declare the diagnosis in any way unjust. Even anger seems to me a misplaced mask for the deadlier psychological cancer of self-pity and its derivatives: depression, despair, capitulation, though in the weeks since the original verdict I've ticked off each of those ulcerated little buttons despite knowing that I can afford to be more positive. I'm not in the end stages. I'm not even in the middle stages. I have no illusions that, depending on where I am on the Kaplan-Meier curve, I may be stitching my own white flag yet. But to go Betsy Ross on my ass now isn't part of the plan. Kicking a little cancer ass is.

Pierre Tristam is FlaglerLive's editor. Reach him by email here.