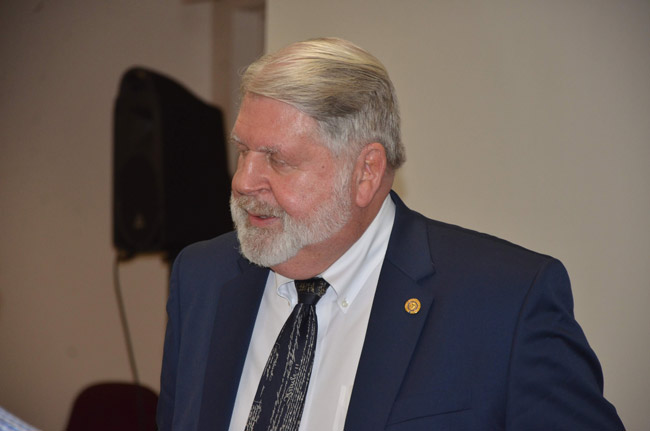 It's not Interim County Administrator Jerry Cameron anymore. On Monday, the Flagler County Commission stopped the process of finding a search firm for its next administrator–not that there'd been much of a process to start with–and in a matter of minutes, declared Cameron the county administrator for the foreseeable future. That could be a few years rather than the few months the commission expected him to serve when it initially hired him in February.
It's a change of track more for the county than for Cameron. During his one-on-one job interviews with commissioners, Cameron said he'd put a three-year time limit on his commitment, depending on the commission's needs. It now appears almost certain he'll shepherd the county through the 2020 election and is the administrator responsible for resolving such issues as the Plantation bat utility revamp, the Captain's Barbecue expansion controversy at Bing's Landing, the homeless camp at the county's public library in Palm Coast, and most significantly, the construction of a new sheriff's operations center near the library in the next 24 months.
Cameron, 73, and at the end of his career, signaled he will tackle those issues with a much freer hand than a younger administrator worried about his or her job, her future or public criticism. In essence, Cameron's tenure will be like that of a second-term president who has nothing to fear, no votes to preserve.
"The fact that I don't have firm plans and commitments I think gives me more freedom to address problems without a larger concern about criticism, risk of employment, that sort of things," Cameron said this morning as he drove the thirty miles from his home in St. Johns County. He does not intend to move. "I'm not planning a career. I'm here just to address problems."
Those problems also mean divesting the county of three properties it bought for a combined $3.2 million, and that it no longer can occupy, no longer needs or no longer wants: the doomed Sheriff's Operations Center in Bunnell, bought in 2013 for $1.23 million and converted from an old hospital, the old Wachovia Bank building off Old King's Road bought last year for $900,000 and intended to be a permanent sheriff's district office, and the Sears building off Palm Coast Parkway it bought just last month for $1.1 million.
Commission Chairman Donald O'Brien proposed to his colleagues on Monday that "we basically slow down" the search for a new administrator "or discontinue it right now."
"One, I'm extremely pleased with Mr. Cameron's performance at this point and his dedication and commitment to our county," O'Brien said. "So we know that long-term we're going to have to do that, but he's also given indications to me and I'm sure some of you as well that his time horizon is not necessarily what we thought it might have been originally or six to nine months, it may be two to three years, I'm not sure." It was.
O'Brien was speaking immediately after Cameron and his staff had submitted options to move on from the plagued Sheriff's Operations Center and build a $12 to $15 million new building near the county library in Palm Coast, a plan that would have the collateral consequence of condemning the homeless camp there. Commissioners voted unanimously to approve the plan, thus scoring Cameron's first significant achievement and setting him up to be the county's clean-up hitter. His demeanor–unassuming, relaxed, disarming, though it hides a steely streak that can burn red even as he velvets his tactics in flattery–is hitting it off with most commissioners.
"There's a lot of problems here as we've seen over the last few months that have been just ignored, neglected, manipulated, that need to be resolved," Commissoner Joe Mullins said, "and to switch someone real soon would be setting up that new person for failure, and it would also be taking away from the progress and the strides that Mr. Cameron is making. I think he's done a phenomenal job. I would like to see us totally stop this right now to looking for a new one and let him get in here and continue the path of utilizing the staff and allowing them to work to move forward."
Cameron has been receptive and responsive to Mullins's barrages of information, requests and proddings of all sorts while keeping other commissioners equally apprised of issues on their own terms.
"Mr. Cameron has demonstrated out of the blocks that not only he can do the job but he can take us to new heights and he's got some vast knowledge of some other options available to that," Commissioner Charlie Ericksen said, citing the resolution of the Sheriff's Operations Center.
Cameron is being paid an annual salary of $160,000, not including a $1,000-a-month car allowance (Craig Coffey,m his predecessor, had a $400 car allowance) and other benefits and compensation totaling $237,000. He would be in line fora raise in accordance with the inflation rate next March.
He'd been referred to as an interim county administrator. But County Attorney Al Hadeed told commissioners that regardless of their move on Monday, "his title is county administrator. That's by law."
Commissioners did not vote on a motion to suspend the search or to name Cameron their permanent manager, the latter being legally a moot point, but rather by consensus directed the administrator to–in Hadeed's words–"suspend the present search and await for further instructions from the board." The move was reminiscent of the Flagler Beach City Commission's relationship with an interim of its own several years ago, Bernie Murphy, who ended up remaining the city manager in that formalized limbo for four years. That ended only when Murphy himself finally told the commission he was done extending his services.
"The time I'm here depends on what they want me to do," Cameron said this morning. "I just don't have a crystal ball on that, things are going really well right now." He credited the county staff as "probably the strongest staff" he's worked with, though it's inconceivable that he;d have said any less of staffs he's worked with elsewhere. His liberating approach to the work ahead would be summed up in six words he spoke this morning: "You just do the right thing."