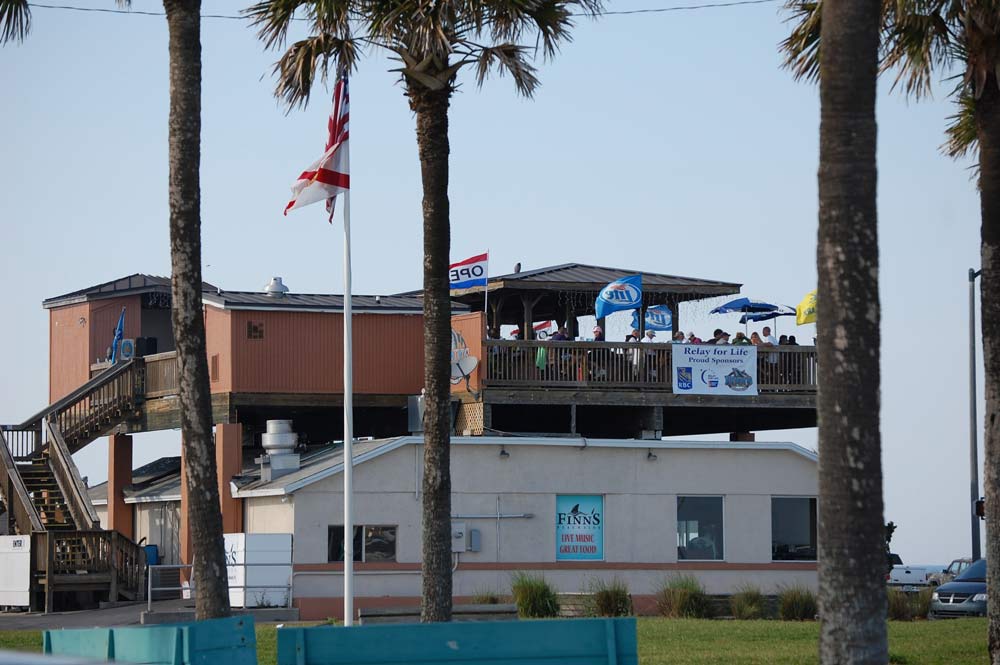 Last Updated: 5:35 p.m.
Sgt. Michael Breckwoldt, a 20-year veteran of the Flagler County Sheriff's Office and currently the supervisor of its narcotics investigations unit, is at the center of an allegation that he flaunted and abused his power while drunk at a Flagler Beach bar early this morning, claiming he runs the town, had a verbal and physical altercation with a patron, and demanded that the patron buy him a shot of whiskey.
Breckwoldt, who had been cut off from drinking by a bartender at Finn's, where the alleged incident unfolded, was briefly held in the back of a Flagler Beach police patrol car as officers investigated. the Officers were later joined by uniformed members of th Flagler County Sheriff's Office. Breckwoldt was not arrested. But the alleged victim told police he intends to pursue criminal charges.




The investigation is ongoing. Its outcome may hinge on two videos that had not yet been reviewed by police.
"As a result Sgt. Breckwoldt has been relieved of all law enforcement duties and authority and has been re-assigned to administrative duties," Sheriff's Cmdr. Mike Lutz wrote FlaglerLive. Breckwoldt will still be paid while on administrative reassignment, as is normal in such instances. "Sheriff Staly has directed an internal investigation be conducted following the Flagler Beach Police Department investigation and is deeply disappointed in the alleged behavior which, if proven, is not in keeping with the expectations expected of an FCSO employee."
According to a Flagler Beach police report, Breckwoldt once or twice bumped into L.L.R., a 41-year-old resident of Palm Coast, demanded that L.L.R. buy him a shot of Jameson Irish Whiskey, and, according to Finn's bartender, said: "I'm the sergeant of Flagler Beach and I fucking run this town."
A Flagler Beach police officer responded to the area of the bar at State Road 100 and North Oceanshore boulevard after 1 this morning to find Breckwoldt, 44, sleeping on a chair outside the bar, and L.L.R. appearing visibly upset. Breckwoldt "appeared to be under the influence of alcohol," the officer reported, "due to his eyes and his slow reaction and his slurred speech." So was L.L.R. Another officer placed Breckwoldt in the back of a patrol car "to further conduct the investigation."
L.L.R. told an officer that while he was at the bar on the upper deck of Finns, Breckwoldt bumped into him with his chest an unknown number of times and words were exchanged. Breckwoldt asked L.L.R. if he knew who he (Breckwoldt) was, and told him that if he did, L.L.R. should buy him a drink. L.L.R. did not know Breckwoldt, but bought him the drink anyway, then asked around and found out Breckwoldt is a sheriff's deputy.




L.L.R. "felt [Breckwoldt] was using his status as a law enforcement officer to his advantage," the report states, and that L.L.R.'s brother's girlfriend took a video of the incident on her cell phone. But the cell phone was not recovered at that time. L.L.R. himself acknowledged that he was under the influence. "It was apparent [L.L.R.] was emotionally upset over the incident and other officers and I attempted to calm [him] down." The man's wife, who had been at work, drove over to pick him up.
Once Flagler Beach officers confirmed that Breckwoldt was a sheriff's deputy, a sergeant with the Flagler Beach Police Department was summoned to the scene, as was Sheriff's Cmdr. Brian Finn. Both supervisors were briefed on the incident as an officer gathered further eyewitness accounts from people at Finn's.
One employee, who provided a written statement, said Breckwoldt and L.L.R. were arguing. When "security management" intervened, L.L.R. said Breckwoldt had bumped into him and claimed to be the "sergeant of Flagler Beach and he can do whatever he wanted." The Finn's employee said the deputy was cut off, given water and offered a ride home, which he declined. Sworn statements were not taken from either man because they were drunk. (L.L.R. later said he was not drunk, but had been drinking.)
L.L.R. was advised to report to the Flagler Beach police station this morning to write a statement. (He had not yet done so when Police Chief Matt Doughney was contacted by a reporter about the case after 10 a.m.) "We're waiting to hear from the alleged victim in the case," the chief said.




Finn's surveillance video could not be accessed until morning. Doughney was not yet aware whether that had been turned in. L.L.R "was made aware if the evidence show[s] probable cause charges would be sent to the State Attorney's Office," the report states.
A second officer also interviewed L.L.R., who said Breckwoldt bumped into him twice and demanded the shot of whiskey as he yelled at L.L.R.
A Flagler Beach police officer gave Breckwoldt a "courtesy ride" to Breckwoldt's Palm Coast home, where Cmdr. Finn and acting Chief Kenny Goncalves were to make contact with him, according to the report. Flagler Beach detective Rosanna Vinci has been assigned the case.
Breckwoldt is known at the agency as a kind and well-liked man, but has had issues in the past when drinking was involved. In April, Breckwoldt was honored for his 20 years of service with the agency. Last year he was among those receiving a unit citation award for his role in saving a three-month-old child from danger, one of several such citations he's received over the years. Among the highlights of his career was his successful prevention of woman's suicide, though she was armed with firearm that she had already fired twice.
Sheriff Rick Staly in his tenure has combined a fierce defense and advocacy for his ranks with severe consequences for members of the force who violate agency policy, which includes prohibitions on misusing–let alone abusing–the shield or behaving, even while off duty, in ways that reflect poorly on the agency.
Members of the agency and its leadership, including the sheriff, were in St. Johns County today at the funeral for St. Johns County Sheriff's Office Sgt. Michael Kunovich. Kunovich died a week ago "after experiencing medical distress following an altercation while on the job," according to a media report.