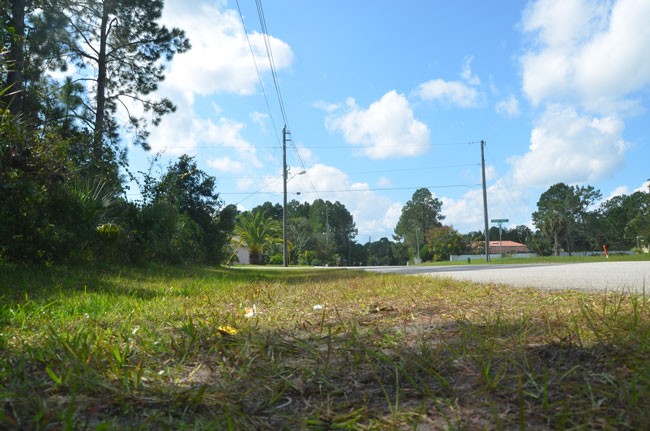 Not long after 7-year-old Kemora Christian was killed at her bus stop in a collision with a driver on Whippoorwill Drive last week, Palm Coast City Council member Jason DeLorenzo called up Andy Dance, the school board member, to talk about student safety on city streets. It so happened that Dance had at that moment been drafting an email to DeLorenzo on the same subject.
When DeLorenzo approached Palm City Manager Jim Landon on the matter, Landon was just as eager to do something: the bus stop where Kymora was killed is also Landon's granddaughter's bus stop. (His granddaughter is older, she had already gone to school that day then the fatal collision took place.)
Through the weekend school district staff worked in conjunction with city staff to produce GIS or Geographic Information System maps they could use to frame their analyses. The two agencies have different GIS capabilities. So the district exported its own into the city's system, and by Monday afternoon they had a combined product that could overlay every single one of the district's 600 bus stops over the presence of street lights, locations next to public lands, and so on.
By Tuesday afternoon, a working committee of top officials gathered at city offices to brainstorm ideas and analyze the maps. The committee included DeLorenzo, Dance, Superintendent Jacob Oliva, Landon, School Safety Director Winnie Oden, District IT Director Ryan Diesing, a planner for the city and Cmdr. Mark Carman, who heads the Palm Coast precinct for the sheriff's office.
"It was true brainstorming," DeLorenzo said. "A good portion of the discussion had to do with can we get kids off busier streets and onto less busy streets where there's less opportunity for them to get hurt. There has to be education with this as well. You see kids around town—well, they're kids, but they do sit on the road sometimes, and I couldn't think of anything worse."
After the district explained the breadth of its daily busing operations, numerous general ideas were proposed, but nothing concrete yet. For example, moving children from bus stops at collector roads and onto more residential roads. (Whippoorwill Drive, where the fatal accident took place last week, is a collector road that leads to Belle Terre Parkway.) Drawing from his experience, DeLorenzo, a P-Section resident, said on Ponce de Leon students wait for buses at the corners of their drive, but the bus runs down Ponce de Leon to pick them up. Possibly, the students could be moved further into the neighborhood. "But what effect is that going to have on travel time?"  DeLorenzo asked. "Everyone thought that was a great idea. Don't know if it can be done citywide, or are there just going to be select locations where that'll work."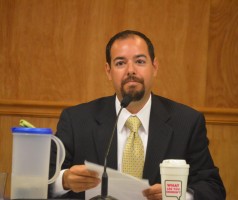 Discussion also led to a better use of public lands or parcels as places where students could wait. There's a bus stop at the corner of Pine Tree and Pine Grove, for example, yet one lot to the west, on Pine Grove, the city has a pump station with a driveway. Instead of waiting at the corner, perhaps the students could wait at the driveway of the pump station. "Those are some of the ideas that were thrown out there," DeLorenzo said.
He acknowledged, however, that none of the three incidents involving students and vehicles so far this year—the fatal collision and two less serious collisions with students on bicycles—speak to a pattern that points to any one specific absence of safety measures. Even in Kymora's case, investigators so far have pointed to a brief moment's unexpected convergence of events that resulted in a tragic coincidence: Kymora darting across the street right at the moment when the driver of the SUV that struck her was passing by.
"The most immediate need is to get the word out about the street lighting program that the City sponsors," Dance said in a Facebook note to his followers after the meeting. "If you spot a bus stop or intersection that does not have a light, anyone can request the light and the City will arrange for the installation. FPL owns and installs the light, but the City will pay for the installation and operating cost. Under a separate program, homeowners can contact FPL and request a light to be installed at their property and shining just on their property. The homeowner will be responsible for a monthly charge of $11 for the light." (A Facebook page called Safer Streets in Palm Coast was established in the wake of the fatal accident.)
Dance described the meeting as reflecting "a lot of positive energy and unique ideas," with more meetings to come. An actual date for subsequent meetings hasn't been set.
"In less than a month's time we will get everybody back together to discuss where we are and what's next," DeLorenzo said.
At the city council meeting Tuesday, DeLorenzo told his fellow council members that the effort would require considerable staff time. They agreed to support the effort.