Recalling memories of last year's feverish fire season, Flagler County Fire Chief Don Petito on Tuesday signed an order imposing a burn ban in Flagler County. That means no camp fires, no backyard bonfires, no beach-side bonfires, no open flames except for barbecue grills.
"Unless we get a significant amount of rain in the very near future I would anticipate that the burn ban will continue for quite a while," Petito said. A burn ban is imposed for seven days, and must be renewed at seven-day intervals, and ratified by the County Commission. There is little to no rain in the forecast for at least the next seven days.
Several factors led Petito to impose the ban. First, the drought index continues to rise fast. In early March, it was 443 on a scale of 800. Today, it's 552. The higher the index, the higher the danger of fire. (For a complete explanation of the index, click here.) The 552 figure is an average for Flagler. The index is over 600 in 17 percent of the county.
Second, the average relative humidity has been going down, reducing the moisture in the air. "If it's going to be 50 or 60 percent, we're not worried," Petito said. "Once it starts getting down around 30 percent or lower, the activity increases, and the aggressive activity of fire increases." Third, fire activity in neighboring counties has increased dramatically. There are 10 fires in Volusia, five in St. Johns, 10 in Clay. For now, and in contrast with the 2011 season, Flagler is an enclave of calm. That may not last. Mike Kuypers, district manager for the Florida Division of Forestry, warned county commissioners in early March that this year's fire season promised to be "as active if not more" than last year's.
Palm Coast and Flagler County residents have been smelling smoke from regional fires, particularly from the 11,500 acre fire in Columbia County's Pinhook Swamp, north of Lake City, which is burning out of control. Drift smoke from that fire brought visibility down to less than 2 miles in Jacksonville on Monday and prompted officials there to issue a health advisory. The fire is draining state firefighting resources, so if a serious fire were to start in Flagler, similar to the 5,000-acre Espanola fire last June, local crews would be competing for resources from the state forestry division.
One difference so far in Flagler County: lightning storms have been few, which has limited the number of local fires. The greater danger is fires started by people. "We're going to use this burn ban as an education tool for the public," Petito said. "If we can prevent the man-made fires it will help us a lot." He cited one of the most common ways of starting fires: flicking cigarettes from car windows, or as people are walking in their neighborhoods. County firefighters have responded to three roadside fires recently, small ones, but potentially dangerous, if not detected early. Petito said the fires were almost certainly started by cigarette-flickers.
Flagler and the northeast region of Florida has been in a persistent drought, dating back to six or seven years. Last year, the county's swamps were still wet, limiting the rapidity of fire's spread. This year, the swamps are dry, Petito said. "Each year we fall further and further behind the eight ball on the drought index because we're not getting that rainfall we're supposed to get," the fire chief said.
Local fire crews have been training since the end of the last fire season, applying lessons they've learned since.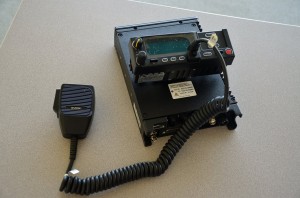 On Tuesday, Flagler County Fire Rescue crews took in 50 new radios that will vastly improve their communications abilities with other agencies during emergencies. The radios, valued at around $5,000 each, were financed through a $253,000 grant, itself part of a $43 million grant the federal government awarded Florida's first responders.
"Flagler County Emergency Services submitted a proposal to purchase radios to outfit fire trucks and ambulances with multiband radios to enable communications with surrounding counties, The Florida Division of Forestry, area hospitals and for communications during long range deployments," Petito wrote in a memo explaining the grant last summer. "The multiband radio will provide fire rescue the ability to broadcast and receive radio communication on four different bandwidths (UHF, VHF, 700 MHz and 800 MHz). The radios will enhance our communication abilities with our mutual aid partners such as St John's County Fire Rescue, Putnam County Fire Rescue, Volusia County Fire Rescue, Jacksonville Fire Rescue and the Division of Forestry.
In the event Flagler County Fire Rescue Units are requested to travel outside of our jurisdiction anywhere in the state to assist with emergencies, the multiband radio will provide the ability to communicate with the requesting agency."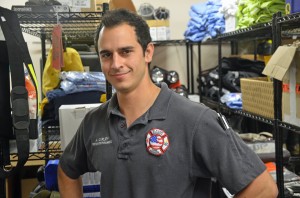 Each of the county's fire rescue trucks will be equipped with a radio, some of which are being installed this week, though programming all of them will take time.
The emergency ban applies to all residents in Flagler County, including residents of Palm Coast, Flagler Beach, Bunnell, Grand Haven and Hammock Dunes. The ban outlaws open flames outdoors except for barbecue grills. Penalties include a warning for the first offense and fines of up to $500 or 60 days in jail for subsequent violations.
The law specifically bans the use, sale or discharge of fireworks including sparklers; open burning, use of open fire pits and containers; parking vehicles with catalytic converters in high grassy areas and throwing matches or–a particularly pronounced local offense–cigarettes from vehicles.