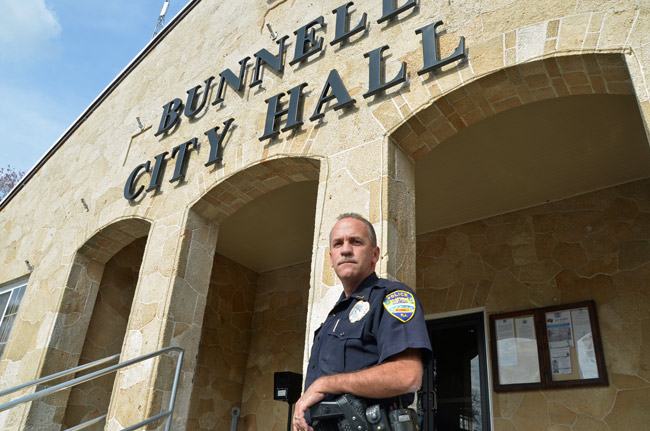 Except for a brief interruption two years ago, Randy Burke has been a Bunnell city police officer for almost 20 years, 10 of them as second in command. He lists his objective at the top of his resume: "To achieve the position of chief of police for the city of Bunnell." He turned in his application for the top job the moment it was advertised internally, after Arthur Jones, the current chief, announced his retirement come April.
Burke's application for the $50,000-a-year job doesn't qualify. At least not officially.
"Lt. Burke was the only person who attempted to apply internally, but he was denied that opportunity because he does not qualify based on the job announcement posting requirements," Dan Davis, Bunnell's city clerk, wrote in an email.
Burke has no bachelor's degree. That criteria is part of the job requirements. City Manager Armando Martinez wrote the criteria, even though the BA requirement is new. Jones doesn't have a B.A. He wasn't even a ranked officer when he was named chief in November 2008. He'd spent years as a school cop in Broward County and an investigator in the Fort Lauderdale Police Department's homicide unit, then as a cop in Bunnell.
Burke, ironically the only Bunnell officer who lives within the city limits (Jones lives in Palm Coast, Martinez lives in Borward County), considers the BA requirement an attempt to keep him from getting the job. "You can't lower the qualifications for Jones and raise them for me," Burke says.
Five people so far have applied for the position after its posting on a police chiefs' association's website: Gary W. Benedict, Robert Campbell, Kevin R. Costello, Victor D. Neal and Joseph E. Sisti. The name many people expected—Louis Vega, an old colleague and friend of Martinez from their Miami days, and now a reserve officer in Bunnell—is not on the list. Martinez has said previously that Vega "was never interested and he was never going to be a candidate as far as I know."
The issue surrounding the possible rejection of Burke's application has done something unusual in Bunnell. It has stirred enough people to action that, last month at a city commission meeting, Koreen Kowalsky-Colpoys, along with Ramona and Bill Woodfin, presented a petition to the commissioners, signed by more than 200 people, asking that Burke "be placed in the position for Bunnell police chief." (See the full petition below.)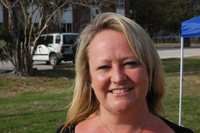 "I live in the city, and I for one want somebody who knows the area," Kowalsky-Colpoys, who was an unsuccessful candidate for the city commission in March 2011, says. "Lt. Burke lives in Bunnell, and he knows the area, he knows all the residents, he knows exactly what's going on, and he practically runs that whole department now as it is. Why can't we have somebody in there that knows us, knows what's going on in the city wand would do what's right for the citizens of the city? He's been passed over three times for this. Chief Jones didn't have a bachelor's degree when he was hired."
The petition has some backing on the commission. At least two commissioners—Elbert Tucker and John Rogers—have spoken favorably of looking for a new chief close to home. But a petition on a non-political office can backfire by politicizing the position. That's what happened to some degree last year in Flagler Beach, when city commissioners were looking for a new city manager. They did a national search and got 140 applicants, many of them eminently qualified, but from the beginning, Bruce Campbell, who worked in the city's public works department at the time, had an inside track. He'd been a top executive at a large company before, but he had no public experience, and on paper, many of the applicants surpassed his qualifications.
In one regard, they didn't: Campbell had a local following that literally campaigned for him, petitioned on his behalf, and made plenty of noise at commission meetings. The tactic alienated some commissioners, who resisted appointing Campbell for months, but finally—when other short-listed candidates fell through—gave in. Campbell by most regards has done well since and earned the commission's support.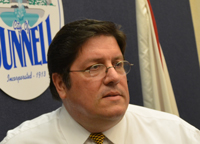 Martinez is politically savvy. He hasn't closed the door on a Burke application. He knows the power of petitions, which have a way of growing legs: if a popular movement for Burke is turned back, it could roll over into a political campaign at the next city elections, early in 2013, when two commission seats and the mayor's seat are up. Martinez, who has a razor-thin 3-2 endorsement on the commission, can't afford to see either Commissioner Daisy Henry or Mayor Catherine Robinson defeated. (The thin support led Martinez to look for another job last summer.) And it doesn't take many votes to win a seat on the commission: Jenny Crain Brady was elected last March with just 126 votes, Rogers with 110. Martinez and commissioners may find it difficult to ignore a petition with double those numbers, assuming all the names are legitimate.
"Everybody is going to be considered," Martinez said on Friday. "The fact that there was a petition, I'm going to have the board take a hard look at Lt. Burke. But the issue here is to get the best candidate."
By board, Martinez wasn't referring to the city commission, which has no direct say in the interviewing or hiring of a new chief, but to an advisory panel of people in or close to law enforcement that he's forming. The panel will go through the applications and conduct interviews. It tentatively will include Noel Griffin of the State Attorney's office, a representative from the Flagler County Sheriff's Office, Mike Ignasiak, plus Jones and Martinez.
The meetings of that board will not be open to the public, Martinez says, nor will city commission members be invited to sit in (if they were, the meetings would have to be open).
Martinez described it as "a plus" if the applicant for the position were local. But the Burke application may prove problematic. Martinez wanted to speak with Sid Nowell, the city attorney, to ensure that considering Burke's application, in light of the written job qualification requirements, would not be seen as unfair to other candidates. Why the difference in requirements between Burke and Jones? "It wasn't required. It was required when I became chief, and it wasn't required when he became chief because historically and traditionally since I've been here all the promotions at the Bunnell Police Department have been internal." In this case, to widen the scope and get the best candidate, Martinez decided to include the BA requirement again.
"I'm basically overlooked by Martinez. I don't think he particularly cares for me," Burke said. "I don't think he likes the fact that I won my job back."
Burke was referring to the time when he was the subject of an investigation and was fired in April 2009. He had been accused of taking $100 that had been collected for an ex-cop who was having a tough time around Christmas two years earlier (Burke and other supervisors had fired that cop for poor performance). A Flagler County Sheriff's investigation found that Burke had "misappropriated" the money, but it could not determine whether he'd stolen it.
Martinez fired him. Burke challenged the decision. An arbitrator found that Burke had been careless, negligent and irresponsible when he didn't deliver the money (which included $20 from Burke's own pocket), but that firing him was an excessive punishment. Burke was re-hired in August 2010 and got $53,000 in back pay, but was demoted from captain to lieutenant, the rank he now holds.
Martinez, Burke said, "doesn't like to lose to people. He also doesn't like to be told no."
Burke concedes making mistakes in the past. "I'm by no means perfect and I make mistakes, same as everybody else," he said. But he also corrects them , he says, as he does the police department's own: he says he's been in charge of the department's records and evidence division, which he described as "a mess" when he took it over about six months ago (an understatement, compared to the way a State Attorney's investigation described that division a year and a half ago), instituting set standards there.
Martinez is resentful of implications that he has anything against Burke. "Anybody that applies will be considered at one point or another," Martinez said. "At the end of the day I'm going to do what I believe is right, not what the popular decision will be."