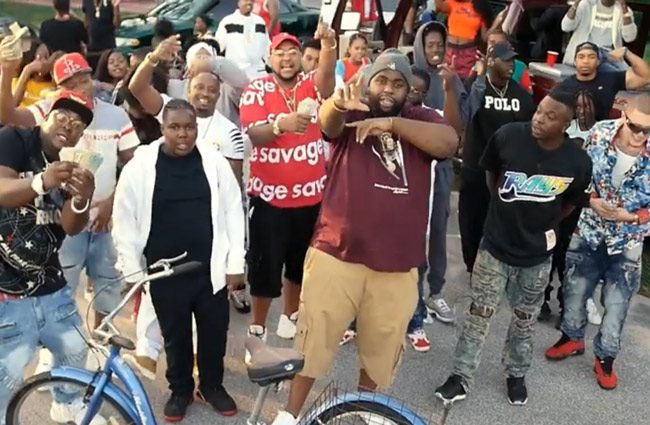 The filming of rap music videos is having such an impact in South Bunnell–at least according to city officials and some residents–that the city administration and the commission felt compelled to draft regulations and pass an ordinance regulating the practice even in some cases when it takes place on private property.
A permit will be required for "the commercial shooting or making of a motion picture, television, music video, videotape, or film production on private property involving the erection of tents or other temporary structures," the ordinance states, "the congregating together of 50 or more individuals, or the use of pyrotechnics, explosives, or other incendiary devices."
The wording vague enough that the threshold of "50 or more individuals" congregating is not what triggers the permit requirement, as would be any movie production "utilizing city facilities" such as streets.
The permit, which must be secured at least 15 days before filming, requires applicants to specify the location of the shoot, the duration, insurance coverage of $1 million, additional $1 million coverage if vehicles are used, workers' compensation coverage "for all employees," a "written summary or explanation of the portion of the production to be shot within the City of Bunnell," and payment of fees, including supplemental fees for "extraordinary services provided by the City" such as law enforcement or anything that might entail the use of other city services. The city may require pre-payment for those costs.
The fee schedule was not appended to the ordinance, so commissioners–and potential producers–had no idea what those financial burdens may be in the future. (The use of law enforcement would amount to $35 an hour per officer.)
"All of them that are in business, that's what they carry, it's nothing new," City Manager Alvin Jackson said in an interview, referring to people involved in productions. "Anybody that's in that business, they understand that." He did not think the regulations would be burdensome or that they would discourage future productions, saying several of the cities and counties he's worked in previously have similar ordinances.
The commission approved that ordinance on first reading Monday evening.
Jackson said he recognizes that movie and video production in Bunnell is a form of economic development. But he said there'd been complaints by residents–and, as Mayor Catherine Robinson explained, by herself–about the noise, the number of people gathered and the street closures caused by recent video productions, all of them in predominantly black South Bunnell. The ordinance, Jackson said, is not intended to tamp that down, but to organize such events so as to minimize the impact on the city and avoid complaints, just as would be the case with special events. The city has a special events ordinance.
"It impacts roads, impacts public works, and all of that has to be organized so it can be managed not only for us but for the production," Jackson said. "Sometimes there's additional barricades that's needed to keep the public back from an area."
The ordinance was prompted by a production last fall by the local rapper Troy Reddin, known by his stage name, FatAss, who performed in a production of a music video about Bunnell ("My City," the video is titled), in South Bunnell, featuring what appears to be numerous local residents.
---
FatAss's "My City: Bunnell"
The production is the work of Bunnell-based Best Vibes Entertainment, run by David Freckleton and owned and by Deborah Freckleton, his mother, who said she was supportive of the city's approach. (Listen to FatAss's songs at Soundcloud here.)
"It's growing, and it's going to grow," Freckleton said of video productions, "that's why we want to work with the authorities so there's no problem, so this is a way for the young people to try to make a way for themselves." Freckleton met with the city manager and Police Chief Tom Foster. The ordinance, she said, is a matter of cooperation "so everything goes smoothly." Further productions are planned, she said, including an Easter event near the Carver Center, featuring music, a DJ, and an Easter egg hunt for young people.
Jackson said he was part of Lake County government when that county was the location for "Rosewood," a $30 million 1997 movie production directed by John Singleton, about the 1923 massacre of Rosewood's black residents by a white mob. No such production is expected in Bunnell any time soon, and none of the productions that led to the ordinance have been more than music videos. Still, Jackson says the city should be prepared, and that the ordinance does not affect a few amateurs shooting a video in a backyard
"That's amateurs, basically they couldn't use city property and all that stuff like that, they couldn't use the roads, close down the roads," Jackson said. "We're talking about professional productions. When you talk about FatAss, that's what he's doing."
Jackson presented the ordinance for first reading at Monday's City Commission meeting (where there was neither mention nor showing of FatAss videos). It drew little discussion, but several comments.
"There was a problem a couple of weeks ago," Daisy Henry, a pastor and resident of Drain Street, and a former commissioner who is running again, told the commission. "They were shooting right by the corner of my house and the corner of Drain and Anderson, they stood there for about 30 minutes, this yellow car and a black car, and the guy in the black car, he was smoking a reefer. He was up through the sunroof. For about 30 minutes I didn't see no cop anywhere around. But they were filming, and they had the traffic stopped. So I said I'm going to see how long they were going to be there, and they congregated on the other side of Anderson. But that is a problem, because there was a group of young people just standing there, watching that."
Henry added that they were "out of towners, nobody local."
"She's right," Commissioner John Rogers said, "they come from out of town, they put stress on our resources, our police department, they close our roads down, I'd like to thank the staff for their forward thinking on this ordinance." But there's no evidence the musicians and productions are from out of town, as Jackson made clear. Freckleton said she would not be aware of others using Bunnell as their locations, though it's possible.
Robinson, the mayor, had a noise issue: "Probably the city manager will be happy I won't call him at 1 o'clock in the morning to let him hear the noises going on in the city," she said, "because I figure if I'm hearing it he probably should be hearing it. So he didn't have to take my word for it I went on the porch and turned my phone on so he could listen to it, and it was an offshoot of this very issue." The ordinance, Robinson said, is "trying to be more proactive to protect our citizens and prevent this type of thing from happening."
The vote approving the ordinance was unanimous. It will go before the commission again in two weeks for a second and final reading.
See the wording of the ordinance in full below.

Bunnell's New Permitting Requirements for Video and Movie Productions (2019)
Click to access bunnell-video-productions-permitting-regulations.pdf