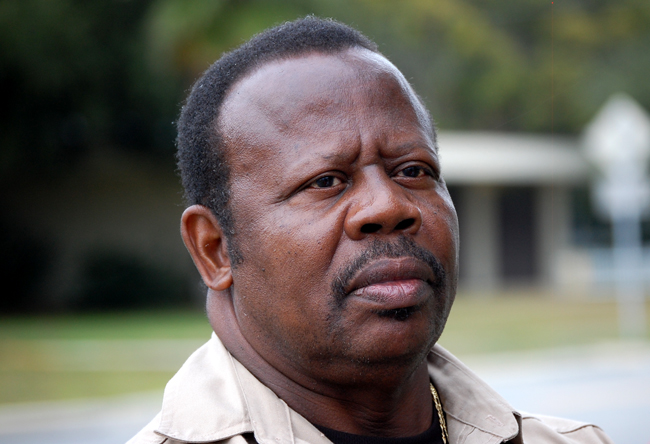 There was a lot of kissing, hugging, hand-slapping and grinning after a meeting of the Bunnell City Commission to consider–and roundly reject–a proposal by the Flagler County Sheriff to take over the Bunnell Police Department.
The two biggest grins were those of City Manager Armando Martinez and Police Chief Arthur Jones, on whose watch the department has suffered a series of setbacks including the arrest of officers on felony charges and a devastating investigative report by the State Attorney's office documenting a pattern of shoddy record-keeping and abusive practices by cops toward drivers going through Bunnell. Two of those cops were arrested and have been fired.
Accountability, Bunnell City Manager Armando Martinez said, after the meeting, is "what you should want from a police administration. You shouldn't want from a police administration that because something looks bad, they're going to be afraid to deal with it. You want a police administration–you do something wrong, guess what, you're going to have to pay the consequences, because that's what brings professionalism in a police department."
The meeting (a workshop where no votes can be taken) was called at the recommendation of Bunnell Commissioner Elbert Tucker, who said last month the city could save money and lower its property tax rate considerably if the sheriff provided law enforcement for Bunnell the way he does for Palm Coast. The commission agreed to invite Sheriff Don Fleming to make a pitch.
The sheriff himself didn't show up. He's averse to politically charged situations, especially those where the winds aren't in his favor. He sent Linda Bolante, his finance director, and Maj. Steve Clair to convey his proposal. The commission chamber wasn't exactly packed: 36 people in all, not counting four Bunnell police officers and Bunnell's administrative staff. Most of the 36 (like most of the comments during the public portion of the meeting) were there to advocate for the police department.
Bolante read a letter from the sheriff to the commission. "May it be known that I have no intention of taking over law enforcement services for the city of Bunnell unless it's the wishes of the mayor and council members for the city of Bunnell that we do so," the sheriff wrote. "Please be advised we will do whatever is the desire or recommendation of the mayor and city council."
Fleming proposed assigning eight deputies to cover Bunnell, which currently has 12 sworn officers, aside from the police chief. The sheriff's services would have cost $824,000, though the sheriff would deduct several costs he's billing to Bunnell for various services, reducing Bunnell's annual law enforcement bill to $728,852–a 26 percent saving over Bunnell's projected law enforcement budget of $988,553, according to the sheriff's calculations.
Bunnell's current police budget is $1.1 million. In order to come close to the sheriff's numbers, Bunnell, by its own calculations, with a $774,400 budget for the police department, would have to reduce the police department's salaries and wages by 59 percent–eliminating six sworn officers.
But it wasn't about the numbers. And commissioners asked only a few questions after Bolante made her presentation. The meeting was about emotions. As it was several years ago when it considered a take-over by the sheriff, the city–judging by the three dozen people in attendance–is too attached to its police department to consider a switch. Ironically, a number of people in attendance, like local NAACP President Robert Williams, weren't from Bunnell. They were from Palm Coast. But they filled seats and lent their support to Jones. About 20 minutes into the meeting, the mayor turned over the floor to public comments, which were as if choreographed to give Jones and the department a collective vote of confidence, with only a few exceptions.
"I think it's time to change," Pete Young, a former Bunnell police chief and a resident of Bunnell for 38 years, said. "I've been saying this for years, ever since I was a police officer and the chief of police in Bunnell I've been saying it, that if we can't provide the services for the people, we need to combine into a bigger agency."
Young was in the minority.
Sims Jones, a pastor and a resident of Palm Coast–beginning with an inaccurate description of "two police officers that is the city of Palm Coast" despite the sheriff's contract for law enforcement services there–said, in defense of the Bunnell Police Department: "They've already formed something, they've already done something, and they're working with the people in the community, and I think there needs to be some consideration for them."
He was followed by three other people who don't live in Bunnell but lent their voice to the department's support–two staffers of the Northeast Florida Community Action Agency, then Edmund Pinto, president of the African American Cultural Society. Similar voices followed.
Commissioners reflected the rank-closing mood. "We have some work to do," Mayor Catherine Robinson said, acknowledging the shortcomings of the department. But she described Bunnell's situation with its police department as having :"the best of both worlds"–a good relationship with the sheriff's office, and a workable police department that belongs to the city. "Do I support my police department? Yes I do. Do they make me mad? Yes they do," Robinson said. She'd noted how in 2000 she decided against running for office again because of the police department. "We had a police department that was terrible. And that's an understatement." She noted a 2006 report about the police department that was "seething." But the hiring of Martinez and Jones, she said, was part of turning the department around. She did not refer to the more recently seething report by the State Attorney's office about the same department, saying merely that the city may have taken its eyes "off the ball" for a while, "and the wake-up call is here."
Vice Mayor Jenny Crain-Brady and Commissioner Daisy Henry had made clear that they would not support a sheriff take-over, sealing the matter.