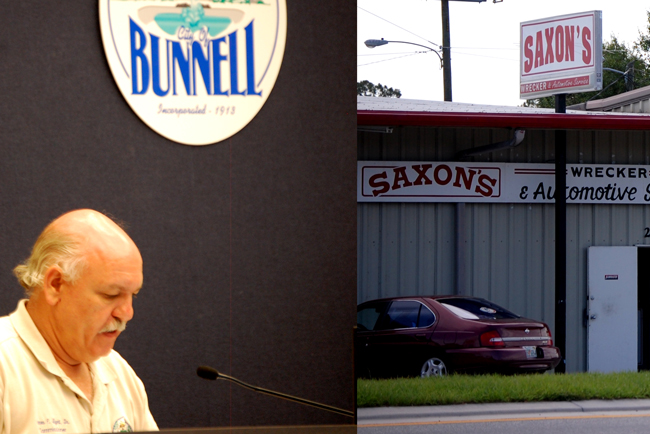 In mid-June John Murray, the second-highest ranked police officer of the Bunnell Police Department, and his wife Lisa, also a Bunnell Police officer, were arrested on felony charges of official misconduct (in Lisa's case) and official misconduct, tampering with evidence, cocaine possession and grand theft in John's case. The charges resulted from a State Attorney's investigation began on March 2.
That investigation did not focus only on the Murrays. The State Attorney's office broadened the investigation to include Bunnell City Commissioner John "Jimmy" Flynt and his Bunnell business, Saxon's Wrecker; conduct and procedures in the entire Bunnell Police Department; and involvement of the Bunnell City administration in facilitating allegations of favoritism for Flynt and his business. Investigators examined allegations about three city managers' favoritism toward Flynt, including the current city manager, Armando Martinez, and former managers Sid Crosby and Richard Diamond. Investigators questioned Flynt (under oath), Crosby and Diamond, but not Martinez.
Earlier this week, the State Attorney's Office released the 35-page, 16,000-word report of the investigation. While the report does not explicitly point to outright criminal activity beyond the Murrays' alleged actions, it documents a succession of misconduct, intimidation, false arrests—what the investigation sums up as "improper towing and seizure practices"—and "a complete lack of organization within the BPD property and evidence facility."
Bunnell City Manager Armando Martinez said in an interview Sunday evening that he had told Bunnell Police Chief "to pull all those cases. We're looking at them one by one," and that the city had strict anti-profiling policies in place. If there were problems, they'd be addressed through complaints to the city or the police department. Martinez said no such complaints have been filed.
The investigation also points to a long pattern of favoritism toward Flynt. The favoritism involved not just throwing wrecking calls to Flynt's towing company out of the normal rotation of three towers in Bunnell, but also granting him free rein of the city's tire-dump, at taxpayers' expense and outside of tire-disposal regulations. The dumping favor, permitted by three managers, including Martinez (according to Flynt), included a clicker of Flynt's own to open and close the gate to the city's public works department yard where the dumpsters are located.
Flynt says he never knew that towing calls were directed to him as a favor. And he says he was doing the city a favor by, as a courtesy, disposing of tires allegedly dumped "illegally" on his property in the city dumpster. Flynt has a close relationship with Waste Pro, the waste-management company under contract by Bunnell.
What is clear from the investigation is that in every single case where individuals testified to being arrested and having their vehicles towed against their will and without being asked if they have a wrecker preference, Flynt's Saxon's wrecker did the towing. (Vehicle owners have the option of requesting a particular tower, though the Bunnell Police Department seldom gave owners that option. In most circumstances vehicle owners must also be afforded the opportunity to have their vehicle driven away by someone else, to avoid towing charges. Numerous vehicle owners told investigators they were never given that opportunity.
In one case, Jennifer Cauldwell told investigators that she was stopped for driving on a suspended license as she was driving through Bunnell with a black woman in the car and her three children. Cauldwell herself is white. The detail is notable because several people reported to investigators thaty they felt they were arrested for having someone of another race in their car. Cauldwell, who was pregnant, was given a ticket. Her car was towed (out of rotation, by Flynt's Saxon's Towing). She was never given an opportunity to call someone else to drive away the car, and had to pay $950 to retrieve it–$350 to the Bunnell Police Department, and $600 to Flynt's company.
The State Attorney's office launched the investigation in March when a Bunnell business owner Donald Kokenge filed a battery complaint against the commissioner following an altercation involving the men. Flynt was attempting to collect on a $165 debt from a towing charge against Kokenge. It was during that by-now familiar incident in Bunnell that Flynt angrily told Kokenge that he was a city commissioner and "I run this town." Kokenge reported that Flynt used a police radio to summon Lisa Murray to the scene, where Murray proceeded to threaten Kokenge to pay up or face arrest. Flynt was never charged, but the investigation into favoritism spawned from that incident.
The investigation—led by Jim Parker, who wrote the report—led to documentation of complaints filed with Bunnell Police Chief Arthur Jones by John Rogers, owner of John's Towing in Bunnell, that calls were being thrown to Flynt out of rotation as well as "unrelated complaints by other active law enforcement officers, of improper behavior, favoritism and misconduct by Cpl. Lisa Murray and her husband, Lt. John Murray."   Rogers complained that wrecker calls to him slowed down in October 2008, that the situation was briefly corrected after he'd complained verbally, but that the diversions had started up again later. Rogers told the investigator that "Flynt had a police radio that he used to monitor the towing calls and none of the other wreckers had one."
Flynt confirmed to FlaglerLive in June that he had a police radio, but that he had turned it over that June to the police department. Bunnell Mayor Catherine Robinson also said she had a police radio.
Parker's report then systematically documents the investigation's findings from March through June—documentation that unravels disturbing patterns of disappearing and reappearing evidence within the police department, and of numerous arrests of individuals going through Bunnell, often without charges  ever being filed, that resulted in cars towed against the individuals' wishes and with no apparent justification other than to enable the city to collect a $350 "administrative fee" and towers to collect much larger fees.
Martinez, the city manager, says the city is looking into those cases (where charges were never filed), but that merely because arrest reports didn't make it to the State Attorney's office didn't necessarily mean that the reports weren't generated. Martinez said part of the problem may have been John Murray, who did not convey the reports to the State Attorney's office.
The Murrays were not the only issue in the police department.
Parker, the investigator, describes an incident in March when he was requesting copies of all reports produced after four traffic operations conducted by the department. The reports were important because they documented who got towing calls. Parker was in the office of John Murray, who was in charge of Bunnell's police evidence. The office was "in obvious disarray," with evidence strewn all around. The investigator had asked for one particular report. "Lt. Murray was unable to locate the report and advised me that Sgt. David Barbee had completed it," Parker's investigation reads. "I requested Sgt. Barbee to be called in to obtain the missing packet. Sgt. Barbee responded to the BPD and searched his office. He said he knew one was completed but also could not locate it. I then asked Lt. Murray and Sgt. Barbee which of them had the operational packet. Both pointed at each other and did not seem to know where it was. I asked if it mysteriously disappeared or inadvertently destroyed because it was the source of the wrecker complaint and public records request. Neither Murray nor Barbee had a response and Chief Jones apologized for the confusion." (Contacted Sunday evening, Jones said he had not had time to fully read the report and would address it Monday.)
The investigation drew up a list of 29 individuals who were stopped by the Bunnell Police Department and had their vehicles towed. Several would not cooperate for fear of retribution. Many did cooperate. Dennis Williams of Palm Coast was among them. He was stopped in October 2008. He's black. His story is emblematic of the pattern of improper, possibly racially motivated arrests, intimidation and shakedowns that fill the report.
"Mr. Williams said he was stopped by BPD officers as he pulled into the Citco at US-I and SR 100," the report state. "He said he thought he was stopped because he had a white female in the car. He said he was told he was stopped for running a stop sign and no seat belt but was only issued a ticket for the seat belt. Mr. Williams said he was drinking a cup of beer but the officers ignored the beer and searched his car. He said they located a small piece of metal pipe in the back seat and said it was drug paraphernalia and needed to tow his car. Mr. Williams said his car was in the parking space at the Citco and he couldn't understand why they needed to tow it. Mr. Williams said his friend's girlfriend was with him and she could have driven but said they towed it anyway. He said the officers told him they had a right to tow his car because they found drug paraphernalia. Mr. Williams said he was taken to the BPD while the officer wrote him a seat belt ticket. He said the officer was writing another report and said it was for the drug paraphernalia but he was eventually released and told to walk home. Mr. Williams said he later tried to obtain his car and discovered that he had to pay $350.00 to the BPD. He said he met with Chief Jones but was denied a waiver of the administrative fee."
Flynt's towing company charged him $700 to retrieve his car. "Williams," the report continues, "said he was out of work and did not have the money to pay the fees so Saxon's Wrecker eventually sold his car at auction. Mr. Williams said he paid $3500.00 for his car and that's all the transportation he had. He said he was very upset about losing his car over a seat belt ticket but and didn't know what else to do. (sic.)" He was never charged with having "drug paraphernalia" or any other crime.
The report also notes that one driver was arrested for having no tag light, another for "sticking to the white line." A third driver called a friend to give her a ride after her car was towed, and his car was towed. In every case, the vehicles ended up being towed by Flynt's company.
Flynt's tire-dumping is a sub-plot to the investigation, and one apparently prompted by a report from Flynt's fellow city commissioner, Elbert Tucker who, when asked by the investigator if he knew of any instances of favoritism, noted the allegation of Flynt's tire-dumping. The investigator said he "understood the Public Works dumpster, designated for tires, had a fee associated with that specific dumpster." Parker, the investigator, continued in his report: "I said typically consumers are charged a disposal fee when they purchase tires. If the business owner is collecting that fee then disposing of the tires at the expense of another, the City of Bunnell, then it may be theft depending on what could be proved. I told Mr. Tucker that I would investigate further and thanked him for his call and his commitment to the City of Bunnell."
The investigation led to former Bunnell Public Works Director Eric Crandall, who told the investigator that what started as a one-time thing, allegedly with former city manager Richard Diamond's permission, turned into routine dumping that continued through current City Manager Armando Martinez's administration. "Don't worry about it," Crandall said Martinez told him when he raised the issue with him. "It's no big deal."
"Totally not true," Martinez said Sunday evening. "I've never said that to him." Crandall was fired for misconduct in 2009 following an internal investigation.
Flynt, however, confirmed to investigators not only that he was dumping tires without paying at the city's public works dumping cite, but that he had always sought permission from Sid Crosby and Richard Diamond, two previous city managers, and Martinez, the current manager and former police chief. According to the investigator's report, "Flynt speculated that people throw away their tires and put them near his dumpster on the outside of the fence after hours" at Flynt's wrecker business. "Flynt stated he throws these 'illegally' dumped tires over the fence of his business and as a courtesy occasionally runs them out to Public Works to 'properly' dispose of the tires." The report adds, "Mr. Flynt also stated he was doing the City a favor by taking the time to transport the 'illegally' dumped tires to the dumpster."