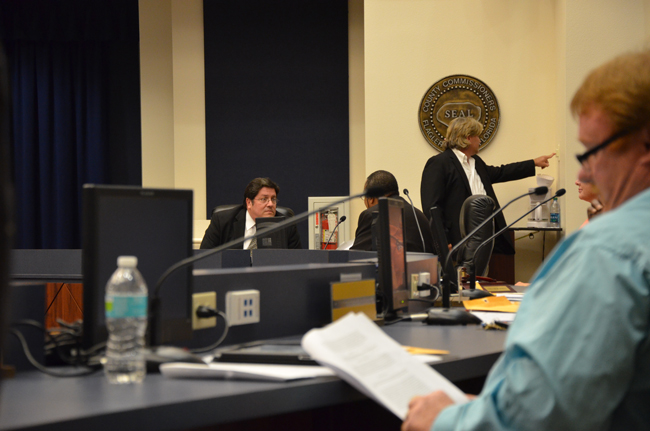 Bunnell Mayor Catherine Robinson didn't want to be at tonight's meeting of the city commission. "I wasn't kidding when I said I've got 10 people at my house at 7 o'clock expecting a meal," she said, just five minutes into the meeting. And she made sure she wouldn't be long at tonight's meeting.
A minute later, the meeting was over, and John Rogers, the rookie commissioner who'd called the special meeting to discuss Bunnell City Manager Armando Martinez's job prospecting elsewhere—he's a finalist for police chief in Melbourne—had been outflanked by Robinson, one of the county's oldest political hands. Martinez, in sum, survived what may have been a vote of confidence thanks to Robinson's maneuver, who prevented it from taking place.
Rogers wanted to talk about Martinez's contract—and possibly end it. Robinson didn't allow it. Martinez's job status is "status quo," she said, and his application for work elsewhere a non-issue.
Robinson took advantage of Rogers's own mistake. The agenda item Rogers dictated to city staff was about discussing Martinez's job application for police chief in Melbourne. It said nothing about Martinez's contract, though that's what Rogers really wanted to talk about. Rogers thought that was implied.
"The only thing I wanted to do was protect the city from having to pay $50,000-plus of severance pay," Rogers said. But the moment he started discussing the Martinez contract, Robinson cut him off in what looked like a ready, rehearsed parry, well aware of what was coming. She had, in fact, called Rogers the day before and spoken to him about the meeting, telling him it was unnecessary.
She turned to the city attorney for a point of order and made clear that there would be no deviation from the agenda item: that discussions of the contract in any form would be off limits. That nullified the reason for Rogers's meeting, which was to take advantage of a clause in Martinez's contract that gives the city a brief window not to renew his contract. That window closes this weekend. That's why, Rogers said, the meeting had to be held today.
Robinson also prevented Martinez from speaking at length about his contract and said, "When I asked about this meeting I was told that, Commissioner Rogers told me he had inside information, so if there's something that we need to discuss that's inside information, this is the time." In other words, Robinson had discussed the meeting with Rogers before it took place.
"I didn't tell you we had inside information," Rogers said.
"You said you had inside information," Robinson said.
"I did not tell you that."
None of the other commissioners said—or managed to say—anything. Elbert Tucker tried to make a move to amend the agenda. Robinson cut him off, too, citing the charter's clarity barring items not on the agenda. The meeting was over in seven minutes. Martinez and most of the commissioners, a disgruntled and humiliated Rogers among them, quickly walked out.
"He was outflanked," Tucker said of Rogers. "I think they stuck a little bit too strictly" to the wording of the agenda, he said. "His other employment or application for employment will directly affect his employment with us. If he gets the job his contract is gone. He has to stay here for 60- days according to his contract with us. If he resigns, he still has to give us 60 days, and he gets no severance." Clearly, Tucker said, the parameters of the agenda should have been broadened. He said the matter will return as an agenda item in a subsequent meeting.