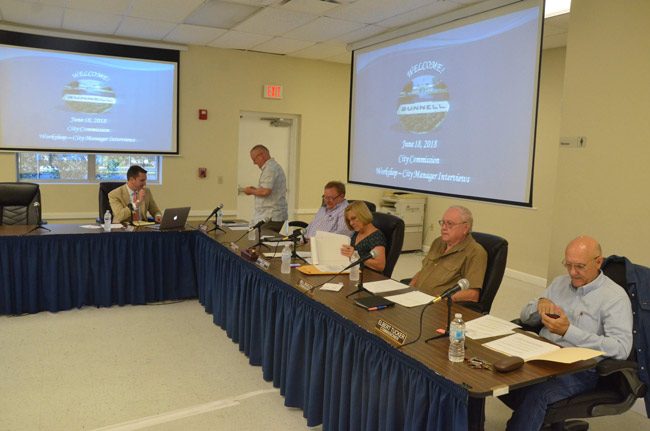 Even as one of the commissioners spoke of the importance of more unified votes in the hiring of a new city manager, a divided Bunnell City Commission Monday evening voted 3-2 to re-advertise the job opening and lower standards. A master's degree was dropped from "required" to "preferred," thus opening the way for several existing Bunnell administration officials to apply.
Mayor Catherine Robinson and Commissioners John Rogers and John Sowell voted for the lower standard. Commissioner Elbert Tucker had motioned to preserve the higher standard, with Baxley seconding. The vote failed. But when Rogers moved to open the application process further, giving Baxley and Tucker a chance to vote with the majority at least to project a sense of unity, the two minoritarians again demurred.
That additional note of dissent may signal a deepening rift on the commission that emerged during the first attempt to hire a replacement for Dan Davis, the manager the commission fired in April, with Baxley and Tucker at the minority end of votes that would have hired a candidate with whom the commission had gone as far as negotiating a contract before the process soured: a majority was displeased with applicant Martin Murphy, whose demands and demeanor put them off, while the group as a whole could not agree on re-interviewing another candidate Rogers and Sowell had favored (Alvin Jackson).
"I hope that through work and patience and not being in a hurry, that we'll get it right," Sowell said, "and when we get it right it'll be 4-1 or 5-0 and our new city manager will know that he has the support of this commission. Or she."
The new job search will last two weeks and call for the preference of a master's degree, and seven to 10 years' government experience. The first round had drawn 18 applications. Eleven were still eligible and willing to be interviewed as of July 10, and will be included in the new pool once it's ready ay the end of July. Commissioners were following their attorney's advice by re-advertising, since they were changing the qualifications.
"If you are going to make a change in the requirements, while it's not strictly legally necessary I recommend it would be a better HR practice" to re-advertise, Wade Vose, the city attorney, said. "It would give those who had self-selected out from applying previously, the opportunity to apply with those changed requirements."
Sowell had originally pressed to raise the standards. He explained his change of heart. "When we started this process I suggested and we all agreed that we seek someone with a master's degree, primarily because I was hoping to elevate the pool of candidates," Sowell said. "But for the salary that we're willing and able to pay, the pool of candidates that we got with master's degrees, although there were a few good ones in there, some of them self-eliminated before their process ever started. We seem to have gotten quite a few people that were retreads, that had been to jail, had been arrested and many other things. I think there are many quality applicants that could apply for the job that don't have a master's degree, and some of them are even internal to the city and they didn't have that opportunity to apply."
The position's salary range is advertised as $75,000 to $80,000, not including benefits.
"We've had some real good city managers over the years that had a bachelor's degree, we've had some not so good city managers over the years," Rogers said. "I'm a little conflicted. But I understand both sides. My colleagues are ready to move on with this process. However I would support opening it back up to a bachelor's degree and putting it back out there for advertisement."
In the city administration, those who would now qualify to apply for city manager would include Stella Gurnee, the finance director who came within a vote of winning the job two and a half years ago, and Kristen Bates, the city clerk. Whether they'll apply is an open question. The commission has been contending with deep rifts within the administration motivated in part by jealousies over the size of departments or some department heads' tendency to lobby commissioners, so hiring from within may be a double-edged sword. Foster has repeatedly said he is interested only in returning to his job as chief of police.
"I was thinking back about the last two city managers we hired, the last city manager we hired came out of a pool of our internal staff that had a bachelor's degree," Robinson said. "Two city managers ago, when we hired Mr. Williams, we actually interviewed two internal employees that didn't have bachelor's degrees. So we've gone from internal with no bachelor's degree to internal with bachelor's degree to master's degree."
Robinson added: "When it comes down to it the master's degree versus the years of experience, to me, to have the bachelor's degree in public administration and having the years of experience in government and been successful is more important than the master's. So I too am willing to open it back up and see."
That's what the commission voted for.