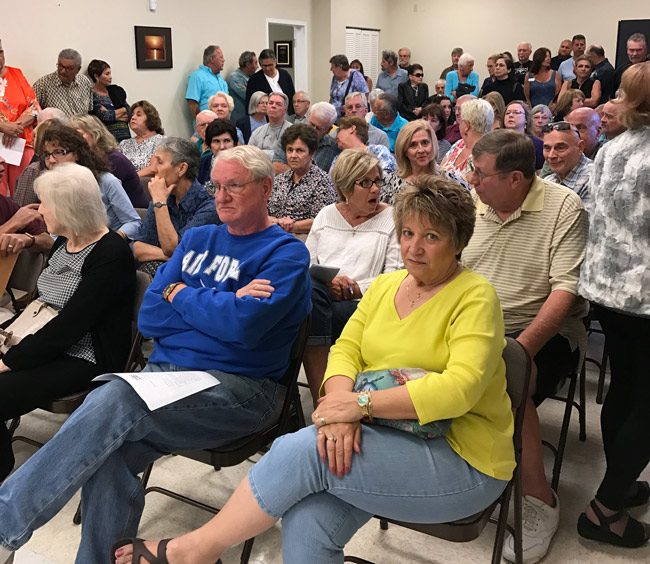 For a group of retired residents who say they moved to Palm Coast's E Section for the peace, the quiet and the low crime rate, many of the more than 100 people who crowded a Bunnell planning board hearing last week got so rude and disruptive that they had to be cleared out of the room–a first for Planning and Zoning Board Chairperson Thea Mathen, who's been a member of the planning board for 12 years.
"We've had meetings like that before," Mathen said, "but we've never had people shouting and being disruptive. Ever."
"I was astonished," PLanning Board member Jan Reeger said, thinking back on the meeting. "Thea was trying to keep some order, keep the process the way it was supposed to be, I couldn't believe how people kept shouting."
The board was considering a special exception to a developer's plan to build 240 apartments in nine two-story buildings on 30 acres just north of State Road 100 in Bunnell, a few blocks east of Belle Terre Parkway. The project is the plan of Safety Harbor, Fla.-based SR100 LLC. The land is entirely in Bunnell. But the apartment complex's north side would butt up near Egret Trail and Egan Drive in Palm Coast's E-Section. Residents there got letters slipped under their doors, Mathen said, misinforming them that the project was in Palm Coast, among other misinformation, and urging them to show up in force to oppose it.
It was a repeat of a meeting before the Palm Coast City Council on March 14 where a large group of K-Section residents turned out to oppose a planned apartment complex along U.S. 1, near Karas Trail. That one would have offered 348 apartment units.
The language opponents of the projects used at both meetings was nearly identical: that apartments would breed crime, noise, traffic and disruption. The claims were baseless: there is little evidence that apartment complexes are more crime-ridden than Palm Coast's W, P, E, R or any other section. But while city staffers at both meetings presented what evidence they had in their recommendations for approval (not least of it the region's crying need for affordable housing), audiences were not in the mood: preconceptions ruled. "I was astounded at how many had such a lack of interest in really finding out what was going on," Reeger said.
The Palm Coast council ended up not so much deciding against the U.S. project as delaying a decision on it. The Bunnell planning board was not so hesitant. At the end of a 55-minute meeting, it boldly, unanimously approved the measuring requesting the exception, opening the way for the project to seek investors. But the meeting was ugly in the extent to which it revealed deep-seated prejudice against affordable housing–and fact.
The Bunnell project would be built a sizable block north of State Road 100, with the fronting acreage given over to potential commercial businesses. The apartment complex would be set back by 130 feet from the E-Section, with conservation land and a retention pond running the length of the set-back. For all that, E-Section residents feared traffic, saying a road will open up between the complex and Easthampton Drive (not so), and that the "criminal element" would affect the quality of life while lowering property values.
"I was actually delighted when I saw this," Reeger said during the meeting, after a brief presentation on the project. There'd already been grumbles from the crowd. "I have for many years been on a soap box for our county over two issues. One is economic development and the lack of jobs that are available, and the second is the ability to have affordable housing."
"You want them in your backyard?" came a surly voice from the crowd.
"Would you folks like to have to be moved out of here? Because I can clear this room. No more outburst please. Be polite," Mathen said. She limited the public participation portion of the meeting to three people speaking against the project, and three people speaking for. No one spoke for it.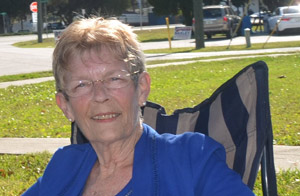 Lucy Green Davis, a retired teacher who ran for the school board in 2008, is among the residents of Egret Trail. "Twenty years ago my husband and I decided we would retire to Palm Coast and build our retirement home here on Egret Trail because it was a quiet, dead-end street," she told the board. "We were happy to believe our street would not become a thru-fare to Route 100, and now you want to change the [character] of this area to permit a multi-family project to be built in our residential neighborhood. To the residents of our community, this will create problems of grave concern. Right off the bat, property values will become diminished, a project of this nature creates increased traffic and noise as well as the expectant increase in crime." Davis offered no evidence for any of her claims, and repeated the claim that the project would bring more crime. "I would feel very comfortable having an assisted living facility, nursing home, a medical facility or day care for children or adults located on this property."
But not affordable housing.
Two more residents spoke to applause in opposition, one of them, Carol Gunthorpe, repeating the claim that "East Hampton will be opened into Bunnell." Then came a resident who suggested the apartment complex should have concentrated policing. "Are we going to have additional police? Because this is a potential, you know, crime zone, OK, with the number of people in such a small area, are we going to address that?" he said to applause. "Are we going to put our men in blue in there to make sure everyone is safe?" He had noted that as a participant in a recent citizens' academy, he'd ridden around with a cop who'd told him that Palme Pointe, a housing complex in Bunnell, was a "high-crime" area, a claim a member of the board disputed. (The most recent, high-profile crime issue in Palm Pointe involved a deputy in training, who was fired for abusing his authority at the complex.)
By then, a disbelieving Reeger decided she had to intervene with a few correctives.
"Affordable housing does not necessarily mean a criminal scenario," Reeger said, again getting the crowd grumbling and Mathen gaveling. "There is very few apartment complexes in this county. There is one fairly recently built in Flagler Beach near the Publix, just off of 100, a set up much like this is. When my grandson returned, and he's not a criminal element, he was unable to find a place to live, because there was a year's waiting list."
"How is this going to help us?" A man yelled out.
"We're not here to help you," Mathen said. "Quiet!"
"I'm going to say it again for the record: there is no traffic impact. That is a non-point in this discussion," Reeger said. The crowd scoffed. Mathen gaveled. Reeger tried going on. More grumbling and yelling. Mathen ordered the room cleared. "You folks have been yelling all night, I'm done with it," she said.
As people were being escorted out, several people came up to board members and apologized for their neighbors' behavior, eliciting gratefulness from Reeger and other board members.
About 25 people stayed behind by the time a few minutes' recess was over, though the prejudicial talk was not all on Palm Coast's side.
"It's unfortunate what this county did when they planted Palm Coast, isn't it?" Randall Morris, a member of the planning board, said as things were quieting down. "This wouldn't happen."
Shannon Strickland, who co-chairs the board, then proposed lengthening the buffer zone by 10 feet, to 130 feet and writing into the exception the certainty that there'd be no road cut to Easthampton, no more than 250 units built. Reeger seconded his motion, and the measure passed unanimously.
Whether the measure does lead to an apartment complex is an open question: the developer bought the land for $3.3 million in 2005. It's for sale.