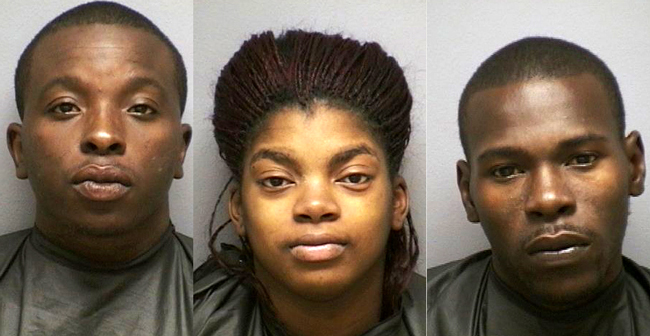 Curtis Emanuel and Predaran Barnes were sleeping in a South Bacher Street residence at 5:30 Thursday morning when, armed with a warrant, Bunnell Police Department officers entered the house, detained the men, and began collecting marijuana, cocaine and a .45-caliber semi-automatic gun. The raid was the culmination of "a month-long investigation of drug activity on the south side of the city," according to Angie Hatfiled of the Bunnell Police Department.
After searching the home for about 20 minutes, Takesha Johnson, who rents the place (at 311 S. Bacher St.), arrived on the scene and was arrested along with Emanuel and Barnes. The housing block is owned by the Flagler County Housing Authority.
According to police reports, some 60 to 60 grams of marijuana was found in a brown bag in the master bedroom. Another bag of marijuana, containing 18 individually packaged plastic bags, was found on the couch in the living room, where Emanuel had been sleeping, along with a small grocery bag containing small amounts of cocaine. The gun was on the dresser in a bedroom. Five cell phones and six hydrocodone pills were also recovered. Hydrocodone is a pain medication. Emanuel had $450 in cash in his pocket. In all, 75 grams of marijuana was collected.
Barnes, Johnson and Emanuel, who are all 23, were booked into the Flagler County Jail. Barnes and Johnson face charges of marijuana possession with intent to sell and possession of drug paraphernalia. Bond is set at $25,000 for each.
Emanuel faces the same charges, plus charges of marijuana, cocaine and hydrocodone possession. Bond for Emanuel is set at $51,000.