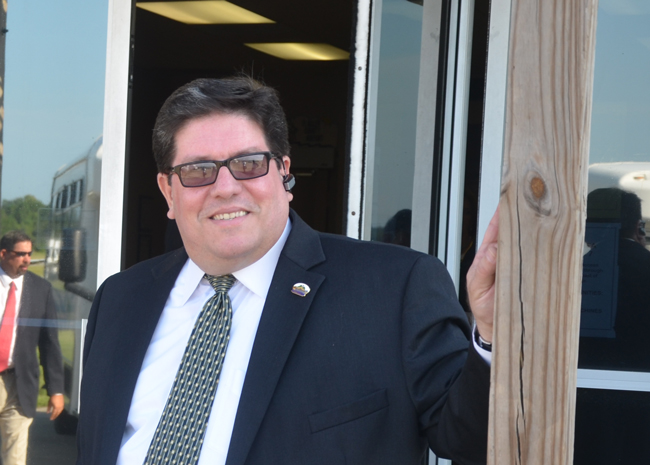 The matter of embattled Bunnell City Manager Armando Martinez's contract was again a subject of discussion three and a half hours into the city commission meeting Monday night. So the mood was again rancorous, offensive and recriminating, with one commissioner flatly and discriminatingly stating that he didn't want candidates from Miami, and the mayor accusing her three colleagues, who are leading the charge to get rid of Martinez, of being "small-time" and  "good old boys" who negotiated in bad faith to produce "laughable" proposals.
When it was over it looked like Martinez would remain fired, after there'd been a glimmer of hope for him in July when the commission agreed to at least negotiate a new contract with him.
At close to 11 p.m., and taking action on a matter never placed on the agenda, the commission voted 3-1 to advertise for a new manager from Florida, and hire him as quickly as possible. Commissioner Elbert Tucker's anti-Miami slur—indistinguishable from a demand that a black, Hispanic or Jewish candidate not be hired—did not make it into the qualifications. For now, anyway. Martinez is Cuban-born, and made his career in Miami.
Last month Lonnie Groot, the commission's new attorney (whose first month's pay totaled $24,000) was directed to negotiate a contract with Martinez. He spoke with each commissioner. He said he did not poll them or break sunshine rules, though one does not have to poll commissioners outside of a meeting to break sunshine: discussions clearly took place that led to the various sides staking out their positions, and did so outside of public view.
Those discussions came down to this: Martinez would not accept a salary of less than $97,500, or about $12,000 less than he's making now. Commissioners John Rogers, Tucker and Bill Baxley—the three horsemen unified against Martinez—would not offer him more than $80,000.
"That in my judgment at this time is irreconcilable," Groot said, with Martinez reaffirming his demand as late as Monday afternoon. He was not at the meeting Monday night. He's been burning time off due him,  in view of his impending last day on Oct. 13.
There were other differences. Martinez wanted 20 weeks' severance. The three horsemen agreed to 20 weeks only if Martinez, who lives in Melbourne with his family, relocated to Flagler County. Absent that, they'd give him six weeks' severance, with an additional week for every year served. The three wanted biannual evaluations rather than annual, and a contractual obligation for the manager to brief all commissioners equally, outside of meetings, about city business. That's a reflection of the three horsemen's displeasure at Martinez and Robinson for having constant communication, to their exclusion. The three also do not want him to retain the title of public safety director, and want to withdraw his current car allowances, letting him use a city car only in Flagler County, or for Bunnell-related business if it takes him beyond county borders.
Those matters became moot once the difference over salary could not be bridged, though the differences are also an indication of the sort of strictures the three horsemen will write into the new contract, whoever the manager may be.
Then the recriminations flew.
"Obviously," Robinson said, her voice crackling with contempt, "there was no good faith negotiations going on here. The comment was made earlier, you get what you pay for. So what are you all wanting? You want to pay somebody $80,000 to do the job? Is that what you want? I certainly do not think that for the man who's done the job he's done and for the money he's saved the city, to cut him $19,000 is fair, equitable, and even, I can't even believe that's on the table. That's ridiculous. That's a ridiculous cut in salary. If you worked in the corporate world, you wouldn't have somebody come in that you've done a good job and cut his salary $19,000. We just paid the attorney $24,000 for one month's worth of work." She added: "You all want to go down in history as taking the city back, that's your decision."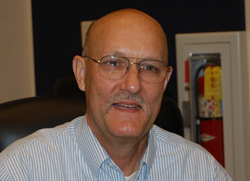 "Could you possibly be giving Mr. Martinez a little too much credit for all that's going on, because you had a vote in everything that he did," Tucker said. "The staff has carried out what the staff has been hired to do. Mr. Martinez didn't do their work. You give him way too much credit for what somebody else has done."
"Well, that's small-time thinking about being progressive," Robinson said. "Where is the vision? Where are we going? Who's going to lead us down that path?"
Tucker: "You're going to do it and the rest of the commission is going to do it."
Robinson: "Oh, really?"
Tucker: "Mr. Martinez is not the one driving the train here."
Rogers, Baxley and Jennifer Crain-Brady remained silent.
"Anyway, we can beat this horse dead, it doesn't matter. This is what you want to do, this is where you want to go, then you take the responsibility for it," Robinson said.
"Well spoken," Tucker said. "And I will take responsibility."
"That's fine. You can."
"I will. I have. I haven't backed up a moment from what I've decided to do," Tucker said.
"I understand that but you work for the city at large. You work in the best interest–"
"I work for the citizens of Bunnell, I don't work for the city. I work for the citizens of Bunnell," Tucker said, underscoring a point he's made before—that Robinson was too wedded to the city's administration's interests as opposed to residents' interests.
"For the citizens. That's right," Robinson said, continuing her defense of Martinez.
By then commissioners spoke of the sort of manager they wanted in place of Martinez, prompting Crain-Brady, who would soon leave, to speak: she described her experience with former manager Richard Diamond as "a disaster" and that of Sid Crosby as "a big mistake." "My experience has been, Diamond, Crosby, Armando Martinez. There's no comparison," Crain-Brady said. Bunnell, she said, is no longer a "Podunk" town on the fringe of Flagler County's economic activities, but an integral part of those activities, as underscored by a presentation by Helga van Eckert, the county's economic development director, earlier in the meeting. She credited Martinez for that achievement. "So I'm very upset that we're losing Armando."
Crain-Brady then walked out of the meeting in disgust.
"Obviously it doesn't matter what I want to do," Robinson said. "My 19 years of experience mean nothing here. My credibility about what I've been through with the city managers means nothing. The good old boys' mentality is alive and well. Congratulations. You got it. So what do you all want to do?"
That's when Tucker said he didn't want someone from Miami, starting another round with Robinson, the two interrupting each other as they had all along. It was left up to Rogers to make the motion to advertise for a new manager, using most of the qualification wording from Martinez's contract, and agreeing to a :"target" of $75,000 to $80,000. That again leaves the door open for a candidate to make a salary demand higher than that, and the possibility that in the end, the commission might end up with a manager with a salary closer to Martinez's final request. But not Martinez.