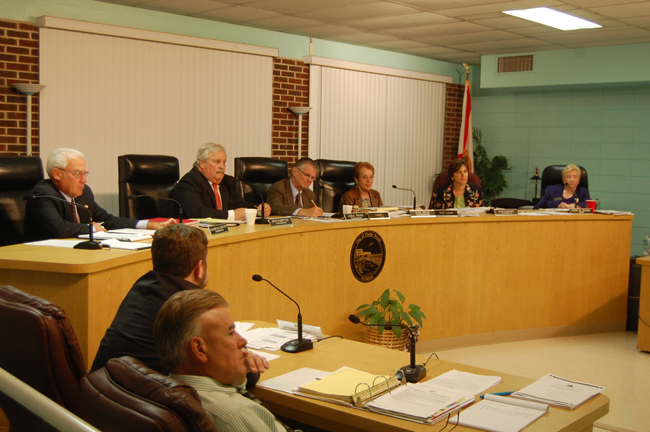 Flagler Beach City Commissioner Steve Settle thinks it's time his city tender a formal offer to Bruce Campbell to hire him as its city manager. He'll make a motion to do so at Thursday's commission meeting. The timing isn't coincidental. When Campbell was interviewing last year, he submitted a 12-point, 100-day plan of what he'd accomplish in his first three months on the job. Settle says most of those goals have either been accomplished or set in motion in the 100 days or so Campbell has been in the top job.
"There's a general consensus in the community that he's done an outstanding job," Settle said on Tuesday.
Campbell has been the acting manager since January, at an annual salary of $90,000. He's lacked the four-vote majority he needs from the five-member commission to get the permanent appointment. He may still lack that majority even with two new members on the commission—Kim Carney and Marshall Shupe—both of whom said on the campaign trail that they support Campbell as permanent manager.
Commission Chairman John Feind and Commissioner Jane Mealy opposed Campbell's permanent appointment based on his lack of executive leadership in government (Campbell's executive experience is in the private sector), and because they are uneasy with the populism behind Campbell's candidacy. Since last summer, a large group of Flagler Beach residents organized and petitioned the city to hire Campbell. His supporters have often sat in commission meetings when his fate was discussed, alternately cheering, jeering and heckling commissioners, depending on each member's position. It's often been an indecorous scene, alienating a majority of the previous commission until Joy McGrew, then still a commissioner, agreed to switch votes and give Campbell a temporary shot at the job as an acting manager.
Interviewed in mid-March about Campbell, Mealy said she was "feeling better" about him, but was not ready to answer" whether she would support him for a permanent appointment. "He's working very hard," mealy conceded. Campbell and Mealy appeared as a team this week before the Flagler County Commission to lobby for support for a resolution against the Florida Department of Transportation's planned seawall for a stretch of shore in Flagler Beach. The joint appearance may have been coincidental. When the Flagler Beach commission needs an emissary before other governments, Mealy is often volunteers. It could also have been a signal that Mealy is more comfortable with Campbell. On Wednesday, Mealy said she had not changed her mind about Campbell, compared with where she was several months ago. She confirmed that the joint appearance was, in fact, coincidental.
Feind, who prizes consensus on the commission, dismissed the notion that he would abandon his opposition to Campbell's permanent appointment just to move the commission past the matter. "My position is status quo," Feind said when asked about Campbell, also in mid0-March. "I feel the enw people have to have time to make up their mind. I don't see how anybody could make a decision without having worked with him." He specified: "I haven't changed my mind. I'm not against him, I'm not for him, but time will tell, and eventually it'll play itself out."
Feind suggested that a decision may wait until after budget season, when Campbell will have had a chance to show how he deals with that delicate matter. (Numbers are one of Campbell's strengths.)
Asked about Settle's coming proposal, Campbell was reserved in an interview Tuesday, saying he preferred not to weigh in on the matter, including Settle's suggestions that Campbell might forego a severance package and a car allowance and accept a lower salary, in the $70,000 range, making his appointment that much more attractive. Settle was basing his assumptions on what he said he'd heard Campbell say during Campbell's two interviews with the commission last summer.
But Settle, who agrees that all numbers are subject to contract negotiations, may be making assumptions about what sort of contract Campbell is willing to accept.
"It's never been discussed with me," Campbell said of what he would or would not accept. "I can't agree to something before I'm asked." He said he hadn't had any conversations about the matter with commissioners. "Until it's time to talk specifics I have no specifics." It would be highly unusual for a top executive to take a permanent job without a severance package.
Settle's motion is built around what he terms "four compelling reasons" why Campbell's appointment should be made permanent. The first is that since, according to Settle, Campbell would demand no severance, "there is absolutely no adverse consequence" should the commission decide to fire him. It takes four votes to hire a manager permanently. It only takes three to fire one. Second, Campbell's appointment would be financially "prudent," since Campbell isn't asking for a lavish salary. Third, Campbell "has more than adequately demonstrated a core competence" for the job, and that he "far exceeds the minimum qualifications necessary to perform the job," Settle writes.
Settle concludes: "It is a very bad situation to have an acting city manager that can be held hostage by any one or more of five commissioners, or any particular segment of the diverse coalition that supported Mr. Campbell. A city manager must be able to serve without a sword hanging above his head; without threats of withdrawal of support or undue influence from any group of citizens or individual elected officials. Again, if a majority of the Commission disagrees with any particular action of Mr. Campbell, they can remove him with a simple majority vote."
A sword always hangs above a city or county manager's head, however, precisely because as Settle notes at the beginning of his memo, it only takes three votes to remove that manager. The situation in Flagler Beach has nevertheless been unusual, in so far as anything is unusual in Flagler Beach politics: Campbell's predecessor—not counting Caryn Miller, who briefly served as acting manager—Bernie Murphy, served five years in the interim post of city manager, because he lives in Ormond Beach and the city charter forbids the city manager from living outside the city limits.
The city commission has a packed agenda Thursday, including discussion–and possible, final passage–of the proposed new lease for the Pier Restaurant with Ray Barshay, discussion of the bait shop at the pier, and talk about the agenda for a May 19 town hall meeting the city is organizing in opposition to the seawall.