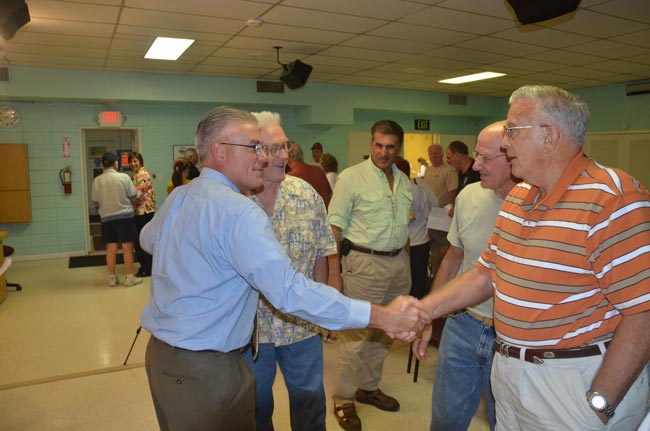 Bruce Campbell is Flagler Beach's city manager. Not interim. Not acting. The Flagler Beach City Commission voted 5-0 to appoint him, finally garnering the supermajority it needed to have a permanent city manager for the first time in about six years, and ending Campbell's own 10-month limbo: he was appointed acting manager beginning last January.
The key was Commission Chairman John Feind's shift. He had opposed Campbell's appointment going back to last spring, when he was winnowed out of 140 applicants. Feind was unsure about Campbell's capabilities, Campbell's executive experience having been exclusively in the private sector. Commissioner Jane Mealy was opposed on the same grounds. Feind was also turned off by the political rallying around Campbell's candidacy, including petitions, noisy public meetings and a constant drumbeat of vocal protest whenever commissioners failed to give Campbell the final nod.
In the end, Feind said he'd make his decision based on Campbell's performance during budget season. That's over.
"I'm most pleased with the budget," Feind said Thursday evening in an unceremonious opening to the discussion item. "I'm ready to make a decision on the matter. We can discuss it a lot, or whatever. I'm prepared to vote. Any other comments?"
There were a few, all supportive of Campbell, including from Mayor Alice Baker, Richard Price, a resident in Flagler Beach who speaks at almost every commission meeting, Terry Potter, who's been the public face of Save Flagler Beach, and Doug Baxter, president of the Flagler County Chamber of Commerce. Those comments, knowing the vote virtually sealed, focused on Mealy as they pressed for a unanimous vote.
Even Ron Vath, the former city commissioner, made an appearance before the panel he'd served on almost a decade. He, too, asked for a unanimous vote, and thanked Feind in "coming forth with a reasonable" agenda item.
"Good to see you, Ron," Feind said, barely audible.
Throughout, Campbell, who'd been silent almost the entire meeting, sat back in his chair, next to city attorney Drew Smith, his hands clasped, chewing, as he often does, gum and occasionally writing notes in his white legal pad.
The only real surprise of the evening was Mealy's vote: she actually made the motion to give Campbell the job–pending a routine background check.
"I think it was the best thing for the city at this point," she said later, during a break.
The motion, technically speaking, was not an outright job award, but to have the city attorney draft a contract with Campbell (the job pays about $90,000 a year), pending the results of a thorough background check.
"I feel good about it, I'm excited, I'm honored that we got the consensus, majority–unanimous vote," Campbell said. "Nothing different, I'm going to keep doing what I'm doing. It's just going to make it easier to come to work in the morning."
"We got it done baby. It took a while," a jubilant Kim Carney, one of the city commissioners, said.
By one count, the entire discussion sealing Campbell's appointment lasted less than 15 minutes Thursday evening, by the time the vote was taken at 7:43 p.m. In fact, it had lasted 18 months.