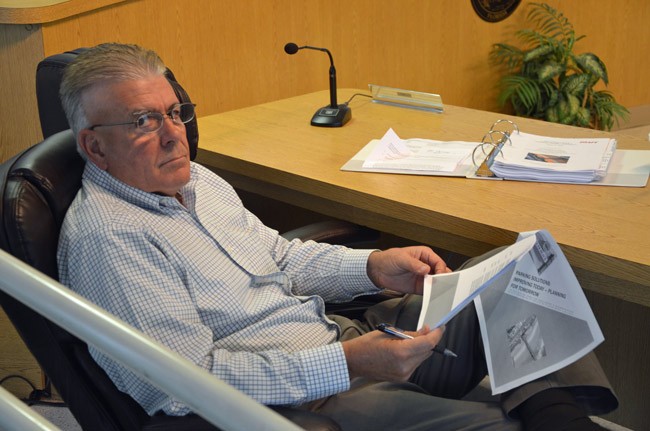 Bruce Campbell has had it with the Flagler Beach City Commission. Addressing his five bosses more bluntly than he has at any point in his four years as their city manager, if not contemptuously, Cambpell told them he is not interested in another contract, he is not interested in further extensions of his month-to-month arrangement, and that would be quitting at the end of September. He'll be 59 then. He capped his drop-dead announcement with a command to the commission: "Get on with it."
Campbell had first announced his resignation almost a year ago—last October—when he said he was looking to retire. But he did so the wrong way in Flagler Beach: he gave commissioners no deadline. He merely said that he would not renegotiate his contract, giving the commission ample room to do to him what it did to its previous manager, Bernie Murphy, whose "interim" term as manager was strung out to five years before Murphy finally said he'd be out the door whatever the commission did.
Campbell made his announcement at the end of last Thursday's city commission meeting in an almost empty room but for the five commissioners and what was left of city staff and an attorney. He was prompted by Commission Chairman Marshall Shupe's attempt to… renegotiate Campbell's contract.
"I'm going to try it one more time, I don't know if it's consensus, I don't know what," Shupe said, "but I think we need to put our city manager on paper. I think we need to have a contract, and I think with budget hearings and all the other reasons that we've said over and over again, what he does, if he wants a contract, I think we should sit down and give him a contract."
"Didn't we agree that we were going to evaluate him and then do a contract?" Commissioner Jane Mealy said.
"I didn't know that we agreed on an evaluation," Shupe.
Campbell sat silent, as he has increasingly in the past year and especially after he returned from open-heart surgery in spring, following heart trouble. But not long afterward he decided to speak.
"I really appreciate your effort to try to make something happen," he told commissioners. "If the truth were known, I wouldn't be here tonight if it weren't for Marshal asking me to stay this past year. So I don't want to sound like I'm not appreciative. But this is all to me maybe a little bit too little too late. So I guess what I'd like to say tonight is, I really suggest that you start looking for another city manager. I'll get you through the budget process."
Campbell said he'd get the commission through its next workshop and two public hearings on the budget.
The he said, his phrases coming in staccato as he seemed to struggle to get the words out: "I plan on leaving the end of September, and I don't want to make a big deal out of this. It's obviously emotional for me. I appreciate the opportunity, but this keeps going on and on and on and on. So. Thank you. I'll help you any way I can. Get on with it."
Commissioners then discussed what to do next: not launching a search or advertising the position, but discussing how they might get when they might have a workshop to discuss how they'll go about conducting the search. They'd held one after Campbell had made his original announcement, but it amounted to asking a staffer to draw up a job description. In the 10 months since Campbell told commissioners he wanted to leave, they've not advertised or in any way announced the city's intention to replace him.
The city faces other challenges. As Campbell's tenure wore on, two positions—the director of the city's Community Redevelopment Agency and the head of the building department—left. Campbell took on their responsibilities, with just a 10 percent of his $90,000 salary contributed by the CRA fund. The commission has talked about merging those positions into the manager's job description.
The only thing commissioners agreed to regarding Campbell's succession was to meet in workshop on Aug. 6 at 3 p.m.
The commission's last go-around in search of a manager was a drawn-out affair that lasted nearly a year, starting with an application pool of 140 candidates, and featured numerous meetings that devolved into partisan bickering and recriminations, not least because Campbell's name was in the ring: the process divided commissioners between those who wanted to hire a candidate from outside the city, and one who had government experience, as opposed to commissioners who favored Campbell—at the time a city maintenance employee better known to residents as the guy who mowed lawns and repaired stuff—and his private-sector experience. The hiring phase more often reflected the divisive atmosphere of election campaigns than administrative hires, with residents going so far as organizing a petition drive on Campbell's behalf. The process was not without embarrassing episodes, too.
But Campbell's hiring was then followed by four years of relative political and financial stability unusual for Flagler Beach, not least because Campbell had found a way to manage commissioners despite their quirks and some of their initial resistance to him.  Mealy, who had opposed hiring him almost until the end (she switched vote only for the final vote, when it became clear Campbell would be the choice and she wanted the decision to be unanimous), developed an effective working relationship with him. On the other hand, Commissioner Kim Carney, who had supported hiring him—her first election campaign straddled that year of decision—became his strongest critic and antagonist.
Campbell himself, it's become clear, has had enough.