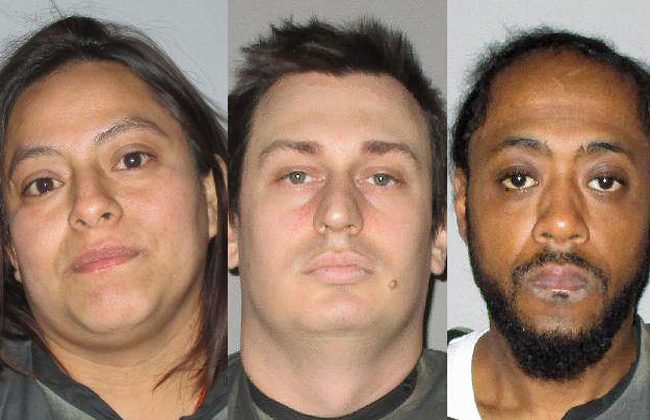 A woman and two men ended up at the Flagler County jail, each facing felony charges after three unrelated incidents triggered by jealousy. The three individuals were accused of of violently attacking girlfriend or spouse, in one case allegedly firing a gun during the confrontation, on a public street. Two of the three posted bail and were released within hours of their incarceration. The third has no bond because of a sex-offender probation violation.
The incident involving gunfire took place Tuesday evening on High Street in Bunnell. The 911 center had received word of a woman making suicidal threats and that a gun had already been fired.
William Owens, 30, told deputies that he and his wife, Carmen Owens, 30, had been having marital problems, that they'd been speaking of separating and of his desire to see other women. That evening he met a woman at 182 High Street, along the railroad tracks. Carmen and his 62-year-old mother showed up and the woman left, not wanting to be in the middle of an altercation. William and Carmen went to his truck and were sitting in the cab when William heard a gun being cocked. William told deputies he got out and stood in front of the truck when he heard the gun go off. He ran, thinking his wife had just shot him.
William's mother said she too heard the gun go off but couldn't see what had been going on. Carmen corroborated William's account of marital issues but initially denied that a gun was involved, according to her arrest report. She then said that she brought the gun just to scare William, not thinking it was loaded. She said she pointed the gun toward the train tracks and away from William's pick-up truck—but not away from residences along the train track. (On Jan. 19, while sentencing Bobby Earl Gore, a 74-year-old man, to prison for shooting his son at close range, and after hearing that part of Gore's defense had been that he had not meant to kill his son, just to scare him, Circuit Judge Dennis Craig said: "We don't scare people with firearms, and certainly we don't scare people with discharging firearms." Three of five murders in Flagler County in the past year were the result of domestic confrontations and involved guns.)
Carmen Owens said she threw the gun away between the woods and High Street after it went off. Deputies found the gun, a Ruger .380, but it had been intentionally buried in dirt. The magazine was not located.
Carmen Owens was arrested on a charge of aggravated assault with a deadly weapon, a felony.
Trevor Brandon is a 30-year-old resident of 6 Pony lane in palm Coast. Around midnight on Jan. 25 his live-in girlfriend, 12 weeks pregnant with their child, got a text from a co-worker. Brandon got angry, wanting to see the text. An argument followed in which, according to his arrest report, he allegedly "grabbed and pulled the victim's hair and slammed her head into the wall. The victim was able to get out of the house and lock herself in her car."
On Monday after midnight they were arguing again, there was alleged shoving and pushing, and by noon Brandon, according to his girlfriend, pushed her out of the house and locked her out. She was shoeless.
A Flagler County Sheriff's deputy located Brandon driving near the center of Palm Coast on Tuesday and executed a traffic stop. A check of his name through a law enforcement database revealed that Brandon was on felony probation for having failed to register as a sex offender.
---
"We don't scare people with firearms, and certainly we don't scare people with discharging firearms."
---
In 2006, when he was 18, Brandon was having a long-term relationship with a 13-year-old girl, was arrested in 2007, and the following year pleaded guilty to a second-degree felony, was sentenced to 15 months in prison, 15 months of probation and declared a sexual offender. He violated probation twice since, the last time, in 2016, resulting in a new, four-year sex-offender probation term that's not due to end until 2020. Violation of that probation could result in additional prison time.
On Tuesday, Brandon was charged with violating probation, and aggravated battery on a pregnant woman, a felony. In 2011, Brandon had been arrested on a previous domestic-violence assault charge when he allegedly struck his then-girlfriend across the eye, with whom he had a child in common. When Bunnell police officers went to speak with him at his apartment, he refused to come out to speak with them, the confrontation escalated and he was eventually Tased in the stomach before being arrested. The charges were dropped.
Brandon remains at the Flagler County jail on no bond.
Domestic Violence Resources
---
Anyone can be a victim of domestic violence regardless of age, gender or race. These questions can help determine if you or someone you know may be a victim. Does he or she:

Isolate you from family and friends?

Say things to insult you?

Criticize your parenting skills?

Take your money?
Act as the primary decision-maker?

Prevent you from developing your career?

Physically harm you or threaten you with weapons?

Threaten to commit suicide?
Act like the way he/she treats you is your fault or you are over-exaggerating?

Threaten to hurt your pets?

If you or someone you know is experiencing any of these signs, call the Domestic Violence Hotline immediately at 1-800-500-1119. In Flagler County, call the Family Life Center 24 hour Hotline at (386) 437-3505. Or call 911.
The case of Robert Brown, a 38-year-old resident of 56 Kathleen Trail in Palm Coast, similarly began with suspicion about messages on a phone. His girlfriend of four months told deputies that she woke up to Brown looking through her phone and confronting her with accusations of infidelity before allegedly proceeding to punch the woman in the face and choking her until she passed out. The woman said she then felt being dragged by the hair and slammed onto the floor, according to Brown's arrest report.
The woman, who is 34, managed to get out of the house but Brown allegedly chased her, grabbed her by the hair and again dragged her through the house, again choking her to the point that she lost consciousness a second time. He told her that if she called the cops or pursued charges, he'd kill her, according to what she told deputies. She said Brown knew where she lives and where her children attend school. She eventually was able to get to a neighbor's house and call for help. Her injuries were obvious to deputies, including an "extremely swollen" left side of the face, according to a deputy. She had to be hospitalized.
Brown himself fled the scene before deputies' arrival. Deputies conducted a search but couldn't find him. The incident took place early the morning of Jan. 24. On Jan. 27, deputies served an arrest warrant on Brown at the Kathleen Trail house, though for about 30 minutes he refused to answer the door as deputies sought to speak with him. He was arrested on four charges, including false imprisonment, tampering with a witness, domestic battery by strangulation and domestic violence battery. The charges include two third-degree felonies and one second-degree felony.
Eight hours later the same day, Brown posted bail on $77,000 bond and was released.