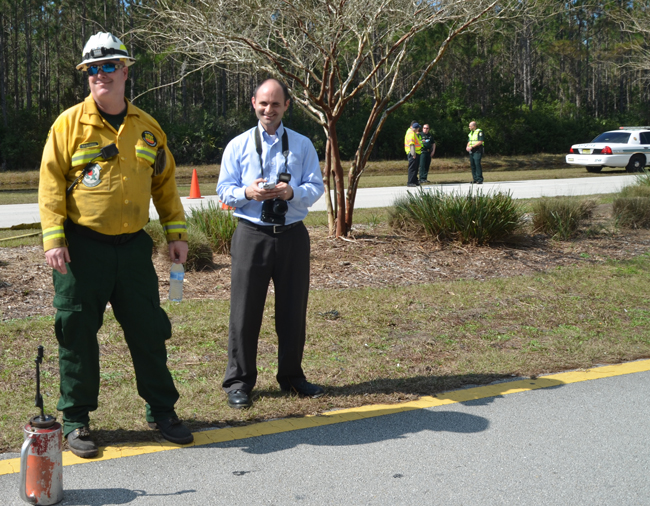 Let me give you a good illustration of the difference between me and Brian McMillan, by which I mean the difference between my take-no-prisoner, cut-throat pretensions and competitive fanaticism, as opposed to Brian's innate decency and nobility, his ability to get the job done as the editor of the Palm Coast Observer without turning every story into an F-3 tornado of catastrophes and outrage.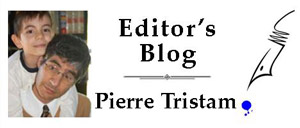 So here I was Wednesday morning on Amtrak's Silver Bullet train, which was really more bb pellet than bullet considering the crawl and delays of the past 18 hours. We'd been on it since the night before, on the way to a trio of appointments with cutters and radiation gurus in New York to see how we might proceed with that little cancer of mine. My wife Cheryl found out through Facebook that some sort of emergency was happening on Belle Terre Parkway. But that's all she could gather from the cryptic post.
Naturally I couldn't resist. I had to get the story. We were about an hour from diving under the Hudson river and into Manhattan, where I'd lose all signal for a while, so I started calling and emailing every relevant source I knew, and luckily managed to get pictures and a narrative of the terrible events directly from the FHP investigator at the scene. I've always found first responders to be as heroic in what they do at such scenes as with the professionalism and courtesy they keep extending me, despite the fact that reporters at accident scenes are like Ebola virus spills in an operating room.
I get the story up about five minutes before we hit the tunnel, and of course the first thing I do after that is dial up the Palm Coast Observer to see if I beat them to it so I could high-five myself from 1,000 miles away.
And what do I see?
A column by Brian McMillan entitled "Brother from another website," encouraging me to "keep fighting." Here I was pretending to be the Associated Press racing UPI as if I was covering JFK's assassination, and here was Brian, with his Raymond Carver style and Albert Schweitzer compassion, telling readers about my coming struggles, lavishing more kind words on what I do and who I am than I've ever seen in print or deserved. He was showing himself once again to be the moral conscience that's always kept the Observer the more felicitous work of a literary journalist than the marketing-driven vehicle it might otherwise be without him.
Brian of course is a poet and a writer first, as opposed to the hack typist I am on my best days. What he was showing in that column is no different than what he does generously every week, searching out any glow to celebrate (as he did Cheryl and the Flagler Youth Orchestra a year ago). Where some of us plunder for news, he tills for stories. As I read his column I was mortified and not prepared right at that moment to go from reptilian reporter to a weepy character in a Nora Ephron play. But that's what Brian managed to do to me, from his thousand miles away.
In fairness to our shared profession I was also grateful to see at the end of Brian's column that he noted how we'd seen each other at the recent fire on Seminole Woods but hadn't had time to do more than wave hello, as we both were in reporter mode, rushing to beat each other. So you see, it's in the blood. Mine just happens to be more diseased than his.
So diseased that while I was hoping to take a break from my WNZF commentary this morning (where this piece first aired), I couldn't let Brian have the last word, especially since I'd yet to respond to his very moving gesture, or even respond to countless others who have, in comments at FlaglerLive, in emails and in many other ways, rallied around me so much more than I had a right to expect. I particularly appreciated my most ardent critics' immediate support and prayers (yes, even their prayers)–and their truly gratifying wishes that I get cured so they can always have me to scream at–proving that in the United States we know when and how to let our shared humanity give politics a rest. This is the meaning of community. There's nothing abstract or cliche about it, though there is something uniquely American about it.
So Brian, thank you. I would never wish to respond in kind because God forbid you'd have any illness that would make such a response necessary. We can't have both FlaglerLive and the Observer on the disabled list (not that either would be, given our staffs of hundreds). But it's great to know that at heart Flagler County's media, the media that matter anyway–I especially include our friends at WNZF–reflect the caring and concerns of this community with a voice we can all agree on, no matter our differences. Thank you Brian for being one hell of a voice in that mix.

Pierre Tristam is FlaglerLive's editor. Reach him by email here. A version of this piece aired on WNZF.