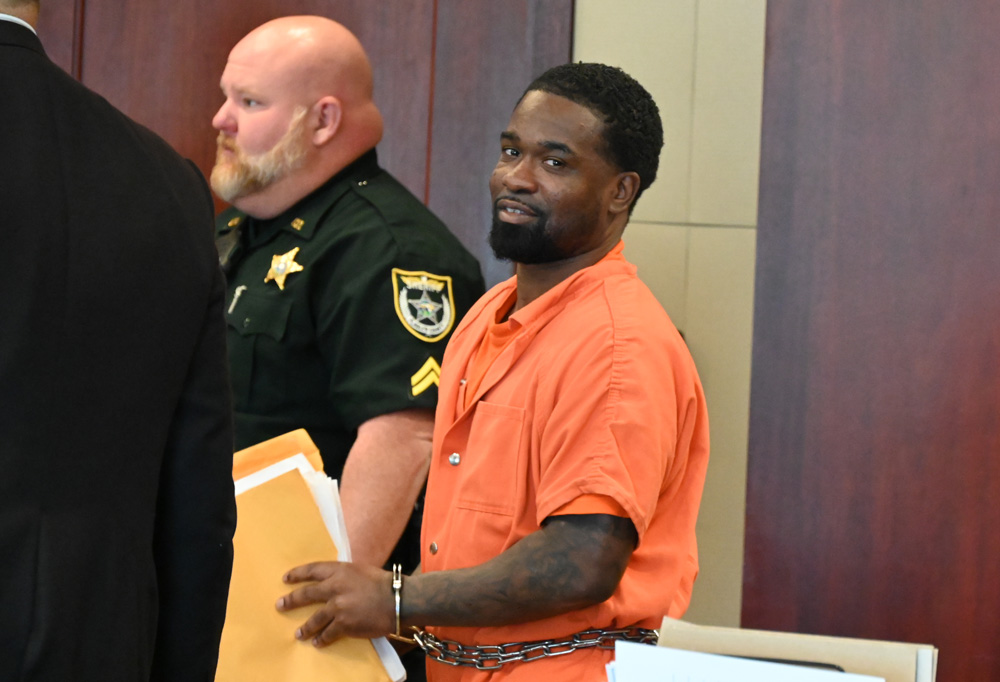 It was probably the most fun Brandon Washington had had in years–parrying to to toe with the circuit's top prosecutor, arguing, denying, objecting, one-upping, trying (but failing) to run circles around Jason Lewis. Washington was clearly enjoying it even though he probably, certainly knew that he had no case. That he'd lose. But it was worth the break from Okeechobee prison, where he's spending the rest of his life, and would spend three more life terms if he had the misfortune of returning from the dead after the first. At least that's what his sentence requires.




Washington, now 36, was once the local gang leader of the "East Coast Bloods." He was tried in 2011 and found guilty of a 2007 home invasion robbery on Palm Coast's on Pheasant Drive, of murder, racketeering, conspiracy and armed burglary. He was sentenced to four life terms at the end of an eight-day trial presided over by Circuit Judge Raul Zambrano and prosecuted by Assistant State Attorneys Lewis and Jennifer Dunton.
The murder conviction was for the killing of Rashawn Pugh, a gang associate of Washington's who was killed during the home invasion, by the intended victim of the attack. Since Pugh, 20, was killed in the commission of an act perpetrated by Washington, Washington was charged.
His imprisonment ended what law enforcement at the time described as a reign of terror that had stretched over many years and made numerous victims. Then-Sheriff Don Fleming called Washington "a plague on the Flagler County community."
Washington has contested his conviction and sentence through various appeals, including a 14-count appeal to the Fifth District Court of Appeal in 2021. That court threw out all but three counts, but found reason enough to send back those counts to the trial court for an evidentiary hearing, where it's Washington's burden to prove that he has evidence supporting his claim.




The three claims: his trial attorney, Fernando Iglesias, had been ineffective by not calling three witnesses he should have, because they would have exonerated Washington by testifying that he was not at the Pheasant Drive home the night of the crime. Iglesias was ineffective because he did not secure a voice mail message Washington had left for Pugh the day of the murder that would have shown him to have been unaware of Pugh's killing. And he was ineffective because he did not question a witness, Kim Burgos,, who would have said she was with Washington that whole day.
Circuit Judge Terence Perkins denied the motion's first two grounds and took under advisement the third, though from every indication today, Perkins will deny Washington's motion on that ground, too. Washington today was represented by attorney Kim Heller, who was court-appointed.
Perkins had watched Washington duel with Assistant State Attorney Jason Lewis–fiercely at times, bitterly at others, absurdly on many occasions–for almost an hour of today's two-hour hearing, intervening several times to tell Washington to just answer the questions posed. Washington was in a dancing argumentative mood, frequently implying or explicitly stating that the state had discarded evidence that would have exonerated him.




"There was no phone located anywhere at the scene," Washington said, referring to Pugh's phone, where he'd supposedly left his message. "According to the state there was no phone." The implication was that the state had destroyed the phone. "What I'm arguing is I didn't have a fair trial," Washington said.
But his assertiveness and fierceness were not enough to compensate for the sheer lack of evidence to back up Washington's claims, and the shaky credibility of his claims.
Take the claim that Washington had called Pugh that day, or that night. Lewis asked Washington if he had any records that would prove that. Washington said he didn't–since the state had destroyed the phone. But Lewis had records of Pugh's incoming and outgoing calls, and took them out to show Washington. Washington said the records were not ":authenticated," so they were not admissible. Perkins dismissed that objection, though Washington kept making it. It took a long duel between Lewis and Washington for the prosecutor to establish that there was not one record of a call from Washington to that phone all day–and that the only record of a call with a 904 area code, the area code for St. Johns County, where Washington was living at the time, was from two hours before the killing. Assuming that was even Washington calling, that would have given Washington ample time to travel to Palm Coast for the crime.
"How would a 5:10 p.m. phone call–if it was yours, it's not even your phone, but I'm giving you the super benefit of the doubt," Lewis told him, showing him the records, "how would a phone call about two hours before the shooting help you in any way to show you weren't at the scene of the shooting?" Washington did not answer. He asked questions instead, then said: "If you had the real bill, it would show that. It's not authenticated."




"OK, do you have the real bill?" Lewis asked him.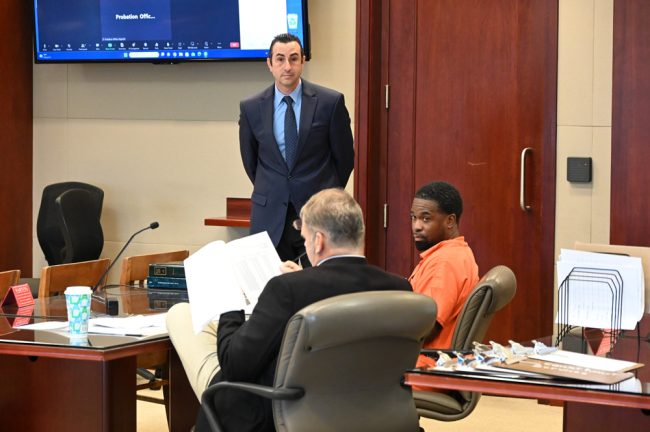 "You don't have it. You've got to refute it," Washington said. It's not clear what he meant by that. Lewis saw he would get nowhere. He filed the call records and moved on to the next claim–that three associates of Washington's should have testified to help his case. How, Lewis asked? What would they have said? What evidence does Washington have that anything they'd have said would have changed the outcome? "If your major piece of evidence was you weren't there, wouldn't you have told Zambrano?" Lewis asked him. Washington claimed he told his lawyer to make that case.
Lewis argued–and Iglesias testified–that the defense had made strategic decisions as to who to call and who not to. "He had good reason for that," Perkins said about the defense attorney. "They were the appropriate strategic decisions." As for the witnesses Washington claims should have been called, "neither one of them would have offered testimony that would have assisted in Mr. Washington's defense in this case." One of the witnesses had been deposed and placed Washington at the scene of the crime. Had she been called to the stand by the defense, she would have been a more effective witness for the state.
The judge also did not buy the alibi argument that Washington was not at the scene because he'd made a call from somewhere else. "The records that were produced didn't show anything that would have assisted in Mr. Washington's defense at all," Perkins said, explaining why he was denying the motion.




He still wants to review documents with regard to Kim Burgos, who had testified at trial about being with Washington that whole day. "The documents attached to the court's order do not conclusively refute that claim," the Fifth District Court of Appeal had ruled, and Perkins was clearly not yet ready to rule on that, either, though Iglesias clarified that issue today. He had cross-examined her at trial. She never said she'd been with him all day. And when Iglesias turned to Washington to ask him if there was anything further he wanted Iglesias to inquire from Burgos.
"As you know, he's very assertive, and really likes to be in control of what's going on," Iglesias said. But Washington didn't have any more guidance for his attorney.
Iglesias testified by zoom today, appearing on an overhead screen that loomed over Washington at the defendant's table. As Perkins spoke, explaining his ruling, Washington sat back, hearing the denials on one, then another count. He knew the fight was lost, but didn't seem upset. He'd had two hours at something like center stage. When he got up to leave, he turned to face a reporter clicking picture with a smile and a wink that said: take my best side, and for the briefest time as if posed for the shot before getting ushered out.