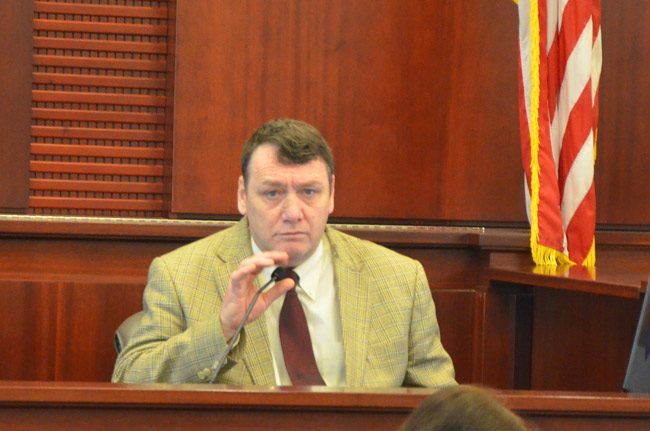 Two days before he turned 48, Michael Bowling awaited a Flagler County jury's verdict on charges that he'd molested a 15-year-old girl who'd been visiting his step-daughter in Bunnell. But after nearly four hours of deliberations, the jury was deadlocked and Circuit Judge Terence Perkins declared a mistrial.
Bowling will go on trial again on those two same charges Feb. 18, with jury selection that day.
He is accused of fondling the 15-year-old girl as he'd allegedly hidden away in a closet with her during a game of "Seven Minutes in Heaven," and of masturbating in front of her in the same closet. The alleged incidents took place in 2016. The closet was in his step-daughter's bedroom. Detectives found his sperm on a wall in the closet, with a DNA analysis connecting the evidence to him.
When he took the stand, Bowling claimed the sperm was there only because his wife had given him a hand job in the closet–a claim his now ex-wife denied on the stand, saying they'd never engaged in sexual activities anywhere in her daughter's bedroom. During a recorded interview with a detective when the case was still under investigation, Bowling professed to have no idea why his sperm should have been found in the closet, and said it shouldn't and couldn't have been, never mentioning alleged sex with his wife. When a prosecutor asked him about the discrepancy, Bowling said he didn't want to reveal a private sexual moment he'd had with his wife.
The initial trial was prosecuted by Assistant State Attorney Melissa Clark. Bowling was represented by Assistant Public Defender Bill Bookhammer.
The alleged victim in the case testified with a straightforward description of the events of that evening, when she was planning to spend two nights at her friend's house. She cut the sleepover short the next morning, after the alleged incidents involving Bowling. Her testimony was not challenged much by the defense.
But complicating the case were allegations by Bowling's stepdaughter, who claimed that he'd been raping her since she was young child, going back to their days in Kentucky. Bowling faces faces rape charges in that regard, but would be tried separately on those. Nevertheless, Perkins allowed some information from the step-daughter's allegations to be introduced at the first trial, and the defense opened the door to much more of that information to be introduced, which led to the stepdaughter's testimony playing an important role. It did so because unlike the girl's friend, the stepdaughter's testimony was less straightforward and a lot more contradictory.
Bookhammer hinged his defense of Bowling on the contradictions, arguing to the jury that the girls could not keep their stories straight, and more insistently arguing that for many years, the step-daughter claimed she'd been sexually abused even though she lived in houses or apartments with numerous other family members, none of testified of seeing anything amiss.
Bowling testified on his own behalf at great length, portraying himself as a man wronged even as he sought to protect his step-daughter.
Judges and opposing counsel are usually vigilant about not letting implications or arguments blame the alleged victim for the behavior, let alone the crimes, for which the alleged perpetrator stands accused. But the defense got considerable latitude as it undermined the step-daughter's credibility or morality by questioning her–and later questioning Bowling–about her exposing her breasts on social media. Bowling claimed he spent untold hours rifling through porn websites known to carry such pictures because, as he explained it on the stand, he was trying to find out whether his daughter's pictures had made it that far.
The jury's deadlock indicates that he had some believers and some disbelievers.
Though the case is scheduled to start Feb. 18, Perkins also has a civil trial scheduled that day. He was looking for another judge to preside over the civil trial, clearing the way for Bowling starting on Feb. 18. If no other judge can be lined up for the civil trial, then the Bowling trial will be pushed to March.