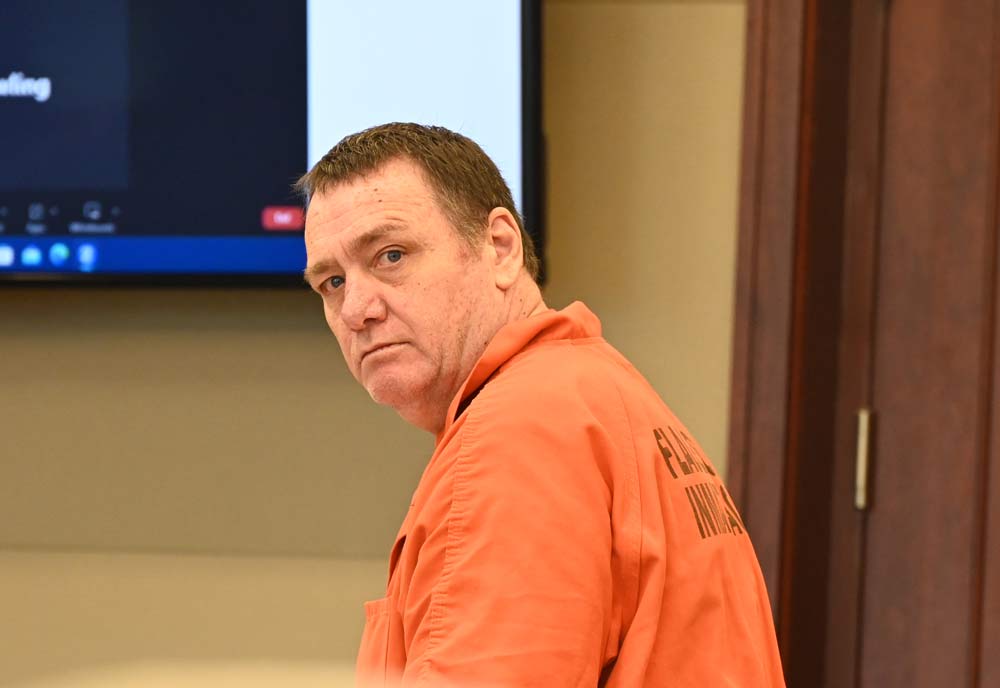 When he was a resident of the Mondex in 2017 Michael Bowling, 46 at the time, was charged with molesting a 15-year-old girl and forcing her to exhibit herself when she was visiting his step-daughter. Separately, he was charged with raping a child. He was tried on the molestation charge, convicted, and sentenced to 20 years in prison. The state dropped the rape charges.




Bowling, now 52, was back today before Circuit Judge Terence Perkins–who had presided over both of Bowling's previous trials; the first ended with a deadlocked jury–in an attempt to lower or vacate his sentence. He failed. The outcome was not a surprise. Motions for post-conviction relief are common. Successful motions are extremely rare, and in this circuit, almost unheard of.
Bowling was representing himself. Perkins denied his earlier motion to have representation. Perkins said today's motion by Bowling dealt with factual, not legal, issues. "I didn't think that counsel would be of a great assistance to you in determining a factual issue," the judge told him, "because I don't think anyone would have knowledge about the factual issue greater than the knowledge that you might possess, at least on your side of the case in that regard."
Bowling had filed a "motion for conviction relief," as those attempts to lower sentences are called, on 10 grounds. Perkins tossed out seven of those before setting today's hearing on the evidence, giving Bowling a chance to argue his case.




In the surviving grounds, he claimed that Assistant Public Defender Bill Bookhammer did not represent him well when he failed to call an 8-year-old girl to the stand to ask her what she'd seen that night. He claimed that Bookhammer misled him against accepting a plea offer. And that a video played at trial was unfairly prejudicial against him, because it relied on hearsay by a witness in the video.
Bowling made his arguments in a hearing that stretched to two hours only because he appeared more interested in making grievance after grievance, often meandering far from the grounds at hand, than in arguing his case. Assistant State Attorney Melissa Clark objected a few times to refocus the argument. Perkins himself intervened a few times. But both judge and prosecution as if gave up at one point, figuring that Bowling would just as well wind himself down eventually. He did, but not before the hearing had talen about three times as long as it might have otherwise.
The night of the incident, Bowling's wife and her 8-year-old niece for whom she was caring had gone to sleep. For some inexplicable reason, Bowling decided to go into his step-daughter's room, where she was with her friend, and join them at a card game that entailed dares, such as lifting one's shirt with a losing hand–and going into the closet for "Seven Minutes in Heaven." According to the victim's testimony, Bowling ended up in the closet with the girl, where he masturbated and asked her "where do you want me to put it when I'm finished?"
Bowling argued today that by failing to have the 8-year-old girl testify as to what she saw that night, he lost a chance to be exonerated. He blamed Bookhammer for not calling the girl up as a witness. "She would have said something that would have totally, totally changed the outcome of the trial," Bowling said. "She would have said nothing ever happened."




Perkins asked him what he was basing his claim on. There was nothing in the record that indicated how the girl would have testified. Bowling meandered. "He's rambling off in areas that aren't relevant," Clark said. Finally, the judge told him the obvious: even if the younger girl had testified, she could not have seen into the closet, where the assault took place.
No one but the victim and Bowling know what took place in that closet. But there was one key bit of evidence authorities found in the closet: semen with Bowling's DNA.
Bowling's two other grounds were not any stronger. He based a tortuous argument that he was misled away from a plea deal based on a typo in the state's charging information, which listed him–in one of two charges–as under 18 years old. It was clearly a typo that had no bearing on the proceedings. But today, it took the form of a hinge that could have changed the outcome of the trial, in Bowling's view, had Bookhammer used it to invalidate the count against him. The judge and the prosecution didn't buy it.
It was an uncomfortable couple of hours for Bookhammer, who took the stand as a witness for the state this time–taking questions from a prosecutor now looking to make him look and sound as good as possible, in contrast with the way the prosecution had sought to demolish his case in 2017. But the judge sided with the state.




"I find that he rendered effective assistance of counsel," the judge said of Bookhammer. "There is no evidence of ineffective assistance of counsel. He took all reasonable measures to present the case accurately and effectively on your behalf and I find no prejudice associated with his actions in the defense."
Bowling was informed of his right to appeal, as he almost certainly will, and he was ushered back out to the Flagler County jail, from where he will be transported back to Blackwater River Correctional facility, the state prison just east of Pensacola. His then-wife had divorced him in the immediate aftermath of the trial. Ineligible for early release since he is serving a sentence for sex crimes, he is currently scheduled to be released in March 2036, and will have to live with the designation of a sexual predator.