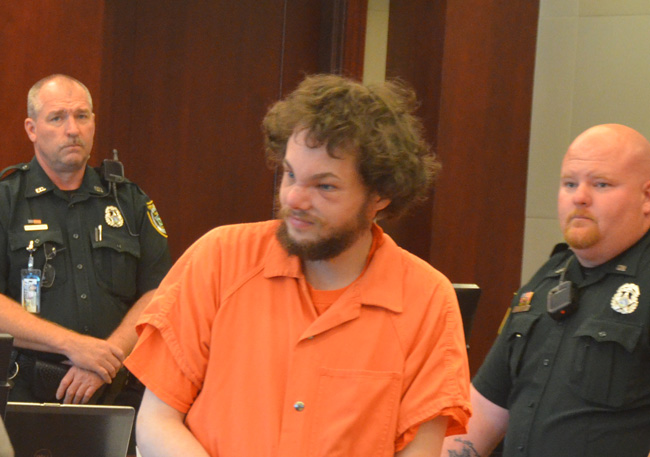 Joseph Bova was off his meds.
To say that of the accused killer of store clerk Zuheili Roman Rosado at a Palm Coast gas station in 2013 is not a metaphor, an exaggeration or a put-down. Today, when Bova appeared before Circuit Judge Dennis Craig for the first time in nine months, it was a fact: he had not been taking his psychotropic medication at the Flagler County jail. He had not been doing anything but remain on his bunk, sleeping.
It showed. In his last appearance in July, he was trim, almost shaven, had a crew cut and was vivacious enough to keep his head up and speak briefly, politely and somewhat normally to the judge (Matthew Foxman was on the bench in Flagler then). His lawyer, Ray Warren, even said he could be ready for trial later in summer. He wasn't.
When Bova walked into court this afternoon, he looked like a wild creature brought in from the wilderness: exploding hair, unkempt beard, baggy eyes he kept closed most of the time, head bent, back bent. He looked as if he would have shuffled even without leg shackles. And that was the better part of him today. When he spoke, it got worse.
On several occasions, he threatened Craig that he would be killed in a matter of seconds, that four people in the building would die, that he was being held hostage and that the judge had only one choice: to let him go, or else. Craig was asking him simple questions, among them whether Bova himself felt competent to go to trial. Bova would not answer them. He'd repeat his threats, or make incomprehensible statements as he stood next to Warren.
"Sir I'm threatening your life," he told the judge at one point.
"As I understand he's not taking his medication in jail," Assistant State Attorney Mark Johnson told the judge.
Warren has been trying for months to get Bova again declared incompetent to stand trial. The state had initially resisted, particularly last summer, when Bova acted more rationally, and after he had spent a stint in a state psychiatric facility. There, the question of his competence had revolved around Bova's authenticity. Prosecutors doubted that he was truly incompetent. Rather, that he purposefully acted strangely in order to prolong his stay at the psychiatric facility, or to delay his trial. All along, he'd make allegations that people who would try to help him would be harmed–not by him, but by someone, or something. Today, he threatened harm himself.
When Craig opened his conversation by asking Bova how he was, Bova at first said he was "pretty good, sir," before immediately correcting himself. "Actually, not so good." He then spoke of an "emergency going on," and "some kind of game that's very important." He said he had to be let out to deal with the emergency.
Craig asked Bova why he continues to refuse to talk to a doctor, as he has at the county jail.
"There's no need to talk to a doctor," Boval said.
"So you voluntarily decided not to talk to the doctor?" the judge asked.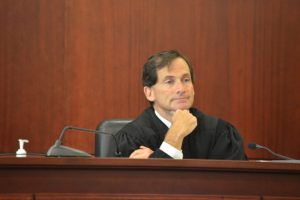 Bova, whenever he wasn't speaking, would look down and to his left, as if suddenly oblivious to his surroundings. Even after the judge asked his questions, Bova would remain in that posture, as if he hadn't heard the question, or didn't want to answer. But he would then come out of that state, lift his head and answer, without quite making sense. He answered the judge's question by mouthing something about President Barack Obama and the courthouse, suggesting that he wasn't aware that there had been an election.
"Do you understand what the counsel is saying today about finding you incompetent?" the judge asked.
"Oh, sir, that's just an irrelevant practice that's trying to delay things," he said.
"So you'd rather not be found incompetent?"
"I'm looking for a bail immediately," Bova replied, "or there's going to be a serious problem."
The judge repeated his question about competency.
Long silence. Then: "Sir there's going to be a death to at last four people in this building," he said, if the judge didn't let him out.
When Craig asked him if he at least understood what he was asking him, Bova repeated that he was being held hostage. Asked again, he told the judge: "You have seven seconds to respond the way you're supposed to, sir."
"All right, let me ask you again," a patient Craig said, "do you think this issue of competency or incompetency–"
"There' a death toll to at least four more of your council friends if you do not respond responsibly the way you're supposed to," Bova replied. A sheriff's deputy stood two feet behind him, three others stood in a corner, closer to the judge, though they did not look any more alarmed than the judge. The room was full of people waiting their turn in an afternoon of pre-trials, jaws closer to the ground than usual for a court audience.
He refused to answer questions, calling them "irrelevant." He then got rude, questioning the judge for not responding to his own questions. But at that point, the judge said he'd agree to declare him incompetent for now.
What that means is that for the first time in over a year, Bova will return to a psychiatric hospital, where he may be forced to take medication, even if it takes injections against his will. The local jail could not do so without doctors' orders, nor would it want to expose itself to liability. In one instance, he was Baker Acted from the jail, thus ensuring that he would be medicated, at least temporarily.
The hospital is required to send a report to the judge every six months. Based on those reports, the case will be reopened, and competency again considered.