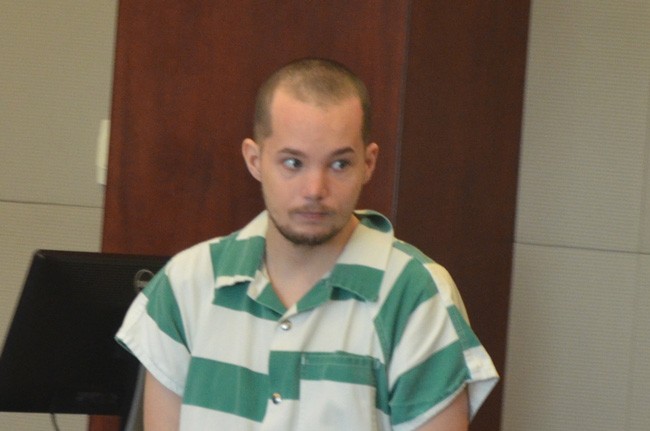 There is no let up in the enigmas of Joseph Bova, the man accused of the execution-style murder of Zuheili Roman Rosado at the Mobil Mart convenience store a February night in 2013.
Bova was back in court Wednesday morning, before Circuit Judge J. David Walsh. The hearing was to determine—again–whether Bova is competent to stand trial.
He is.
"I find that the defendant is competent to proceed as to all issues as set forth in the report of Dr. Legum," Walsh said, referring to the last psychologist to evaluate Bova. "I'm going to essentially reactivate this case," which now heads to pre-trials.
Walsh judged Bova incompetent last October, and has been at a state hospital in Gainesville since, under heavy medication. His attorney, Raymond Warren, argues that he is still incompetent, and if anything, may have in some ways regressed since last year, or could slip back into incompetency, if he is deemed competent now.
"I assert that Dr. Legum is right, on June 26 Mr. Bova was competent," but even though he was receiving aggressive treatment, he suffered an experience that allowed for decompensation. I think the evidence is very clear, it's in the court file." Today's evidence, Warren agrees, shows competence. "But I'm not convinced that I'm ever going to be assured that tomorrow he'll be competent. I don't think anybody can ever answer that." (Bova had two episodes of regression since his treatment began.)
That may have created a bit of a quandary for the judge, who had to weigh the judgments of various psychologists, the prosecution and the defense to determine whether Bova's grayish mental state can stand trial, and do so without breaking down in front of a jury. But Walsh took no time to make his determination immediately after defense and prosecution rested their case after about 45 minutes of arguments.
Bova has "regained legal competence," in the prosecution's terms, and a psychologist confirms that he is "very much aware of what he's been charged," and understand the legalities surrounding his case. But he can "slip back" into incompetence, a psychologist testified today.
He is, in the words of psychologist Louis Legum of Palatka, competent to understand that he faces the death penalty and understands the adversarial nature of the legal process, if disdainfully so (according to Legum). "He remains knowledgeable about the workings of the criminal justice system," the psychologist said. Yet his competency has zigzagged, improving at times, regressing at other times, suggesting that he could, in Warren's words, have a psychotic episode, or "decompensate," at any time. The stress of the trial could bring that on.
Compared to consultations last year, Legum said of Bova, "He walked slowly and stiffly and he had this kind of blank, lack of mobility of facial expression which is often the cumulative result of individuals who have been treated extensively aggressively with anti-psychotic medication," the psychologist said. Last year, he was "appreciably more animated." By aggressive treatment, the psychologist explained that after he was committed to the North Florida Evaluation and Treatment Center in Gainesville, Bova was given injections of Haldol, then given Risperdal orally, two very potent anti-psychotic medications.
That may have explained his "monotonic in quality speech and even pace," and his occasional odd behavior: He would stop making sense, speaks of microchip implanted in his head Bova claimed were connected to the CIA, and would be "interacting in a very strange, bizarre, disconnected manner." Bova displayed some of that behavior in a court appearance in December 2013, when he claimed the law enforcement and judicial system were conspiring against him.
"He is an individual with a real, demonstrable, mental illness," Legum said, the sort of person who remains vulnerable to deterioration.
But he is also "clearly motivated to get the best possible resolution to this case," and with some degree of guidance, and "he was calm, responsive and self-controlled" on June 26, suggesting that he can conduct himself civilly in a trial. "He would have no problem conducting himself appropriately" in court, Legum said. Bova, as the psychologist spoke, sat immobile, his head hunched down, showing no outward interest in the goings-on about him.
"In my professional opinion I think I had a reasonably accurate impression of Mr. Bova diagnostically as well as in terms of the legal issue of his competency," Legum said of his June 26 evaluation. He strongly believed, Legum said, that he was not competent in the past, in part because Bova claimed there was nothing wrong with him.
The first pre-trial is on Oct. 7, with trial tentatively scheduled for November.