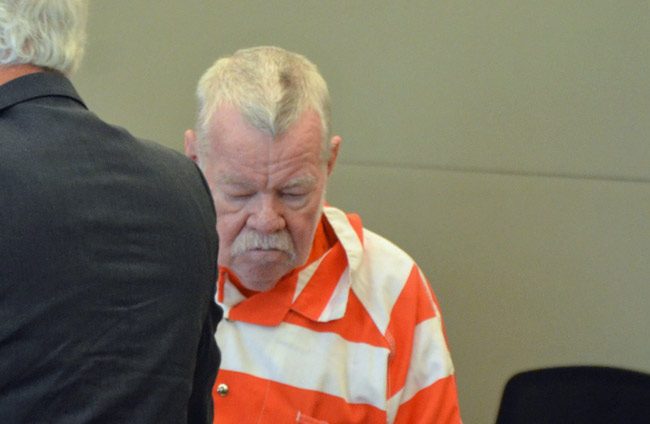 Bobby Gore had never meant to kill his son. Only to scare him. To scare him, because his son, Lucas Gore, 31, had been terrorizing him and his wife for the better part of a year, though Lucas targeted his father especially.
Lucas would tell his father he could take him out any time he wanted to. Bobby, 74, who'd suffered a stroke three years ago, had become scared of his son, especially when his son drank vodka, which was all the time. Bobby was so scared that he installed a lock on his own bedroom door in his Flagler Beach house so he could get away from his son.
Then came that day on April 30, and that night, a succession of arguments and harassment from Lucas, who'd started drinking early, who wouldn't leave his parents alone even when they went to Poor Walt's to have a drink and get away from him. He followed. Then he followed them back to the house.
He was sitting with his mother on the back porch, his mother was telling him she'd have him evicted if he didn't leave on his own, when Bobby came out with a gun and shot his son. Either immediately after the first shot or just before it, Lucas had looked at him and said out loud: "What the fuck?" There were two gunshots, both to the head. Lucas was killed.
It had looked like an execution. It was reported as an execution-style killing.
But investigative reports obtained by FlaglerLive indicate that it wasn't what it looked like. At least not to Bobby Gore, or even to his wife Bonnie, who just hours after the killing would tell an investigator that desperation and fear for his life had led her husband to shoot her son.
Moments after the shooting, Bobby Gore, who had also been drinking to the point of having slurred but not incoherent speech that night, would be heard saying words he'd repeat to anyone who'd listen: "Horrible. What I have done is simply horrible, please tell my wife I am sorry. I just meant to scare him."
Two weeks after the killing he was indicted on a first-degree murder charge. On Oct. 10, he pleaded guilty to manslaughter with a deadly weapon (the plea was no contest), a first-degree felony that would at least spare him the death penalty, but not life in prison. He was to be sentenced in two weeks, on Dec. 11.
This morning, however, Circuit Judge Dennis Craig agreed to Gore's attorney's request to delay the sentencing, granting a motion that opens an unexpected new argument in the case, in what amounts to an attempt by Gore's attorney to significantly alter the outcome of the sentence: Bobby Gore was suffering from the equivalent of "battered spouse syndrome." In other words, his son Lucas had so terrorized him, so brutalized him, so placed him in fear for his life, that Bobby finally reacted by shooting his son with a .22 LC caliber Taurus revolver
Gore's public defender, Ray Warren, is known for his unexpected and often imaginative strategies. In this case, he is seeking to put on the stand a neuropsychologist and a sociologist who will presumably paint the picture of such dysfunctional family dynamics that it may have been a matter of timing as to who would harm whom first. Warren, at any rate, told the court he needed at least six additional weeks to prepare for that sentencing hearing. Craig agreed, though an actual date has not been set. It will likely be in January.
For Warren and Gore, it's a long shot, but not a hail Mary: investigators collected plenty of evidence just that night pointing out the sort of family dynamics that had degraded into dysfunction and psychological if not actual violence between father and son, with the father as the one who feared the son. But investigators had also collected just as much evidence showing that nothing had taken place in the immediate moments or minutes or even hours before the shooting that indicated that Bobby Gore had been under any sort of threat from his son. Lucas had harassed him, perhaps insulted him, but neither his mother nor brother indicated to investigators, at least not then, that there'd been any kind of direct threat that may have led Bobby to fear for his life.
What there was, however, was disturbing.
"Bonnie described an individual to me that was clearly intoxicated to an extreme," a Flagler Beach investigator's report reads, based on an interview with Bonnie Gore that took place about four hours after the shooting. "He functions in rage and antagonizing behavior overwhelming everyone and everything in his way. Bonnie explains that Lucas specifically targets his father Bobby Gore when in this condition and cannot be controlled or rationalized with at all. Bonnie described Lucas to be stalking in nature and relentless when dealing with his father, telling him he can take him out any time he wanted. Bonnie continued by stating that at one point, Bobby Gore had retreated to his bedroom to find solitude yet Lucas Gore went to the closed and locked bedroom door and began pounding it while calling his father to come out. Bonnie explained that she has known Bobby to be afraid of Lucas. However recently she has realized that this fear has reached a concerning level for them both. Bonnie described sleepless nights as well as unrelenting days of torment and antagonism by Lucas, which prompted the decision to have Lucas move out of the house."
That was what Lucas's mother was telling him when they were sitting on the back porch of the house, smoking cigarettes around midnight, after returning from Poor Walt's: that she and her husband could no longer take Lucas's behavior and attitude any longer. "Lucas had informed Bonnie that he was not leaving and began arguing with her and raising his voice," the investigative report states. She told him she would have him evicted by Flagler County sheriff's deputies if he did not leave on his own.
The trouble with Lucas had not intensified only that day and night, but all year, Bonnie Gore told the investigator, to the point that Bobby felt he had to install a lock on his bedroom door to be able to get away from his son.
"I think Bob did what he did out of desperation, fearing for his life," Bonnie then told the investigator. "Something was obviously brewing in his brain." The stroke her husband had suffered three years earlier, she said, had changed him. He was no longer himself.
The Gores had three sons. One of them, Matthew, according to one investigative report, "described Luke as an everyday drunk that was tearing the family apart with his harassment and just being a disgusting person. Part of the reason Matthew moved back home was to keep a closer eye on Luke for the safety of his parents."
The Gore parents often found themselves trying to get away from Lucas. That was the case the night of the shooting, when they went to Poor Walt's and couldn't get away from him long. (The night before Lucas had been walking home drunk from Poor Walt's, at about 2 a.m., when he fell and hurt his face. He had to be taken to the emergency room for treatment.)
"It was somewhere around midnight when his parents and Luke returned home," an investigative report continues, referring to how Matthew remembered the night. "He described the mood as angry and said Lucas as a loser and abrasive refusing to leave his parents alone all day long. His mom and Luke were arguing to the point where Matthew was wide awake himself. Matthew thought it would be best if he slept in the car and decided to go have a drink himself."
Matthew would be outside, on the front side of the house, when he'd hear the two shots. He was the one who called 911 after his mother told him that Bobby had "shot my baby."
Bobby Gore was handcuffed in back of a patrol car later on. "Is that my son over there by the car? I just want to tell them I'm sorry that this happened, and I am," he said at one point.
Gore would not speak formally to detectives without an attorney. But a law enforcement officer took down several of Gore's spontaneous utterances as he sat in back of that patrol car, his son's body still on the back porch. "This is so bad, I'm so sorry this happened. Horrible." "I didn't try and hurt my son, I tried to scare him. Guess I did more than scare him." "God bless my son. Please accept him." "Oh my god I'm so sad, oh my god, I'm sorry."

A Line-Up of High-Profile Hearings
Judge Craig this morning also agreed to the following procedural matters in several high-profile cases: a Feb. 13 pre-trial was scheduled in the case of Nathaniel Shimmel, the 22-year-old Palm Coast man facing a first-degree murder charge in the stabbing-death of his mother in August. A Jan. 9 pre-trial was scheduled in the case of Bruce Haughton, who faces a negligent homicide charge in the suicidal death of his girlfriend, Katherine Goddard, in Palm Coast's R Section in August. Warren is representing both defendants. Both Goddard and Shimmel, who were in court this morning, are being held at the Flagler County jail on no bond.
Paul Miller, the 70-year-old Flagler Beach man serving a life sentence in the murder of his neighbor over dogs barking in 2012, was due in court again to argue an ineffective-counsel motion in an effort to reduce his sentence. That was scheduled for Dec. 1, and Miller was brought in to the Flagler jail from state prison in anticipation of the hearing. But this morning Craig agreed to Warren's request for a continuance of about six weeks to he can better prepare for the case.
Finally, a Jan. 9 pre-trial hearing was scheduled for Dorothy Singer, the 52-year-old west Flagler woman accused of killing her husband. Singer is represented by Junior Barrett. Singer is being held at the county jail on no bond. She was not in court this morning.