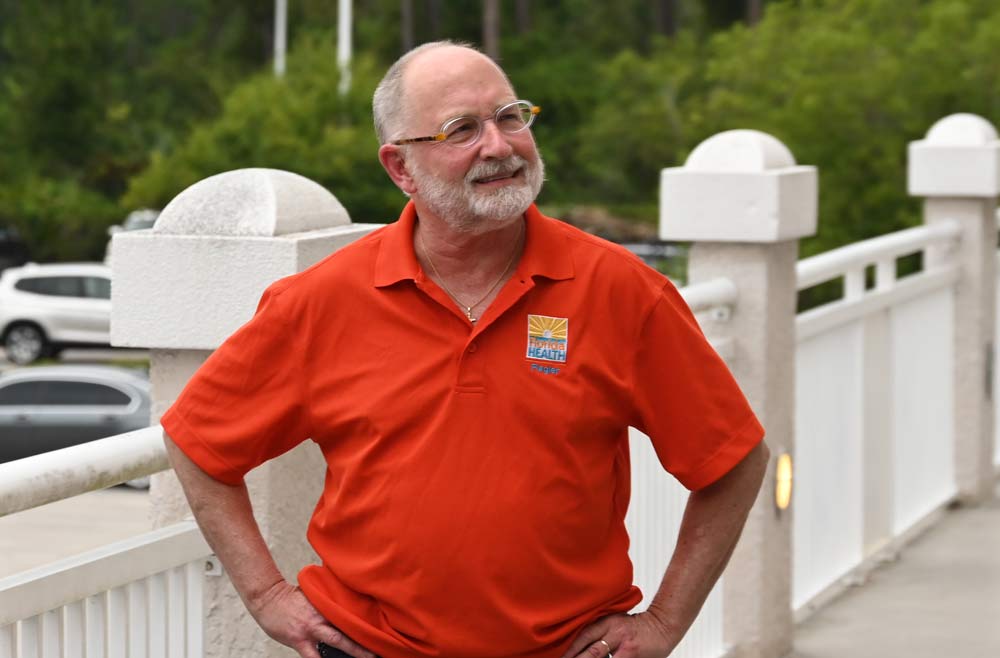 Bob Snyder, who's led the Flagler County Health Department since 2013, was the co-architect of the county's response to the Covid pandemic and more recently ensured that the department's funding more directly reflect the county's population, after decades of imbalance, stepped down and opted for retirement Sunday, six months before he was planning to do so.
"Some unexpected developments surfaced that made me decide that it was time to retire and time to move on with my life recently, and enjoy retirement, enjoy my family, my wife, my volunteerism activities," Snyder said in an interview this afternoon. "There are some unexpected developments that I could not live with, or that I could not accept."




Stephen A. Civitelli, the Health Officer for the Volusia County Health Department ("Health Officer" is the official title of each county department's head administrator) will lead the Flagler department on an interim basis until the state Department of Health, with a ratifying vote by the County Commission, appoint a permanent successor. Snyder's original succession plan was to have Dr. Ethan Johnson, formerly the assistant director of the Volusia department, succeed him in Flagler. But Johnson took the leadership job at the Seminole County Health Department.
"I have absolutely no regrets," Snyder said. "At the health department, we accomplished a lot including leading the response to Covid, with an excellent medical director, Dr. Bickel, and our team, we expanded public health services such as an HIV program, diabetes program, and more." The department's physical plant on Dr. Carter Boulevard is also expanding its dental services and getting renovated.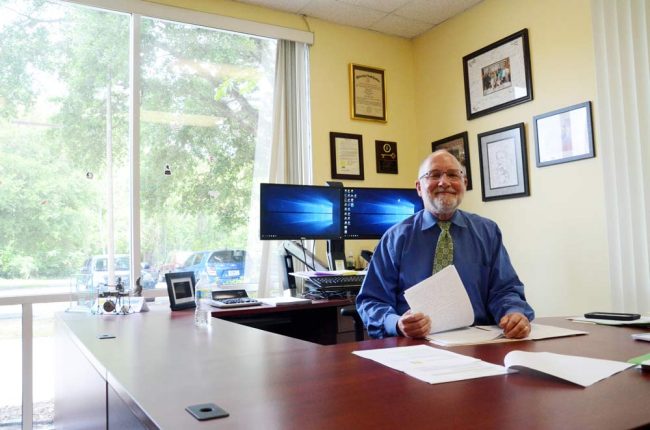 Snyder's decision is taking local officials by surprise. Flagler County commissioners Monday morning were discussing their $275,000 appropriation to the Health Department for 2023-24, a routine contract renewed annually and that bears Snyder's name. The money–a fraction of the department's $6.2 million budget–funds the department's environmental health division, which doesn't get state or federal money. "I don't see Mr. Snyder," Commission Chairman Greg Hansen said.
"Bob, um, retired last week," Gaetana Carroll, the business manager at the Health Department, informed commissioners after walking up to the lectern from the back of the chamber and hesitating a moment before saying the word.
"Oh, my God, I didn't know that," Hansen said.




County Commissioner Dave Sullivan in an interview today said he was especially surprised in light of the commission's legislative priorities, one of which is to build a joint 28,000 square foot facility in Palm Coast for the Health Department, Flagler Cares, the coordinating social service agency and a non-profit that partners with the department, and a dozen other partner agencies. Sullivan said the appropriation will need lobbying in Tallahassee, an he'd imagined Snyder would be among those pressing for it. "So that's more of the reason it was a surprise for me," Sullivan said.
Sullivan has been on the commission for seven of Snyder's 11 years as director. "I think Bob has had a great tenure as our Health Department director," Sullivan said, "and Covid, he was a giant during Covid. He did everything he could to to push on and act in accordance with the guidance he was receiving from from upper levels of the government and what he believed in his own heart, and was tireless in getting the support during Covid, and explaining repeatedly at meetings and stuff. As you know we had a lot of back and forth during those times. I think he never wavered."
A few months ago Snyder had been honored as the Boy Scout Council's Golden Eagle Award winner.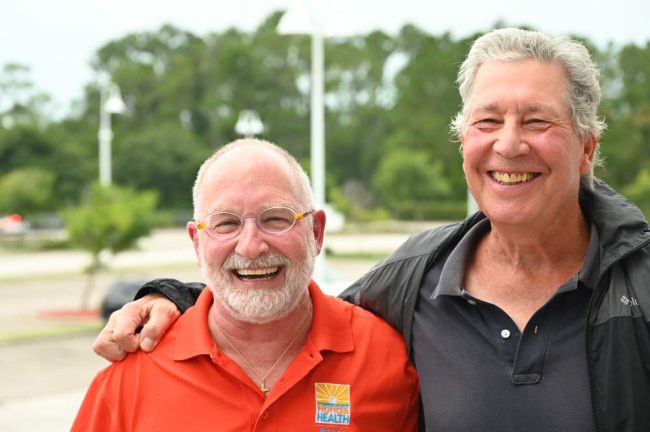 Snyder, 69, developed the county's response to the pandemic with Dr. Stephen Bickel, the medical director, who's still in that post. Both appeared weekly for well over a year on WNZF's Free For All Fridays, the public affairs radio show hosted by David Ayres, where they would explain in accessible terms the intricacies and evolution of the virus, the proper response as it was known in real time (it changed as the virus changed), the controversies over masks, then vaccines: Snyder, often seen on his bicycle at vaccine-dispensing sites, became the county's most vocal and visible proponent of vaccination.
The department's efforts resulted in Flagler having the third-lowest Covid fatality ratios, compared to its population, in the state, after Glades and Sumter counties.
"Bob was just an incredibly proactive, dynamic, forward-thinking health officer, just in a special class by himself," Bickel said as he enumerated Snyder's accomplishments–clinical, capital, Covid response. "I just loved working with him as a partner, brainstorming, working on new projects, sharing responsibilities in different areas. He's always just been a really great guy to work with. He was a great collaborator."




The Flagler County Health Department, one of 67 like it around the state, is a state agency funded by a combination of federal, state and local dollars and overseen in different ways both by the state and the County Commission. It is responsible for ensuring and promoting public health through its own programs–including dental and medical care and nutrition assistance for the needy, and vaccine programs for schoolchildren–and through partnerships with local agencies.
Snyder's highest profile was during the pandemic and during hurricane emergencies, when he coordinated the sheltering response for special needs patients. But one of his biggest, less immediately visible achievement since the pandemic was to change the state's funding formula to correct an imbalance that had cheated Flagler County of substantial sums. "For years, the health department in Flagler County, thereby the county residents, we receive the lowest per capita allocation of non-categorical, general state revenue of all 67 health departments, for years," Snyder said.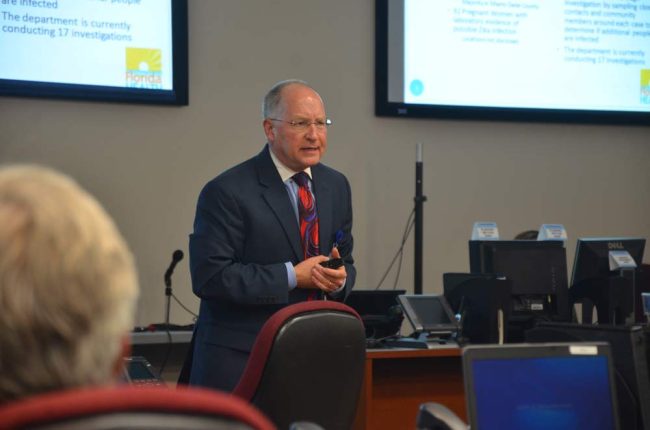 "This is something that I've worked on for eight years. And most recently, we were able to get that changed with the help of [House] Speaker Paul Renner, who saw how significant the inequity was. And through the budgeting process, he was able to make a change. Effective soon Flagler County Health Department will receive a significant increase, a 70 percent increase in non-categorical general state revenue to begin to address this inequity that has lasted for years going back 25 to 30 years." In actual dollars, that translates to an additional $450,000 annually in general state revenue.
"There is no bigger advocate for Flagler County than Bob Snyder. He believes that Flagler County deserves a fair share of public resources afforded to other counties in the state and he worked tirelessly to convince others of that fact," said Carrie Baird, executive director of Flagler Cares, where Snyder still has served on the board throughout his tenure at the Health Department. He is continuing that service.




"Most recently," Baird continued, "Flagler Cares collaborated with the Department of Health to build a completely new system of care to address opioid use disorder and overdose. Although Flagler was the smallest of the 12 pilot counties, the implementation has been recognized as one of the most successful in the state." (See"Flagler Cares and Paramedics Launch Innovative Overdose Response Force as Part of $1.3 Million Grant" and "'A Failed Model Ends Today,' Recovery Pioneer Says in Flagler Launch of New Drug Treatment.")
"The guy just gave his heart and soul to the community," Bickel said. "Everything he did, he just embraced with full passion and enthusiasm, and it was contagious."
Snyder had succeeded Patrick Johnson, who had been an equally affable and community-oriented health department director. Snyder remains enthusiastic and supportive of the potential appropriation for a combined Palm Coast branch of the Health Department with Flagler Cares. He continues his service with the Rotary Club and at St. Elizabeth Ann Seton Catholic Church, where he will be a coordinator of the Eucharistic ministry in Palm Coast's two hospitals.
"I'm going to miss the staff, and I'm gonna miss the managers," Snyder said. "We have had an excellent team at the health department, so I'm just going to miss that daily camaraderie and that daily interaction to do good for our citizens and Flagler County. I loved my job. I loved being health officer, and I'm just going to miss it so much. But I am ready to move on to a life of retirement and further volunteerism in Flagler County."