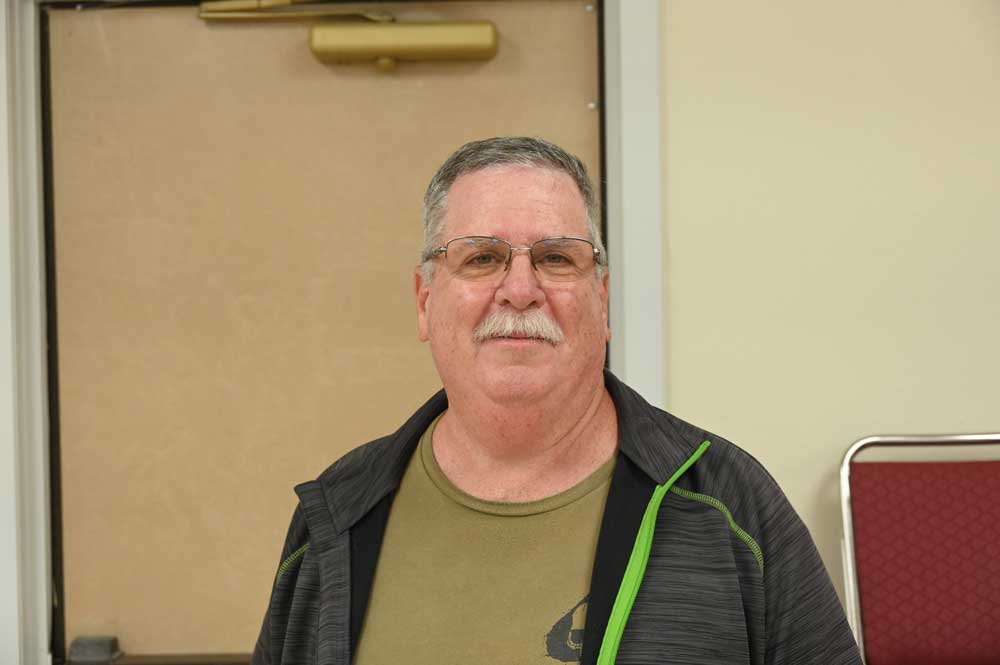 Bob Cunningham is one of five candidates for two seats on the Flagler Beach City Commission, along with Rick Belhumeur, Doug Bruno O'Connor, first-term incumbent Deborah Phillips, and Scott Spradley.
The non-partisan municipal election will be decided on March 7. Voters registered in Flagler Beach have been casting ballots by mail since early February. All registered voters in the city, regardless of party or non-party affiliation–Democrats, Republicans, independents and others–may cast a ballot. Here's a sample ballot.
The top two vote-getters will be elected to a three-year term on the commission, which is made up of five members plus the mayor. The position pays $9,502 a year.
FlaglerLive submitted identical questions to all candidates. The Live Interview's customary follow-up questions have been in most or all cases dispensed with in this race: the interviews are intended to provide a brief if substantive snapshot of each candidate while still eliciting as much candor and transparency as possible. We have asked candidates to refrain from making campaign speeches or make lists of accomplishments. We have also asked candidates to reasonably document any claim or accusation.
The candidates received the questions last Sunday and all but Phillips completed them before the meeting on Feb. 9, where the commission fired City Manager William Whitson. The questions had included one about Whitson's performance. Those answers have been preserved since they reflect the candidates' analysis of city leadership. An additional question went out after the meeting, asking what next.
Note: the Flagler Woman's Club is hosting a Candidate Forum featuring the five candidate for city commission, on Feb. 21 at at 7 p.m. at 1524 S Central Ave, Flagler Beach.

The Questions in Summary: Quick Links

Place and Date of Birth: Aug. 28, 1958, Bethesda, Md.
Current or last job: I am currently retired. The last company I was employed by was State Farm Insurance. While with State Farm I was a team lead on the Network team and Data Analytics (Machine Learning) team.
Party Affiliation: Republican.
Resume: Here.
Website: https://bob-cunningham.com/
1. What makes you qualified to be a city commission member? How have you specifically prepared yourself to be ready to succeed from day one? Tell us about you as a person: your personality, your temperament, your foibles: what character flaw do you bring to the council? Who do you admire most in office today among elected officials in Flagler County—the person you'd consider a model of leadership?
While I have always followed issues, I have been much more focused on them for the past year. I have been out talking to many people within the community about how they see the city functioning, things they feel are important to them and what they would like to see accomplished by the city for the betterment of all.
I am a data driven, results oriented and problem solving person. I believe in treating everyone with respect and honer. I think that decisions I make and support should be communicated openly and honestly along with providing the details of why. I've been known to go into too much detail at times. This is done in part for my desire to provide in-depth data. The person I admire most in the county is Sheriff Staly. While we have never met personally, he demonstrates openness and a true desire to make Flagler County a great place to live.
 See how they answered:
Rick Belhumeur | Doug Bruno O'Connor | Deborah Phillips | Scott Spradley


2. Cite three issues or concerns that in your view the city is addressing poorly or not at all, and explain with as much specificity as possible how you intend to convince the commission to change course.
Communications: As with any organization, business or government communications is vital. Information should be readily available and easy to find, with one location that is the authoritative source. In the recent past a shotgun approach was proposed to help correct this issue. I feel that a better approach would be to update and modernize the existing website. The website should be easy to navigate, should have a readable available calendar that is updated and accurate. Anyone should be able to find out the status of any and all projects that the city is involved with. This should include start / end dates, project details, budget and burn rates.
Infrastructure: The infrastructure (storm water, waste water, and drinking water systems) has not had the focus and attention that it should have had over the years. Storm water systems had been installed with little to no maintenance of valves and discharge lines. While a new treatment facility is in the process, for waste water, there are many pipes that need to be replaced or a lining installed in them to extend their functionality. Drinking water is still provided through old lines, many of which have mineral build ups. These are just a few of the infrastructure problems that need to be addressed and brought up to date.
Transparency: A lack of transparency caused doubt and questions as to what is going on with the various projects and the budget. The budget must be provided on time and correctly in a manner that is readable and understandable. Detailed project reporting allows for everyone to see how things are progressing while providing insight into the budget.
 See how they answered:
Rick Belhumeur | Doug Bruno O'Connor | Deborah Phillips | Scott Spradley


3. Flooding is now a recurring problem in various parts of the city. Evaluate the city's response to flooding from last fall's storms. To what extent is the city capable of addressing the problem, at what cost, and with what revenue?
As you know, many areas west of Daytona Ave are very low. When we have king tides and rain storms these areas are subject to rising water levels and are susceptible to flooding. The city at one time had installed flapper valves and drains. These seem to have slipped from a maintenance schedule with many of them no longer functioning properly. The city has recently started to work on these issues with a plan to replace / install 9 new valves. This is to come with a maintenance plan where they will be serviced ever 6 months. This is something that must be put on a project plan to be able to show when valves will be replaced and serviced. Funding for this should come from the Storm water fees that the community is already funding.
When we have times such as Irma, Nicole and other storms where the Intracoastal breaches and over runs the sea walls and land masses there is little that can be done. We live in paradise and this is one of the perils we endure. We can fight mother nature but she will always win.
 See how they answered:
Rick Belhumeur | Doug Bruno O'Connor | Deborah Phillips | Scott Spradley



4.Relations between business and residents on one hand and the city on the other seem poor, and "communication" appears to be a problem, judging from the long but not entirely conclusive discussions of the city commission to date. Have relations deteriorated, in your view? Is there a communication problem? If so, explain why, and what your specific remedy would be.
Communications seem to be a weak point within the city. While the police department does a great job of putting information out on Facebook not everyone uses it. Updating the city website and keeping it up to date will help to make things better. Utilizing standard project / program reporting methodology will also clear up many of the problems and will allow our community to get details that are presently not available.
Having a few minutes within the Commission meeting dedicated to providing project updates would be a great way to enhance the communications. This shouldn't take more than about 15 minutes and will provide a wealth of knowledge to the community while eliminating the continued discussion of needing to do something.
 See how they answered:
Rick Belhumeur | Doug Bruno O'Connor | Deborah Phillips | Scott Spradley






5.City Manager William Whitson's tenure has been rocky, as reflected by a recent three-month probationary term. Since you've attended almost every meeting for most of his tenure, how would you evaluate his strengths and weaknesses from your vantage point? Given the chance would you fire or retain him?
I would like to for Mr. Whitson to be successful in his profession. While I see traits that appear to show he has the knowledge and ability to work and navigate the State and Federal bureaucracy to solicit various grants, he seems to lack basic organizational skills.
Mr. Whitson seems to want to contract an "Engineer" for every effort / problem, most of which should be addressed by a department head. He seems to use these Engineers as project managers. He receives project plans from them but he doesn't seem to make them part of the City Project Plan where the community can see or find them easily.
I hope that Mr Whitson has some measurable success that may not be readily known. Mr Whitson is up for review with the present sitting commission. To make a determination as to his future with the city by me at this time would be an injustice to the present sitting City Commission, Mr Whitson and the community. Once I'm on the Commission and need to provide a review I will base my decision on the facts of his performance for that review period. This will be a decision based on the facts and data not emotion. Reviews are a method to hold people accountable for their performance, results and actions.
In light of the commission's firing of Whitson on Feb. 9, What key factors would drive your decision, first on an interim manager, second on a permanent manager? What skills would you bring to the table to avoid another managerial misfire?
Awaiting Cunningham's answer.
 See how they answered:
Rick Belhumeur | Doug Bruno O'Connor | Deborah Phillips | Scott Spradley


6. Have you ever been charged with a felony or a misdemeanor anywhere in Flagler, Florida or the United States (other than a speeding ticket), or faced a civil action other than a divorce, but including bankruptcies, or faced any investigative or disciplinary action through a professional board such as the bar or a medical board? Have you ever been demoted? If so, please explain, including cases where charges or claims did not lead to conviction or disciplinary action.
No.
 See how they answered:
Rick Belhumeur | Doug Bruno O'Connor | Deborah Phillips | Scott Spradley