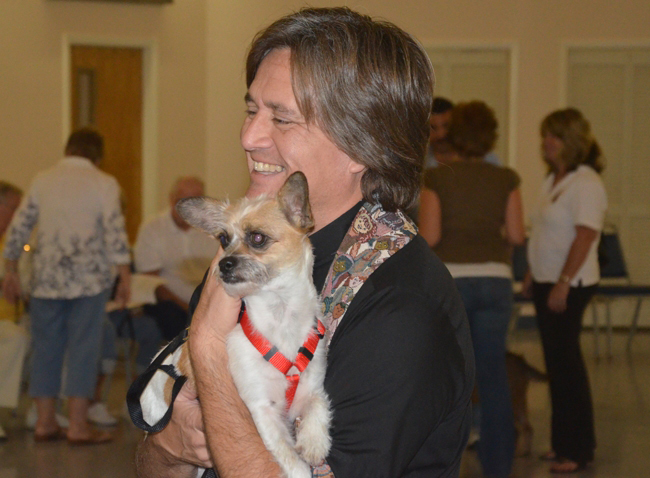 There aren't many signs of autumn in Palm Coast, but there is this: the blessing of animals, an annual ritual that falls in early October to honor St. Francis of Assisi—Christianity's first humane society of one—and to celebrate the bond between human beings and animals. All animals.
And so Wednesday evening they trouped in as they have for each of the last three years at St. Thomas Episcopal Church on Belle Terre Parkway, men, women, children, many dogs, a few cats, and one teddy bear ("because," as the Rev. Bradley Hauff put it in a voice that would soothe a rowdy rhinoceros, "stuffed animals are also like pets to us"). The barking and yelping was at fever pitch as everyone walked into Parrish Hall and took seats in the large oval arranged there for the occasion. Little by little, after some get-acquainted sniffing and sauntering, the dogs calmed down, the cats, either much better behaved or supremely indifferent, snuggled into the arms holding them, and Hauff began.
It was no generalized blessing. He walked from pet to pet, every one of the animals, about 20 or so,
introducing each to the assembly and hearing a little history from its owner—a joyful history at times, and times not as joyful, though Hauff gave each creature an individualized blessing that sounded as if, like St. Francis, he could be on each creature's wavelength in moments. "What a sweet, what a warm, warm face," Hauff said of one dog that nuzzled up to him as he spoke. "Elvis is in the building," he said of another—the dog's name was Elvis, a tiny thing whose owner said had been accused, by the dog's vet, of being eight pounds overweight. "I think he's crazy," the owner said of the diagnostician.
Those moments, those exchanges between Hauff and each pet owner, were like windows briefly opening onto the vivid love and affection that define these bonds, and that elicit grief and joy no less intense than between humans.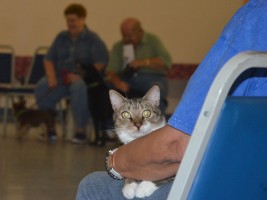 There was Rebel, a dog just recently diagnosed with cancer and now undergoing chemotherapy. There was Sandy, a dog whose owner had found abandoned in the woods ("We pray that you'll continue to bring joy into her life). There was Kissy Cat and Cissy the dog, paired up under the same roof. There was Blinkie the cat, adopted when just 1 month old from the Humane Society, now 4 years old and a veteran of these blessings ("Keep him strong and healthy"). There was Tinker the dog ("Help him to behave and to be a good dog all the days of his life"). And there were Buttons and Bows, two schnauzers that belong to LaVerne and Jim Guines (yes, the Guines who used to be the Flagler school board's sharpest pit bull, and how they could use him right about now), though one of the two schnauzers is very ill, too—cancer, diabetes, and another disease that rhymes with cushions.
The blessings done, Hauff spoke briefly about man behind it all: St. Francis, the 12th century son of rich merchant who spent his youth living it up—he had a sweet spot for all things French—until he turned away from a career in his father's footsteps (Father was not happy) and took to a life of poverty in nature's shadow. "He saw all creation being connected and related," Hauff said. "By today's standards he;d be considered a very sensitive person."
He might even have joined the Wall Street protesters.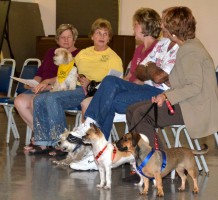 It was only after St. Francis's death that stories about his abilities to communicate with animals turned to legend, and now faith: he could, it was told, speak to animals, though whether he actually could or not is beside the point. He was at one with them, and with nature, in a way that belie more conservative Christian teachings that place man (and man in particular) above animals or nature itself in a self-proclaimed hierarchy. He would have appreciated the modesty and warmth of the celebration in St. Thomas's Parrish Hall.
Not that he would appreciate less other celebrations: Blessing of animals take place across the country on the Feast of St. Francis, with one of the largest, and most remarkable, taking place at St. John the Divine Cathedral on Manhattan's Upper West Side, a cathedral whose nave extends the length of two football fields and where elephants, dromedaries, macaws, llamas, pythons, eagles, tortoises, raccoons, turkeys, even a skunk and, in 1988, algae, have been brought up to the altar for individual blessings there, too, while thousands usually cheer, dance, sing  and play jazz. This year's celebration was held last Sunday and featured a yak and baby swans, and a sermon by the Right Rev. Mark Sisk about God's creation and "a reminder that we're not doing our part in that responsibility." (See the video below.)
The celebration may not have been as elaborate at St. Thomas this evening. The message was the same. In Hauff's final words about animals, "that's their purpose, it's for us to love them and for them to love us. It's a very sacred relationship."