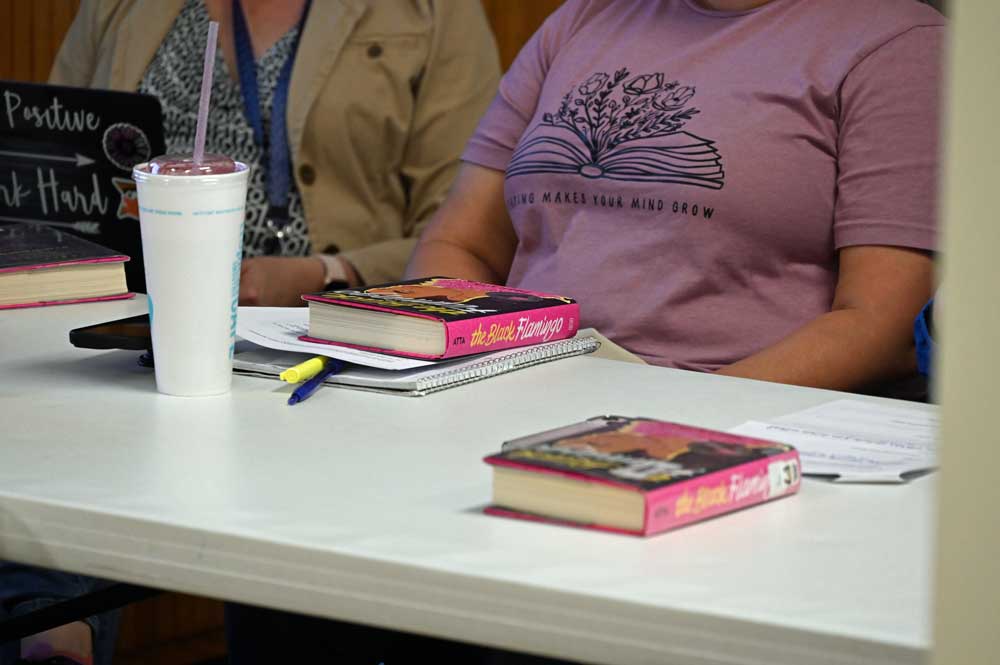 Another book on Flagler County's high school library shelves has survived an attempted ban. A joint review committee from Matanzas and Flagler Palm Coast high schools voted unanimously Thursday to keep Dean Atta's The Black Flaming on the two schools' library shelves, rejecting a challenge by one of the three individuals responsible for all 44 book challenges filed this year.
It was the joint committee's second decision to reject a book challenge in a little over two weeks. On Jan. 31, the committee voted, also unanimously, to keep The Truth About Alice, by Jennifer Mathieu.
The committees, made up of faculty members from each school, include media specialist, English teachers and an administrator, plus a member of the public at large. They voted 4-0 (FPC) and 6-0 (MHS) to keep the book, rejecting the claim that it contained pornography and was "inappropriate for the age of student (sic.)."
The Black Flaming is a humorous, assertive and insistently optimistic coming-of-age novel in verse about a black, gay Londoner who grows up to be a poet who likes to perform in drag. He calls himself the Black Flamingo on stage. (See: "Book Challenge in Flagler Schools: Dean Atta's 'The Black Flamingo,' a Review and a Recommendation.")




The committee members were mostly puzzled by the objections as they went through them page by page, and at one point were reduced to unwittingly echoing one of the most famous lines from Seinfeld, the television show, to make sure they were not misunderstood.
"And the word, I mean, the word 'gay' is on the page,"one of the committee member said of one of the objections, quoting the line: "'I tell him about my letter to Rowan / and that I think I'm gay.' That's the only–I'm not saying I think that's wrong. It's pertaining to the complaint. But I don't see anything harmful to minors."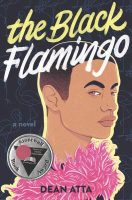 They moved on to the next objection, seemingly on page 109. Seemingly, because that objection, like many in the book, left the committee members searching for the problem, even on pages made up of just a few lines of verse and big vast oceans of white space. Maybe on page 109 the word "white" was the problem: "Why did you / ask out the whitest boy in school?" The committee members couldn't tell.
"It's challenging when we only have the page number and not a citation," one of the committee members said, indirectly pointing to another fundamental problem with the challenges: It does not appear that those filing the challenges have read the books they're challenging.
Just three people are responsible for the 44 challenges filed since summer, targeting 22 titles: Terri McDonald, Shannon Rambow, and Cheryl Lackey, members of the vigilante group known as "moms for liberty." McDonald filed the challenge to The Black Flamingo and to The Truth About Alice.




Based on the challenges they filed (you can read them here in full), every challenge's claim and page number has been cut and pasted from prefabricated objections prepared by a national website that supports the "moms for liberty," and that provides chapter-and-verse objections to books that, theoretically, even an illiterate could cut and paste into a formal challenge to the titles in Flagler County schools. (See the site's prefabricated challenge to The Black Flamingo here.)
The lack of citations unnecessarily prolongs every committee meeting. But committee members went on Tuesday, as they are required to, examining allegations page by page. More references to being gay, using the word gay, alluding to the word gay. Or a reference to bisexuality. On page 124, it's a little more arguable: "This is where there's references to penetration and anal sex, but it's done not in very graphic language," a committee members says.
In fact, the committee member's wording was more graphic than what's in the book, a scene that has Mike, the protagonist, describing how he's verbally assaulted by middle-school bigots who call him "Batty bwoy":
I don't recognize them
but I recognize this patois
so carelessly/violently
flung in my direction.
"Batty bwoy!" Meaning
less-than-man who is
penetrated by or penetrates
another less-than-man.
I realize this phrase is sexual.
This phrase is about sex.
It's like shouting out,
"You have bum sex!"
I've heard it in music,
in songs from Jamaica
that call for gay men
to be killed.
The passage describes sex second or third hand, but no differently, say, than when two angels decide to spend the night at Lot's house in Sodom, as described in Genesis, presumably not necessarily to have sex with him: "Before they had gone to bed, all the men from every part of the city of Sodom—both young and old—surrounded the house. They called to Lot, 'Where are the men who came to you tonight? Bring them out to us so that we can have sex with them.' Lot went outside to meet them and shut the door behind him and said, 'No, my friends. Don't do this wicked thing. Look, I have two daughters who have never slept with a man. Let me bring them out to you, and you can do what you like with them."




McDonald, Rambow and Lackey have not, to date, filed a challenge to having Bibles in school libraries, though the passage clearly refers to sex between adult men and likely underage girls, not an isolated occurrence in the Bible.
The Black Flamingo passage in question is actually not about sex or penetration but about the intimation of violence against gay individuals and the fear it instills, but it appears the page-number objection was not concerned with that. Committee members, who did read the book, clearly grasped the point.
"You have the right to be you," one member, an English teacher, said. "the existence of identities that are not cisgendered or whatever non-majority culture demographic, is not a threat to the majority culture demographic. Other people exist and they have the right to exist without fear of being eliminated, whether it's elimination from being removed from bookshelves, or elimination in much more dangerous ways. Everyone has the right to exist without threat of violence or erasure."
"The way it's written also does not make the reader feel bad," another member said.
"Right, there's no influx on–you're white, so you're bad. That never is even an occurrence anywhere, so there's no malice behind any of the conversations they're having in regards to race or gender."
"With regards to references to alternate genders, okay, like, what's wrong with that?" yet another committee member said. "That's just like it seems the challenger's personal issue with it. But that doesn't make it wrong for the book to exist."
"Or for those people to exist," the English teacher and others immediately added.




So it went, as committee discussions do, gradually evolving into a serious literary discussion almost in spite of, or divorced from, the pettiness of the objections. Committee members provided sharp analyses of theme and form and tone even as they reverted back to the specific objections, if they could find them in the book. The latter part of the discussion was devoted, as always, to the committee's own answers to a set of prepared questions that explain the final decision. (See that full report here.)
It was then that one of the committee members–that English teacher–summed up the objection to the objections, providing one thing the challengers' objections do not: context. One of those objections had been to "racism and racist commentary."
"Commentary about racism, again, is not racist," the teacher said. "Racism is about power, right? This is a mixed main character, based on the mixed heritage of the author, and he's saying that I have experienced these things, and these things hurt me. As the victim of racism, being able to express that in a beautiful novel, and have students engage with that idea, either with their parents, with their teachers, with their friends, with whomever, and if it challenges, their way of thinking about the world, so they treat people with more empathy and respect? That should be cherished and not pushed down. That is not an expression of racism, to talk about race in a academic way to try and eliminate and mitigate the harmful and deleterious effects of racism on students that are not part of the majority culture."
The committees' chair said: "The characters have difficult conversations in this book, and difficult conversations are okay. Because if we're getting the reader to reflect and to think–and I actually don't think this book is telling the reader how to think: it is just presenting a few points of view."
The votes were a formality: the committee had made it clear early in the discussion that it would have a difficult time sustaining the challenge.




The committees' decision is not final. it may be appealed to a district-level committee. Those committees are being appointed now, drawn from district faculty, administrators and members of the public. The committees will make recommendations to Superintendent Cathy Mittelstadt, who may either accept or reject the recommendations. Those decisions may then be appealed to the school board.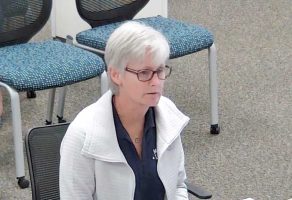 The school board's decisions may be appealed to court, though at that point expenses kick in for the person making the challenge–as expenses do not at any level of district challenges: Those filing them may challenge every book on every library shelf, at no cost in time or money to themselves, but at immense cost, in time and resources, to district staff and faculty.
McDonald did not respond to an email asking her whether she intended to appeal the committees' last two decisions.
Of the challenges filed affecting the 22 titles, eight of the titles were either "weeded" before school started or were not in circulation. Three titles were banned after review: The Haters and Me and Earl and the Dying Girl, both by Jesse Andrews; and L8R G8R, by Lauren Myracle. Unlike book-burners, book advocates do not have the right to appeal a decision to ban a book under current policy. There is no explanation as to the lopsidedness of the policy.




School-based committees have reviewed five titles so far that they have elected to keep. Decisions affecting at least two of the titles, Sold, by Patricia McCormick, and The Nowhere Girls, by Amy Reed, have been appealed to district committees. McDonald is responsible for both challenges, though Rambow also filed a challenge to Sold.
The district committee reviewing the appeal to Sold meets on March 6 at 6 p.m. at the Government Services Building, 1769 East Moody Boulevard, Bunnell. The MHS/FPC committee next meets to review the challenge to Last Night at the Telegraph Club, yet another challenge filed by McDonald, on march 7 at 3 p.m. at Matanzas High School.

Reader Interactions