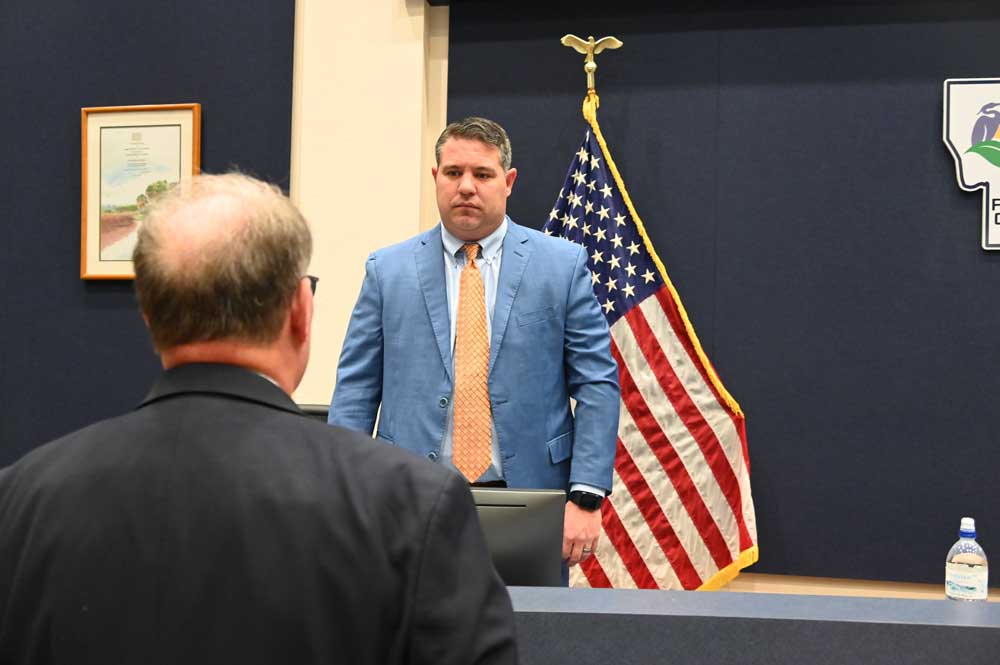 It's taken nine years. Now the vacation-rental industry's grinding battle to restrict local control and eliminate numerous regulations of rentals in single-family homes, in place since 2014, is verging on success.
A Florida Senate bill that would upend Flagler County's vacation-rental regulations and open cities like Palm Coast to unbridled rentals in single-family home neighborhoods cleared its last committee stop today when it won support from the Senate Fiscal Policy Committee, which Sen. Travis Hutson, who represents Flagler County, chairs.




Senate Bill 714 is now teed up for a floor vote as is its House companion, HB833, which also cleared all committees. The chambers are expected to pass both bills, which would then be reconciled for the governor's signature. Should the proposal become law, local government ordinances regulating short-term rentals, written after 2011, would be nullified if they're in conflict with the state law.
Local governments would have to either let state law stand or re-write their ordinance in accordance with the new provisions. Pre-2011 ordinances, as in Flagler Beach, where vacation rentals are strictly regulated in some areas of town, are grandfathered. If Flagler Beach were to amend its ordinance, it could only do so if it were to make it more permissive, not less.
The success of the initiative this year is a blow to Flagler County government, which was a leader in pushing for the 2014 regulations and has pushed back against attempts to weaken them since. The Flagler County Commission made preserving the 2014 law a legislative priority every year since, and thought it would be just as successful this year, with its own Rep. Paul Renner, who represents Flagler, as House Speaker and Hutson in the Senate leadership ranks.
"Good old Travis," County Commissioner Dave Sullivan, who's been part of the push-back for almost seven years, said this afternoon. "We were just up there all five commissioners and Heidi," he said of County Administrator Heidi Petito. "We were talking to Paul and Travis, they were saying don't worry guys, we'll make sure Flagler doesn't get hurt on this. I know Paul definitely said that." Hutson was not as assertive. Sullivan said Renner, as House Speaker, has to look at policy more globally rather than just focus on Flagler. "It looks like it's not good news as of today."




He added: "It's not good for Flagler County go go back to the way we were right after the recession, where people were building mcmansions and having 18 people stay and building big bathrooms and that sort of thing. I still think it might not make it through to th end, even though it doesn't look good at this point."
As Hutson and Renner have risen through the leadership ranks, the commissioners have been careful not to confront them too overtly for fear of jeopardizing Flagler County's gravy train in other regards. Since Hutson and Renner appear uninterested in preserving local vacation-rental regulations in their 2014 form, local officials may not be eager to anger them by pushing back too hard, essentially sacrificing the priority in a trade for other pork barrels.
The success of the bill is also a reflection of the vacation-rental industry's growing power, but also of the growing popularity of vacation rentals fueling that power as consumers–families, groups, revelers–are finding more autonomy in renting homes for their vacations as opposed to booking more constraining hotel rooms.
In response, vacation-rental companies have built or bought homes in single-family home neighborhoods to cater to the trend. To residents of those neighborhoods, the trend has been two-fold–giving some homeowners more flexibility to use their homes as rentals, but also upsetting the neighborhoods' fabric by erasing the line between residential streets and those approximating commercial strips.




Hutson was cheering today. "If I thought this was something that would hurt a business it would not be on the agenda today," he said, tipping his hand: his focus was on the businesses running vacation rentals, not necessarily on the fabric of family neighborhoods. "Sen. [Nick] DiCeglie has worked his tail off on this bill. He is giving locals more control than we've ever given them before since my 2014 law, and he has bent over backwards to make sure the entire committee is satisfied as well as proponents and opponents and he's struck a very healthy balance, which is why I'm happy and proud to support his bill today."
Hutson's claims are not inaccurate: the state still has regulatory authority. But the claims are misleading when applied to local authority and local governments' abilities to craft vacation-rental regulations tailored to their own communities.
In key regards–occupancy, parking, noise and trash regulations–single-family home vacation rentals may no longer be regulated, as they currently are in Flagler County, unless the local government imposes uniform regulations on all single-family homes, whether they are vacation rentals or not, according to a legislative analysis of the bill. In other words, the proposed law erases the distinction between vacation rentals and single-family homes–the distinction that gave rise to the 2014 law that Hutson crafted as a House member with then-Sen. John Thrasher.
Flagler County currently restricts vacation rentals to 10 overnight occupants. It does so to prevent the homes from being turned into party house, as they had been before the 2014 law enabled the county to be more restrictive. The county ordinance also specifically regulates vacation rentals for parking and trash, and for noise after 10 p.m. All those restrictions would have to be lifted, including the occupancy restriction–unless the local government were to write an ordinance that imposes identical restrictions on all homes, and apply an inspection regimen that applies to all homes.




No local government has that capability, least of all to regulate occupancy. Such regulations could potentially run into the freedom of permanent residents occasionally to have birthday parties that draw a large number of guests and vehicles, or to have family reunions that generate more than 10 overnight occupants.
The proposal also drastically lowers Flagler County's–or any local government's–fee requirements. Currently, Flagler County's registration fee for a vacation rental is $400. The new bill caps that fee at $150 for an individual home, and allows a company with up to 25 homes to register singly, for just $200 for all 25 homes. That, in effect, is a gift to big companies with large vacation-home holdings.
While the state Department of Business and Professional Regulation gets 30 days to approve short-term rental licenses, local governments will have only 15 days to accept or deny a registration application. If they don;t take action within 15 days, the registration is considered accepted.
On the other hand, the proposal preserves other local regulatory powers for safety and building codes, with local-inspection authority as well as the authority to impose"a reasonable fee" for those inspections.




But local government officials found the claim that the proposal increases local control inaccurate. "You cannot decide where you want to go as to adding vacation rental regulations until you understand where the current regulatory framework is," Jim Murray, a commissioner from Redington Beach on the state's west coast, told the senate panel this morning. "It has been said by the bill sponsor that its intent is to give local government tools to better manage vacation rentals while striking a balance between local regulation and the ability of residential property owners to use their property as mini hotels. However, that balance was struck back in 2014," with overwhelming support from the Legislature. "While giving tools was the initial justification of this bill, now the sponsor has stated we are far past what kind of control local governments can have in this space, and that statewide uniform rules are needed. However, such a one size fits all regulation stifles the ability of the state's 411 unique cities to tailor regulations to meet their unique needs and concerns."
Murray spoke against the new registration fee structure, and said ending parking regulations ends "one of the tools which is effective against party houses." He added, "Today we can distinguish between short term rentals and residential homes since they are very two different animals. If this bill were to pass, we would not be able to regulate short term rentals any differently from residential homes." The state would take over regulations, and only up to a point, since DBPR responds to consumers, not to local government complaints. Murray said that means there's "no realistic way registration would ever actually be revoked." His request to leave the 2014 law in place was in vain.
"My understanding of this bill is it gives you more authority at the local level to go after short-term vacation rentals and rentals all alike, am I misunderstanding what the bill does?" Hutson asked Murray.
"Absolutely that's not what it does," Murray replied. "What it's doing is turning everything over to the state. Just recently in February, we had multiple workshops with our citizens who own properties with investors. I'm an investor myself–not of short-term, but I'm an investor myself–and we went through a lot of different aspects of this very carefully and crafted ordinances that made sense." It costs a lot more, he said, to administer short-term rentals because of demands on police and other services. "It is taking our ability to locally write the ordinances that we need and our citizens want and turning it over to the state and minimizing almost any type of rules and regulations."




"So this restricts your current ordinances that are in the books right now?" Hutson asked.
"We have passed ordinances on the on the books right now that will be preempted and will go away. That is correct," Murray said.
Mark Ryan, who retired from managing three cities in Brevard County for more than 40 years, said he embraced the vacation-rental economy in his years, but stressed the distinction between vacation-rental neighborhoods and the single-family home neighborhoods–a distinction the 2014 legislation recognized. In one of the communities he managed, there was a requirement that each vacation rental include information on rip currents, which killed several people a year. "We think our visitors from Nebraska or Wisconsin or England deserve the right to know of those dangers," he said. Now, the new bill will do away with such regulations, just as they will occupancy limits and other regulatory measures.
Hutson's rejoinder? "The eight people that passed away are all vacation rental folks that died in the rip currents?"
"I don't have that information," Ryan said.
"You just brought it up to bring it up," Hutson retorted.
Sen. Debbie Mayfield, the Melbourne Republican who was chairing the meeting during the vacation-rental bill segment, seemed taken aback by Hutson's challenge. "Is the point of your comment to make aware how different the different communities are and different dangers that you could have in your community that may not be in other communities, that you want to be able to make people aware of, through signage and homes that are being used for vacation rentals?"
"Absolutely," Ryan replied. "Rip currents are things that are dealt with with oceanside communities. You wouldn't expect black bear information in the beachside communities, nor would you expect rip current information in Mount Dora."
Mayfield, however, was in the majority when the vote was taken moments later.