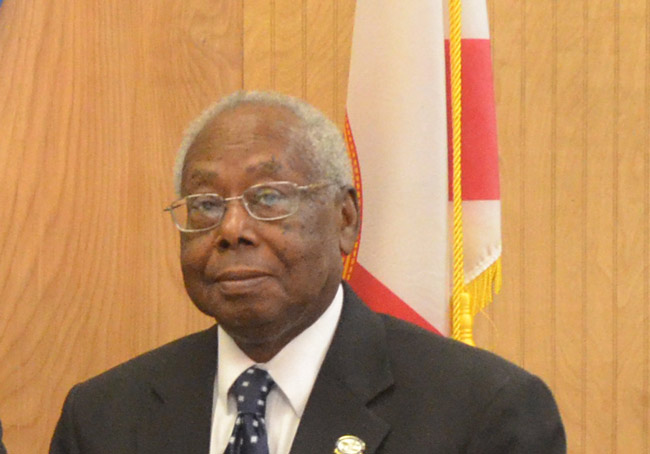 Bill Lewis is a candidate for the Palm Coast City Council, an incumbent defending the District 4 seat he's held since he was appointed to it in 2008, to fill the remaining term of Alan Peterson. Peterson had been elected to the County Commission. Lewis was unopposed when he ran the following year. This is his first competitive election.
Two seats are up this year: District 2, an open seat, as incumbent Dave Ferguson chose not to run, and District 4.
District 2 has drawn three candidates: Joel Rosen, Anne-Marie Shaffer and Heidi Shipley. District 4 has drawn four: Woody Douge (pronounced DO-jay), Lewis, Steven Nobile and Norman Weiskopf.
If a candidate wins at the Aug. 26 primary by more than 50 percent, that race is over: the candidate is the next city council member representing that seat. Should either or both races fail to produce a winner by outright majority, then the top two vote-getters will go on to face each other in a run-off in the Nov. 4 general.
Though delineated by districts, all residents of Palm Coast who are registered voters may cast a ballot in the election, regardless of where they live, regardless of party affiliation, including independents. It is a non-partisan election. Council members serve four-year terms and are paid $9,600 a year.
FlaglerLive submitted identical questions to all council candidates, who replied in writing, with the understanding that some follow-up questions may be asked, and that all exchanges would be on the record. Each candidate was also given the opportunity to ask his or her opponent questions. Follow-up questions, when necessary, appear in italics. When a candidate fails to answer a question, that's noted in red. The questions and follow-ups attempt to elicit precise answers, but the candidates don't always comply.
As reported on Aug. 20, Lewis, 83, has been ill, and has missed the last four meetings of the council (two business meetings, two workshops). He has not been campaigning. He has not appeared at forums and meet-and-greet events. Dan Parham, the chairman of the Democratic Executive Committee, who's been in contact with Lewis (a Democrat) said Lewis was planning to be back in action around Aug. 26, primary day.
Lewis received his questions for the Live Interview on July 30. He did not acknowledge receiving them, nor has responded to numerous follow-up emails or phone calls. That is reflected below.
The Questions in Summary: Quick Links

The Candidate: Bill Lewis.
Place and date of birth: June 18, 1931.
Current job: City Council member.
Net worth: Not disclosed. See his statement of financial interest.
Party Registration: Democrat.
Websites: None provided.

1. What qualifies you to be a city council member?
Bill Lewis did not answer the question.

2. Tell us who you are as a person—what human qualities and shortcomings you'll bring to the council, what your temperament is like: what would your enemies say is your best quality, and what would your friends say is your worst fault? Give us real-life examples to illustrate your answer. 
Bill Lewis did not answer the question.

3. Candidates for city or county government routinely speak of bringing jobs if elected. Do you think it's in your power—and your job description–to bring jobs? If so, how would you? Are you satisfied with the city's economic development focus by way of the Business Assistance Center?
Bill Lewis did not answer the question.

4. The Town Center CRA has had its share of controversies over the years, not least the way it was designed as such. It subtracts about $1 million a year in county government revenue. And it hasn't lived up to its development promise. Do you think it's time to sunset the CRA? If so, why, and if not, why not?
Bill Lewis did not answer the question.

5. Red-light cameras have divided the city between ardent supporters and ardent opponents. On which side are you? Explain your defense or opposition to the cameras. If you support keeping them, would you support adding more or reducing their numbers? If you would repeal them, how would you propose to break the contract with ATS before the contract's end date in 2019? How would you then address safety concerns at intersections? 
Bill Lewis did not answer the question.

6.Evaluate the level and quality of policing in the city. What changes, if any, would you push for, and how would you pay for them, if those changes entail an increase in services? Would you favor Palm Coast having its own police department?
Bill Lewis did not answer the question.

7. Where do you stand on Amendment 2, the constitutional proposal to legalize medical marijuana? Palm Coast is considering regulating eventual medical marijuana dispensaries—assuming the amendment passes—in similar ways that it did pill mills or would less-than desirable businesses, through restrictive zoning. Do you support the approach? If so, explain why, or why not. 
Bill Lewis did not answer the question.

8. In 2012 the council was sharply divided about home-based businesses, finally voting 3-2 to deny a low-impact home-based bakery business from going ahead. Since home-based businesses are a growth industry, the matter may arise again, and your vote could decide it one way or the other in Palm Coast. Understanding that the city already makes room for certain home-based businesses "where information-oriented business activities are limited to paperwork, computer, mail, telephone, and filing," for example, what's your position on home-based businesses—how would you liberalize or restrict them?
Bill Lewis did not answer the question.

9. Along the same lines of business and the business climate in Palm Coast, there are often-repeated claims, some of them documented, that the city is not business friendly (recall Panera's retreat from two planned stores to one), businesses speak of too-restrictive regulations down to the sort of landscaping and buffers they're required to have or a laborious inspection process. On the other hand, the restrictions ensure that the city doesn't turn into replicas of stretches of U.S. 1 in south Florida. What is your analysis of the business climate in the city and the city administration's management, in step with council direction? What concrete changes would you call for? Alternately, what would you build on that you see is working?
Bill Lewis did not answer the question.

10. What defines a great city—beyond its employees, its manager, its council, its great people and its beautiful medians—and what will you do to make it so? Please give at least three specific examples within the scope of what's doable by you as a member of the council. Also, give at least two examples of where Palm Coast is failing as a city, outside of infrastructural or economic issues.
Bill Lewis did not answer the question.

11. How do you support the arts locally (beyond, say, signing your name to a proclamation or attending a show)? What would you do as a member on the council? Palm Coast's budget for the arts has been declining: $33,000 in 2009, $20,000 in 2011, $25,000 this year. Why the decline, and should a city of this size be so stingy when it comes to the arts?
Bill Lewis did not answer the question.

12. It is almost certain that during your tenure, the city will need more revenue: in the last two years, it increased the stormwater fee from $8 to $11 a month for the typical house, and it increased water rates 22 percent, spread over three years. If you have an issue with those raises, please explain how else you would have addressed the city's needs. Looking ahead, where would you seek additional revenue—an increase in the property tax? The addition of a utility franchise fee? Any other ideas?
Bill Lewis did not answer the question.

13. Assuming strong growth resumes on your watch, and the half-dozen odd DRIs in the city begin to build up. Would you support reviving the city's desalination initiative to ensure the city's water supply in the future?
Bill Lewis did not answer the question.

14. What makes for an effective council member, what makes for a lousy council member? Give examples of both, and give us your analysis of current council dynamics. Who on the current council does your philosophy most closely aligns with?
Bill Lewis did not answer the question.

15. Evaluate City Manager Jim Landon's performance in your view, citing strengths and weaknesses. If the city weren't under budget constraints, would you give him a raise?
Bill Lewis did not answer the question.

16. Other candidates' questions.
None submitted.