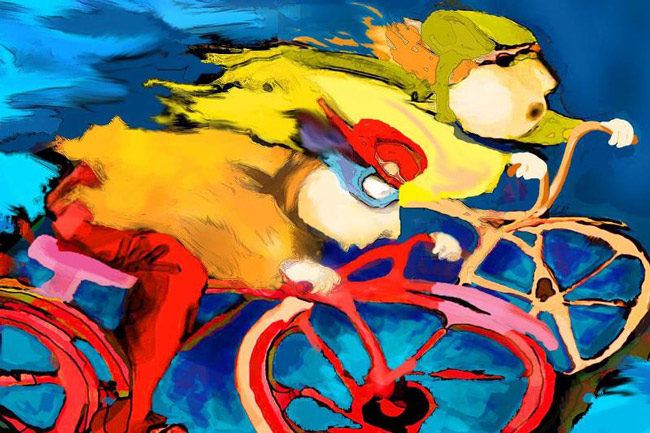 You might say necessity is the mother of the theme—bicycling—that the Gargiulo Art Foundation has adopted for its new show opening at the Hollingsworth Gallery tonight (July 14). That is, the foundation had to conceive a new type of theme in order, as a nonprofit organization, to qualify for a Palm Coast grant: the city dictates that, for arts foundations to receive such funds, they cannot run the same type of show three years consecutively.
For the previous three years, the foundation's president, Tom Gargiulo—a distinguished and free-minded artist himself—has been sponsoring a completely open-themed "Affordable Art Show." Now, to continue his mission of bringing artistic and cultural interest to Palm Coast, Gargiulo was forced to put on something theoretically more restrictive for the sake of doing something different.
His answer to this financial tethering was to delve into another passion of his—this one less abstract, more physical: biking.
Consequently, The Gargiulo Art Foundation is presenting its Bike and Poetry Show, or as Gargiulo, who is religious in his own morning bicycling routine, calls it, "Sharing bicycle art and poetry."
That said, the bicycle theme wasn't a spontaneous artistic invention. Like all artists, Gargiulo's inspiration was derived from some other creative haze within the world of art, specifically, an article in Smithsonian Magazine.
"The article was about a small town of something like 700 people," Gargiulo says. "Well, on the weekend the town's population would swell to something like 10 times that, even though they only had something like one art gallery and theater, recreationally speaking. What brought all these people in was that the town had a lot of bike paths and parks for riders.
"We have more than that," he says. "We have more riding trails. We have the Intracoastal, and we have a burgeoning artistic community with Hollingsworth Gallery, the Flagler County Art League, and the Gallery of Local Art (GOLA) at Flagler Beach. I expect we'll have a lot of tourist development next year because there's a lot here for art and cultural people."
Like the small town in the article, Palm Coast is a veritable biking haven, says Gargiulo, who's originally from Connecticut. "There are a lot of people who will buy a painting strictly based on its subject matter," he says. "For instance, if someone has been to Venice, they're more inclined to buy a painting of Venice, even if they're not normally people who buy art. I think this show could have that type of response with many people who ride bikes."
The exhibition and the Palm Coast art community in general continue to draw outside talent to its shows. The bike show draws on work from artists like Harry Messersmith, the former director of the Florida Museum of Art, and Jean Banas, who has had a solo exhibition at Arts on Douglas in New Smyrna Beach, among other accolades. "These artists don't need to be here. They're well represented, but they really want to help the arts in Palm Coast," Gargiulo says.
As the show's title suggests–alternately called the First Annual juried Bicycle Art and Poetry Show and the Art of the Bicycle–, it's not just a visual showcase of an esoteric combination but an auditory one as well, with its adult and children's poetry workshop. There will also be a panel discussion where the artists will talk about their love for the skeletal mechanism of cogs, spokes, and tread in conjunction with skinned knees and bloody elbows, and also their approaches at arriving at their finished piece. Appropriately, this first annual show will make its mark alongside Palm Coast's Park & Recreation's third annual "Tour de Palm Coast."
"We have no money for awards," says Gargiulo, "but the public will have the opportunity to vote for their favorite work or poem, if they throw in a single dollar for their ballot."
At the encore reception in a month (the show will be be on display through August), Deborah Susswein who's in charge of the poetry, along with Gargiulo's wife, Arlene, will count the votes and announce the winner. The proceeds will be split between the artist and Hollingsworth Gallery's 2013 Art Camp Summer Scholarship.

See Christine Sullivan's preview of The Art of the Bicycle here.