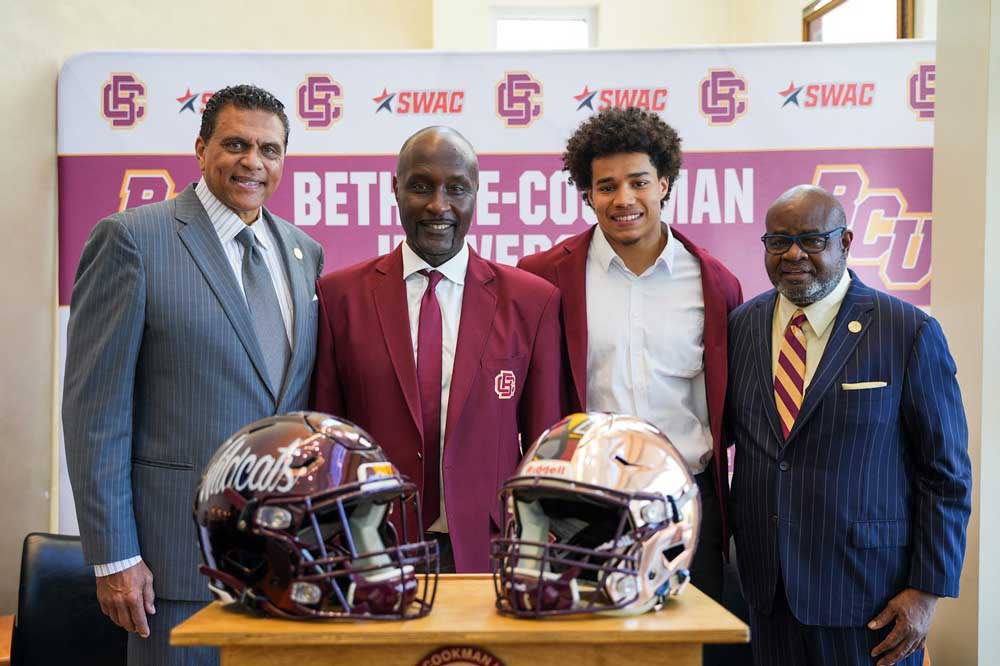 Bethune-Cookman University Director of Athletics Reggie Theus announced the appointment of Raymond Woodie as Head Football Coach. Woodie, 49, becomes the 16th head coach of Bethune-Cookman Football.
"A new era at Bethune-Cookman University begins today," said Interim President Lawrence M. Drake II, Ph.D. "Word of our pending new leadership has been hard to contain, so we are thrilled to officially welcome Raymond back home to Bethune-Cookman University. Throughout our search process, we stressed the need for a leader who understands our university's history, traditions, and values, in addition to possessing firm athletic leadership prowess. Coach Woodie embodies each of these qualities."




Woodie, a four-year letterwinner as a linebacker and 1996 graduate of Bethune-Cookman College, takes the helm of Wildcats Football following an impressive career as an assistant coach at numerous Power 5 schools including Florida Atlantic University (2020-22), Florida State University (2018-19), the University of Oregon (2017) and the University of South Florida (2013-16).
"We are elated to have Raymond Woodie, Jr. return to Bethune-Cookman University to lead our storied football program," Director of Athletics Reggie Theus said. We felt confident in his experience, his leadership, and his ability to embrace the spirit of our founder, Dr. Mary McLeod Bethune in this 100th year of B-CU football. We are locked in the vision for providing a championship culture through his detailed plan for recruiting academically talented student athletes, along with a sustained desire to provide a high-level experience.
It's evidently clear why Coach Woodie has had terrific success in his journey, and we look forward to his return to Daytona Beach and starting this new era."
Woodie has been recognized as one of the premier recruiters in college football, serving as an assistant under Head Coach Willie Taggart across multiple coaching stops. He has recruited seven players that were eventually selected in the NFL Draft.




During his time with Oregon in 2017, Woodie was named the No. 1 recruiter in the PAC-12, as well as No. 13 in the nation by 247 Sports. Woodie led the way in signing the American Athletic Conference's top-ranked classes in 2014 and 2015, in addition to the top class in the Sun Belt Conference in 2010 and 2011. Woodie was named AAC Top Recruiter by Rivals in 2014, and Sun Belt Recruiter of the Year by Scout/FoxSports.com in 2012.
Most recently, Woodie served as Associate Head Coach at Florida Atlantic, where he worked primarily with special teams and oversaw all aspects of recruiting in the role of recruiting coordinator for the Owls.
In his time as a student-athlete at Bethune-Cookman, Woodie was a two-time Mid-Eastern Athletic Conference (MEAC) First Team Defense selection, as well as a two-time Football Championship Subdivision (formerly Division I-AA) All-America selection. He was also the first Bethune-Cookman student-athlete to be named a GTE Academic All-American and have $25,000 donated to the University in his name.