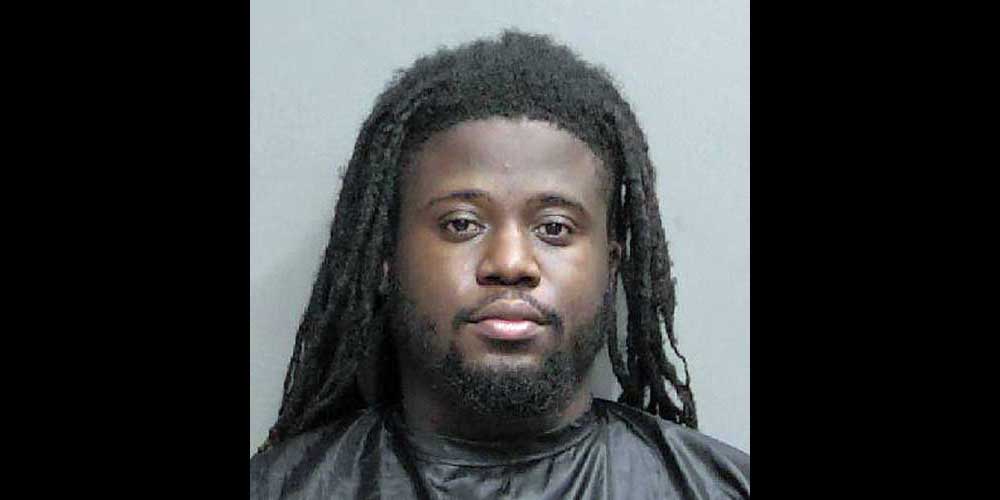 It's the bruise on the 5-year-old's face that alerted the staff when he showed up for class at a local elementary school in Palm Coast on Wednesday. Asked about it, the child said his step-father, Anthony Aaron Dailey, had whipped him with a belt because he was having some candy in his parents' bedroom. The belt buckle struck the child's face, leaving a large red welt below his right eye.
Dailey, 25, a resident of Wellwood Lane, was arrested on a felony child abuse charge, booked at the Flagler County jail on $2,500 bond, and ordered to have no contact with the child. No similar no-contact order was entered regarding the child's siblings, one of whom also reported getting whipped by Dailey.
Dailey denies assaulting the child.
The 5-year-old child told a Flagler County Sheriff's deputy and a child protective investigator that he was in his parents' room watching YouTube and eating candy on their bed Tuesday evening, which he said he wasn't supposed to do, angering Dailey. His step-father then "grabbed a belt and proceeded to 'whip' him with it," the child said. It wasn't unusual. The 5-year-old said Dailey whips him frequently.
In this case, he said, Daily had him stand. The child was spanked. The child was struck on the buttocks, the knees and the face.
The deputy spoke with the 5-year-old's siblings, one of them a girl who said she gets whipped with a brown belt. She recounted the way her brother was assaulted, saying he wasn't supposed to be in his parents' bedroom, and said she and her siblings usually get whipped around the knees with the belt. She told the deputy she was in the room when her brother's whipping took place, but didn't see it. She only heard and saw her brother crying, and rubbing parts of his body where he was in pain.




Another sister told the deputy the children don't get spanked at home. She didn't know how her brother got bruised, only that he got in trouble and heard him crying.
Dailey told the deputy that when he got home from work he found the child in the parental bedroom, asleep, with a lollipop in his mouth and candy wrappers around him. Dailey took out the lollipop from the child's mouth, which woke him up. The child ran out, saying he was sorry. Daily said the bruise may have been a result of the child falling off the couch and hitting his face on the laundry room door. Or, Dailey said, he could have gotten bruised when he was helping Dailey take out the trash and fell, hitting his face on the couch.
Daily, now sounding as if he were blaming his step-son, said the child is clumsy and falls all the time, and that he is crabby and cries all the time. He called him a crybaby. Dailey did not maintain eye contact with the deputy (the deputy reported), "while simultaneously pacing back and forth and placing his hand behind his head," according to his arrest report. "[T]hese movements are often associated with an individual attempting to be decepotive which I recognize through my training and experience." (While non-verbal communications are an integral part of investigative techniques, the techniques are not without flaws and misconceptions and can "result in coercive interrogations and, potentially, false confessions," according to a recent study.)
The child's mother was part of the interview. Neither parent recalled seeing the bruise the morning before the child went to school.




Assaulting children is illegal of course, except when done by a parent or guardian under the guise of "discipline" or "corporal punishment." In those cases it is legal in Florida as it is in all 50 states, though parental assault is now banned in 65 countries.
In Florida law, a parent's violence against a child rises to child abuse only when it is deemed an "Intentional infliction of physical or mental injury" or "An intentional act that could reasonably be expected to result in physical or mental injury to a child." It is not clear how the law considers any physical, disciplining act of violence against a child not intentional and free of mental injury, even when beatings don't leave marks on a child's skin. The permissive law does not make distinction in a child's age, thus making a disciplinary act of violence against a 2 year old, a 5 year old or a 16 year old equally permissible.
For prosecutors, proving a case of child abuse under current law can be difficult absent incontrovertible evidence, such as images, video or other forms of recordings, along with evidence of physical injury that is just as incontrovertibly tied to the allegation.

Abuse Hotline: Report Abuse Online
The Florida Abuse Hotline accepts reports 24 hours a day and 7 days a week of known or suspected child abuse, neglect, or abandonment and reports of known or suspected abuse, neglect, or exploitation of a vulnerable adult. Please use the links below to report a child or adult abuse.
If you suspect or know of a child or vulnerable adult in immediate danger, call 911.
TEL: 1-800-962-2873
TTY: 711 or
1-800-955-8771
FAX: 1-800-914-0004
Any person who knows, or has reasonable cause to suspect, that a child is abused, abandoned, or neglected by a parent, legal custodian, caregiver, or other person responsible for the child's welfare is a mandatory reporter. § 39.201(1)(a), Florida Statutes.
To report an allegation in Spanish or Creole, please call 1-800-962-2873, for TTY use 711 or 1-800-955-8771.  This toll free number is available 24 hours a day, 7 days a week with counselors waiting to assist you.