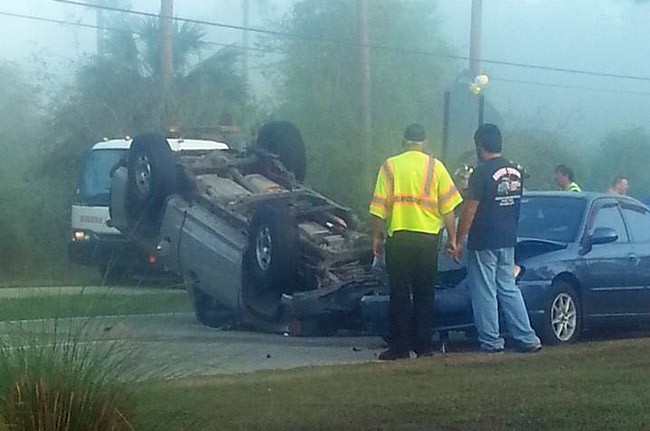 Morning rush-hour traffic snarled at Belle Terre Parkway and Point Pleasant Friday after four people were injured in a three-vehicle crash in the southbound lanes of Belle Terre.
Two teen-agers and an adult were taken to Florida Hospital Flagler with minor injuries. A fourth individual was injured but refused treatment at the scene.
A Chevrolet Colorado pick-up truck involved in the crash ended up on its roof, facing east-west, in the middle of Belle Terre's two southbound lanes. Its cab was severely damaged, though not entirely caved in. A Kia Spectra, which ended up immediately adjacent to the truck, was smashed from the rear. Its back section was unrecognizable. A bright red Toyota Camry sustained minor damage to its rear bumper and frame.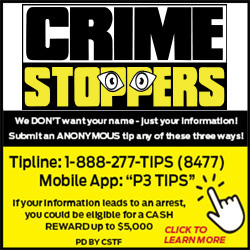 The circumstances of the crash are not yet clear, though it appears that it may have been triggered by one of the vehicles crossing onto Belle Terre from Point Pleasant. The Flagler County Sheriff's Office is conducting the investigation.
The wreck took place a little before 8:00 a.m. The Palm Coast Fire Police diverted southbound traffic onto Point Pleasant for about 45 minutes, as the stretch of Belle Terre from that point south was closed. Traffic northbound was periodically halted just below Point Pleasant to enable public safety and wreckers to conduct some of their work.
Flagler County Fire Rescue and the Palm Coast Fire Department responded to the scene, as did Roger's Towing, whose wreckers cleared the roadway by 8:45 a.m.